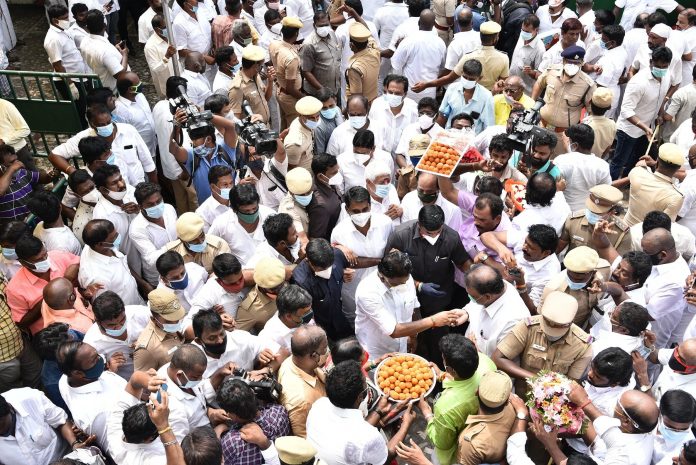 Social distancing to prevent the spread of COVID-19 went for a toss as hordes of people thronged the AIADMK headquarters at Chennai's Royapettah, to participate in the 49th foundation day of the party on Saturday (October 17).
While Tamil Nadu has the fourth highest cases in the country, Chennai has been recording more than 1,000 fresh COVID-19 cases every day.
Photos and videos doing the rounds on social media including those on the AIADMK's official Twitter handle show a crowd that include media persons jostling for space as Deputy Chief Minister O Panneerselvam distributes sweets to those present.
Advertisement
— AIADMK (@AIADMKOfficial) October 17, 2020
A party person told NDTV that members have been asked to comply with COVID-19.
While most of those present in the campus were seen wearing masks, there was hardly any social distancing among them.
While OPS inaugurated the event in Chennai, Chief Minister Edappadi Palaniswami hoisted the party's flag at his native place Siluvampalayam and distributed sweets to the public.
The scene at the ruling party's office was contrary to the state government's rule barring congregation of more than five people in one place.
Rules were broken in a similar way during the party's general body meeting a week back where it was decided that EPS will be the chief ministerial candidate for the upcoming Assembly elections.
The state so far has logged in 40,959 COVID-19 cases and more than 10,000 deaths.