British era school reopened in Tamil Nadu for one student
The Tamil Nadu government re-opened an elementary school built in the British era for one student at Chinna Kallar in Valparai, Coimbatore district. The Adi Dravidar and Tribal Welfare Department decided to open the school after Rajeshwari, an estate worker in Valparai, filed a petition before the authorities to open the school to admit her six-year-old son Shiva.
The only functioning elementary school in Chinna Kallar was shut down in 2018 after there was no enrollments. Rajeshwari, who wanted her son to receive a formal education, said that the closest government school, after the one in Chinna Kallar was shut, was in Periya Kallar, which is about four kilometres away from their tribal hamlet.
This is when she wrote to the officials in the Adi Dravidar department and the district administration officials asking them to reopen the school. She said that sending Shiva to Periya Kallar is not safe as he may encounter wild elephants and leopards on his way.
Based on her request, the school was reopened and the headmaster of Periya Kallar school was deputed to the elementary school in Chinna Kallar to teach Shiva. On Monday, Shiva was admitted to Class I.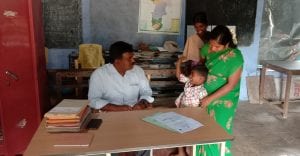 According to local residents, the school was opened before Independence, in 1943, for the wards of the tea estate workers in Valparai. This is not the first time the Chinna Kallar school is functioning for just one student.
As more tribals living in Chinna Kallar migrated to the other parts of Valparai due to frequent elephant and leopard attacks, only about 10-15 families continue to reside in the village.
In 2017, only one girl from the hamlet was enrolled in the school and it functioned with one headmaster and one teacher.
Tribal welfare department officials and the school education department officials are now in the process of getting more children admitted to the school in Chinna Kallar.