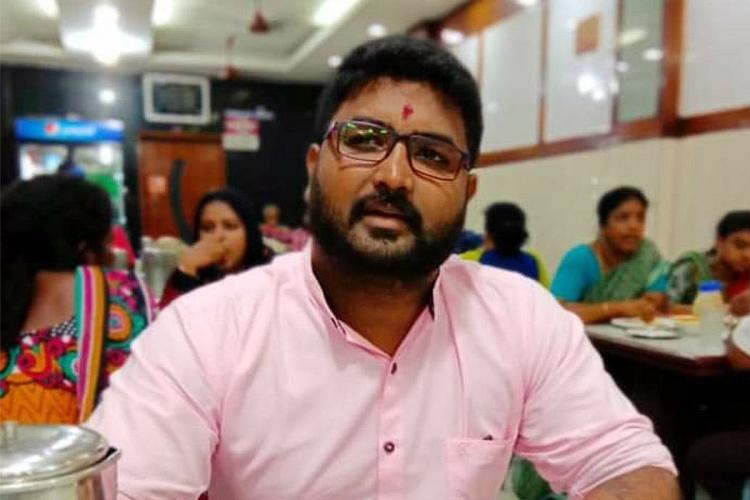 BJP SC/ST wing leader hacked to death in Chennai
A BJP leader was chased and hacked to death in Chennai on Tuesday evening (May 24).
K Balachandran, 30, was the Chennai district secretary of BJP's SC/ST wing. Earlier, he had complained to the police about threat to his life after which the police provided him security.
The incident happened at Chintadripet on Tuesday evening around 8pm when Balachandran was standing by the roadside talking to his friends. The police security officer allotted to him had gone for a cup of tea when the attack happened.
Police said that Balachandran was on the Swamy Naickar Street when three men reached the spot on motorcycles. Balachandran started running, but the three men chased him and hacked him to death in full public view. The BJP leader suffered grievous injuries and was taken to Government General Hospital where the doctors declared him as brought dead.
Chennai Police Commissioner Shankar Jiwal said forensic teams have been assigned and special teams are looking for the accused. They are looking at CCTV footage for more clues.
Also read: TN doesn't need dictation from Centre on fuel tax rebate: Palanivel Thiaga Rajan
Jiwal said the murder was a fallout of previous enmity. Prima facie, the police have identified the three accused as Sanjay, Kalaivanan and Pradeep.
Police said that Balachandran had earlier lodged a complaint against Pradeep, who he said was asking for 'mamool' (a cut in profits) to run a shop. Pradeep was arrested earlier in another case and was recently released on bail.
Of late, Chennai has witnessed a spate of heinous crimes like murder with questions being raised about the deteriorating law and order situation in the Tamil Nadu capital. AIADMK leader Edappadi Palaniswami slammed Chief Minister MK Stalin for failing to improve the law and order situation in the state and instead focussing his efforts on "stifling" the media.