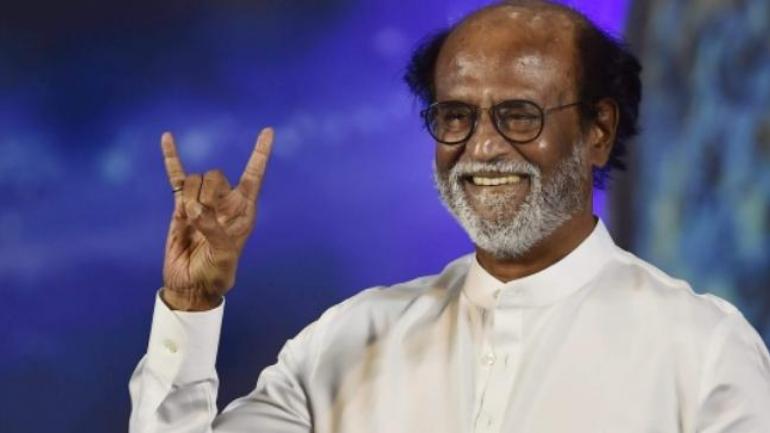 BJP betting on Rajinikanth's stardom to make inroads into Tamil Nadu
Tamil superstar Rajinikath ruffled a few feathers on Sunday when he praised Prime Minister Narendra Modi and Home Minister Amit Shah for abrogating Article 370 in Jammu and Kashmir. While this was seen as him toeing the BJP line, party sources said it was the only way the saffron outfit could make inroads into Tamil Nadu.
Rajini Makkal Mandram functionaries, who The Federal spoke to, said on condition of anonymity that this was not new.
"Since we are into spiritual politics, we would support it. Now, Thalaivar (boss for Rajinikanth) has asked us to prepare for the war and we are waiting for it," the functionary said.
Rajinikanth had made his first entry into the Tamil Nadu political scene in the mid-1990s, when former Tamil Maanila Congress party founder GK Moopanar tried to woo him. But apart from declaring his angst against then-chief minister Jayalalithaa, nothing happened substantially. After dopping several hints, it was only on 2018 New Year's eve that he announced his decision to get involved in politics. But, with no party founded, he is still being seen as playing from the shadows.
Madras University professor Ramu Manivannan also feels the same, as he noted that Rajinikanth was smart to play with mysteries and myths.
"In Tamil Nadu politics, as long as he stays a mystery man behind the shadows, there will be hype. But, what he does on ground alone matters. Also, Rajinikanth is one who survives with the uncertainty and myths around him," he said.
Expressing skepticism about Rajinikanth's political plunge, he said, "Given his spiritual identity, it could be an indication that he would join a party with religious beliefs and ideology."
However, for the BJP, Tamil Nadu is seen as an important state in its national scheme of things. After it failed to win any seat from the state in the Lok Sabha polls, BJP held consultations with district level workers to know the pulse on the ground.
"In the meeting, majority of the district level cadre, including those in Vellore, Coimbatore, Tirupur and Kanyakumari, wanted BJP to ease up to Rajinikanth. It was argued that Rajinikanth would be the only way to reach out to the people in Tamil Nadu," a district level functionary who did not want to be named told The Federal.
The BJP functionary also said that they have plans to tie up with Rajinikanth in the run-up to the assembly elections in 2021.
"The attempt to make inroads into the state in association with the AIADMK did not turn out to be fruitful. So, we have distanced them to a certain extent as per the high command's order," the functionary said. Several BJP workers who spoke to The Federal echoed similar sentiments.
However, AIADMK spokesperson Babu Murugavel refuted the claim, saying the party was in good terms with the BJP and that Rajinikanth would stand along with them. This support, he hinted, would come for the river-linking project.
The DMK and its allies, however, dismissed Rajinikanth's speech, with MP Kanimozhi saying the star should not be taken seriously as he is yet to enter politics officially.
DMK ally, Viduthalai Chiruthaigal Katchi (VCK) leader Thol Thirumavalavan said it was not news that Rajinikanth spoke in BJP's favour on the abrogation of Article 370.
Political analyst and Manonmaniam Sundaranar University Tamil department head A Ramasamy said that it was a tactic of the national party. "Whenever national parties feel they are not able to make inroads into Tamil Nadu, they introduce a popular figure. A popular figure like Rajinikanth always helped start a new party, which will sustain for a while before joining hands with a national party," he opined.
Ramasamy recalled former chief minister and ex-DMK leader, MG Ramachandran's move to start AIADMK in the 1970s and noted that it had the backing of a national party.
"But, later after the launch, MGR did not cooperate with the national party. In 1996, it was a national party that wanted Rajinikanth in politics. But, they could not succeed and finally ended up bringing Vijayakanth into politics," he said.