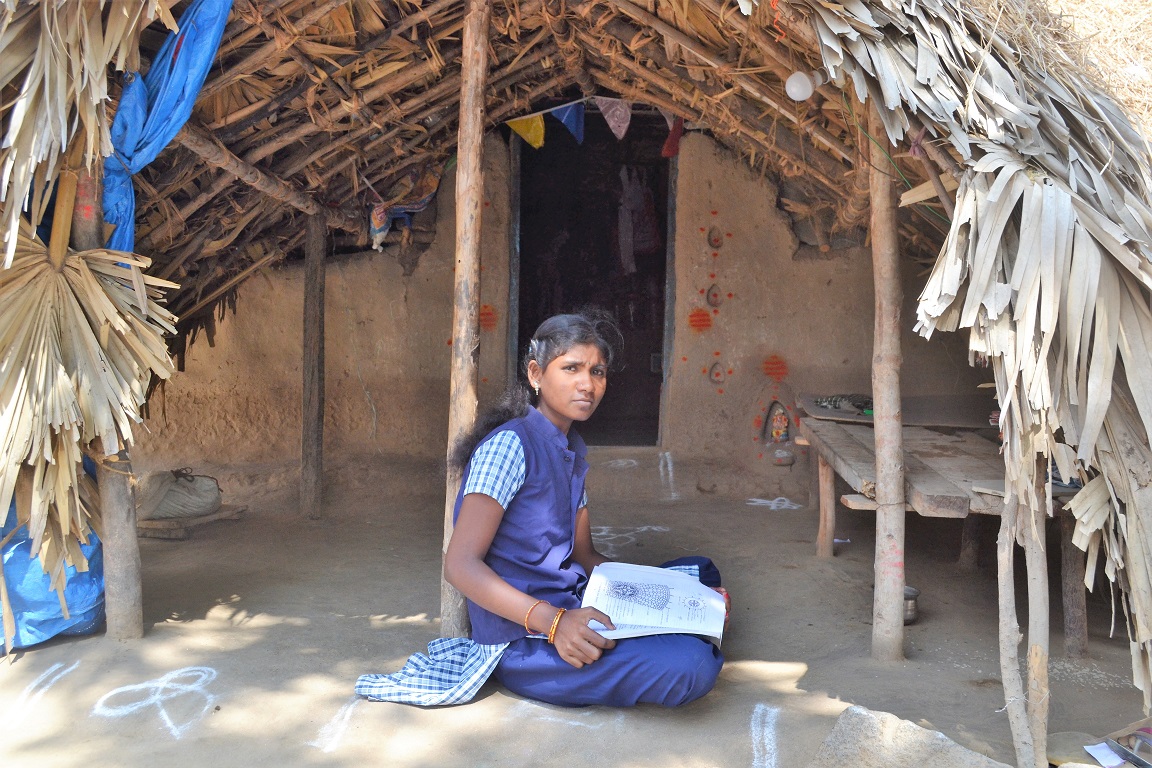 Class 12 results: Why this Irula village is proud of Sangeetha
The road to Veeramanoor seems unusually long in summers. Located in the Villupuram district, around 25 Irula tribal families live here on a waterbed, in small huts made of palm leaves. The houses here have no doors. Eighteen-year-old Sangeetha lives in one such house. The entrance of her house is decorated with Rangoli and with 'welcome sir' written in English.
A science student of Class 12, she scored 263 out of 600. When The Federal congratulated her, she acknowledges with a shy smile. For many of her age, a score of 263 would be a nightmare but a visit to Sangeetha's house makes it clear why the villagers of Veeramanoor think she has come a long way.
Born to Chinnasamy and Lakshmi, Sangeetha is the eldest among their three daughters. The other two sisters are in Class 2 and Class 7. Both her parents once worked in a brick kiln in Poonamallee, on the outskirts of Chennai, as bonded labourers for 20 years.
"We don't even want to recall those days," says Lakshmi. A native of Veeramanoor, she and Chinnasamy shifted to Poonamallee soon after their marriage.
"He was already working there for a long time. So I too started working as a bonded labour. We would work all day long carrying brickloads on head. Sangeetha was born there," she says, adding that she didn't want her eldest born to be an illiterate like her.
"So, we started sending her to the government school nearby and she studied there until Class 3. Whenever she would get a holiday, she too accompanied us to the brick kilns" says Lakshmi, caressing her daughter's hair.
Chinnasamy is a Class 7 dropout. "My father had borrowed some ₹10,000 from a brick kiln owner once. To repay that loan he started working in the same brick kiln and before he could realise he became a bonded labourer. I followed my father," says Chinnasamy, who has worked in the kiln for almost 25 years. "In those days we were entitled to ₹400 per week as wages. But we didn't get any leaves. If anyone in the family falls sick, only either one of us could take a day's leave," he says.
Their misery finally came to an end in 2009, when some good Samaritans came forward to help them with necessary legal aid. Chinnasamy and Lakshmi, along with five other families, were finally rescued. "We wanted to start our life afresh and landed up here but there is there is this constant fear of eviction. The waterbed where they have their hut is a 'poramboke', land that belongs to the government.
"The district administration has recently allocated land for these people in the same village and construction of concrete houses are on the way," says Rajesh, a social activist who works with the Irula tribals. When the construction gets over, Sangeetha's family will be the first one to move in to a house, considering the fact that they were the first settlers here, says Rajesh.
"What's more, Sangeetha is the first one to get community certificate among these settlers. She is also the first girl who completed Class 10 in her locality. Now she completed her Class 12 as well," adds Rajesh, who played an important role in improving the lives of the Irula tribals.
"We are able to achieve all these because of Pazhangudi Irular Paadhukappu Sangam (Society for the protection of Irula Tribes)," says professor Kalyani, founder of the society. Established in 1996, in the wake of the Athiyur Vijaya case wherein Vijaya, an ST woman from Athiyur, died of police torture and abuse, the society supports the education of ST students in the state. "Many of the students we supported bring laurels to the community and hope, Sangeetha will join the list soon," says Kalyani.
Sangeetha wants to become a doctor. But she knows that her marks are not good enough. "Just a week before her exams, she was down with chicken pox. If not she, could have scored a little higher," insists Rajesh. According to Rajesh, her family's economic condition doesn't give her the luxury to attend special coaching classes for the NEET. "Her daily routine also includes helping her mother in domestic chores, taking care of her siblings and helping them with their studies, besides assisting her father in the farm he works."
Although she was upset initially, Sangeetha has now decided to apply to a nursing course. She, however, is worried about the expenses. "Hopefully, I will manage to get some help and complete my education. I would like to become a role model for other children from my community," says Sangeetha. This time, her smile is confident.