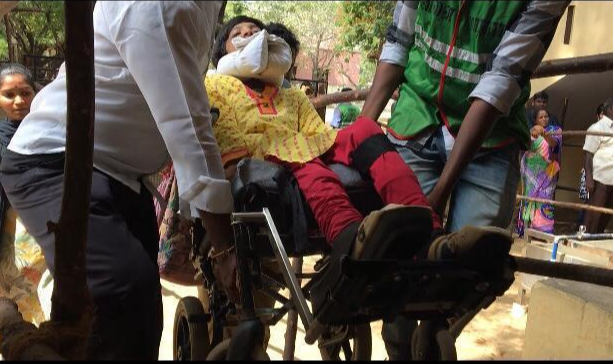 Barrier free, inclusive polls. Says who? ask voters with disabilities
Rafiq Ahmed, an employee with a private concern in Thiruthuraipoondi in Thiruvarur district of Tamil Nadu, crawled his way up the polling booth to cast his vote. The Election Commission's attempts to make the ongoing Lok Sabha polls a barrier free and 100 per cent accessible election has made no difference to his experience.
Said the 32-year-old with movement disability, "I was excited that this time all needs of people like me would be taken care of. But it was worse than ever. The ramps were crowded with queues and the booths were so small that wheelchairs can't even enter them. Moreover, no wheelchairs were made available at the spot."
Poor implementation of facilities for people with disabilities in polling stations in Tamil Nadu @TheFederal_IN pic.twitter.com/XrTTiIZ2XN

— janani sampath ?? (@jananisampath) April 18, 2019
The ongoing election has been touted as the most inclusive one with special efforts being taken by the Election Commission (EC) in collaboration with several departments to implement a barrier free voting process. Under EC norms, all polling stations were to have compulsory ramps, wheelchairs, braille ballot papers, stickers and special attention was expected to be given to people with disabilities – 21 of them mentioned in the Rights of Persons with Disabilities Act, 2016.
However, going by the experience of voters with disabilities in Tamil Nadu, the arrangements in place reflected little concern or care.
In Villupuram, S Annamalai, a person with locomotor disabilities, had to manoeuvre an improper ramp without support, violating the specifications of 5.5 metre width for ramps at polling booths. "In fact, we have been asking officials to look into these issues since the time the ramps were being set up. But they have done nothing about it," he says.
Many among the disabled population in Villupuram said they had no access to wheelchairs, even as the authorities claimed to have purchased those.
Horror tales at booths 
If anyone thought the experience would have been a tad better in Chennai, disability rights activists and people with disabilities recount horror tales.
In Jafferkhanpet in Chennai Simma Chandran, a disability rights activist was told by the police to get out of the booth. "The minute I asked them for wheelchairs and questioned why the ramps were not meeting the specifications, I was asked to leave. They said we cannot provide you more than the security you deserve here," he said.
P Saravanan, a resident of North Chennai and secretary of December 3rd Movement, pointed out that the wheelchairs kept for use were hospital wheelchairs and cannot be accessed or used by people with disabilities. "The narrow ramps can't even allow a bicycle to pass smoothly," he said.
In Navalur in South Chennai, without ramps, people with disabilities waited for almost two hours before officials volunteered to set up one in the polling station.
No braille sheets for the blind
The promised braille ballot sheets too have remained elusive for the visually impaired, said Raghuraman K, a visually impaired voter. "I had to ask them for the sheets which were not even preserved properly. Some dots were missing and poll officials seem to have taken it for granted that people like us would be accompanied by someone to help. They don't understand the concept of independence," he added.
While the machines were placed flat leaving little room for them to see the VVPATs, Meenakshi Balasubramanin of Equals, a disability rights organisation, wondered what the noise about making it accessible was all about. "It was as bad as any other elections. The uneven surface, lack of concern for the needs of people with disabilities made it an unsafe and unpleasant polling experience for all," she said.
Earlier this month, TN Chief Electoral Officer Satyabrata Sahoo had written to the Commissioner of the Differently Abled Welfare Department to direct all officials from the districts to do the audit in advance. But their apathy came through in the arrangements, pointed out TMN Deepak of the December 3 Movement. "They made disability icons to spread the word about voting without fail, making tall claims about 100 per cent inclusion. It is like placing us on a pedestal and pushing us down. The election and disability welfare officials failed us big time," he said.
The TN Chief Electoral officer was unavailable for comment.