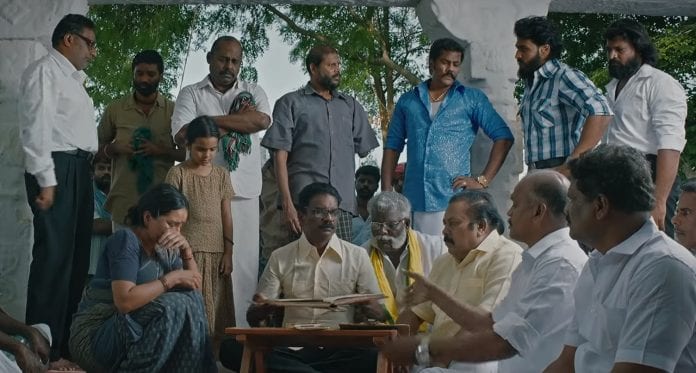 Off late, Tamil cinema has been exploring the path of the downtrodden man. Among them, National awardee Vetri Maran's Asuran, based on dalit writer Poomani's second novel 'Vekkai' and starring Dhanush, talks about how dalits face oppression and are unable to control ownership over their land.
The film also triggered a political controversy after DMK president MK Stalin appreciated the film on Twitter, saying it was not just a film, but a lesson too.
He also praised director Vetri Maran and actor Dhanush for highlighting the plight of dalits in fighting for their Panchami land (land reserved for depressed classes under British since 1892).
Advertisement
In response, PMK founder S Ramadoss alleged that the DMK mouthpiece Murasoli office stood on Panchami land. Stalin quickly responded with a picture of the patta (land deed) of Murasoli office and said it was not Pachami land but a privately owned land and slammed the PMK leader.
But what really are Panchami lands?
In 1891, the birth year of Dalit icon Dr BR Ambedkar, the then-Chengalpattu district's acting collector JHA Tremenheere, submitted a 17-page report on the living conditions of 'Pariahs' to his government. In that report, he explained the social, economic and political challenges faced by the depressed classes and suggested that if they were given land ownership, they could overcome the challenges and lead a dignified life.
The following year, the British government passed Depressed Class Land Act, 1892 and based on Tremenheer's report, the government earmarked about 12 lakh acres of land for the depressed classes living in the then-Madras Presidency. The land was called Panchami land, as they were given to 'Panchamars', or 'the deprived'. These agricultural lands were distributed between 1918 and 1933.
According to the Act, a depressed class person was not supposed to sell, rent, gift or pledge the land for the first 10 years. After the first decade, they could do the above only to other depressed class people and not to non-Dalits. If a non-dalit were buy the land, the government would have the rights to wrest it from him/her and no compensation requests would be entertained.
However, over a period of time, upper caste members through various methods grabbed these lands. In 1991, the birth centenary of Dr Ambedkar, many movements kicked off for dalit rights assertion. Of them, in 1994, Panchami Land Reclaim Movement was started in Chengalpattu district. Two youths John Thomas and Elumalai were killed in police firing in a related agitation in Karanai village.
Near Karanai, a place named Siruthavur became famous after it was alleged that a major portion of a bungalow owned by former chief minister J Jayalalithaa of AIADMK was built on Panchami land. The DMK frequently accused her for making the bungalow 'Chief Secretariat'.
When she returned to power in 2011, many DMK leaders were arrested under charges of grabbing land, primarily Panchami lands.
Interestingly, in January 2011, shortly before the Assembly polls brought Jayalalithaa to power, the DMK had set up a three-member committee to look into violations related to Panchami land ownership. However, after the regime change, the committee was shown the door. A new committee formed under the AIADMK government in 2015 has not done any concrete work, according to activists.
Activists have however been looking into retrieval of Panchami lands since 2006, after the Right To Information Act was passed in 2005.
According to an RTI filed in 2006, the state has replied that about 1.26 lakh acres of Panchami land was available in Tamil Nadu. In 2009, Y Aruldoss, an activist, got a reply under RTI saying that the state has 1.04 lakh acres of Panchami land, out of which only 74,893 acres were with dalits.
"Out of 12 lakh acres of land, the state has only 1.75 lakh acres. Where are the remaining lands? It was all occupied and encroached by non-dalits," says Aruldoss.
The spat between Stalin and Ramadoss has brought out the retrieval of Panchami land again, he says.
"The patta shown by Stalin is relatively a 30-year-old document. We need to check from whom the original document was purchased. Chennai in 1892 and Chennai in 1980 were totally different. Many developments have happened in between and the land use pattern has also changed. There are chances that the land where Murasoli located could be a Panchami land," he said, adding that it may not be just the DMK which has Panchami lands, "but the PMK too".
According to Tada Periyasamy, one of the founders of 'Mannurimai Meetpu Iyakkam', a movement founded to retrieve Panchami lands in the 90s, Ramadoss's accusation against DMK is "purely political".
"During our movements earlier days, Ramadoss also actively participated with us. Though he is caste conscious, his pronouncement of 'Panchami lands' is itself a welcoming one. But taking the issue now against the DMK is purely political and he is trying to corner Stalin," he said.
In 2006, the DMK in its election manifesto had said that it will take steps to retrieve Panchami lands, but it did not keep its promise, he adds.
"Whether it is DMK or AIADMK, none have shown interest in retrieving Panchami lands," he says.
As for Murasoli building, he said the gazette of 1935 could throw light on whether it was located on a Panchami land, he said.
Periyasamy says there are four factors affecting the retrieval of Panchami lands.
"In some places, the patta is completely changed to a non-dalit's name. In others, though the patta is in a dalit's name, the land is owned by a non-dalit. In some districts, the patta is in dalit's name, but no such person is alive and the land is owned by a non-dalit. In other areas, the village administrative officers do not cooperate to reveal Panchami land details in their village," he said.