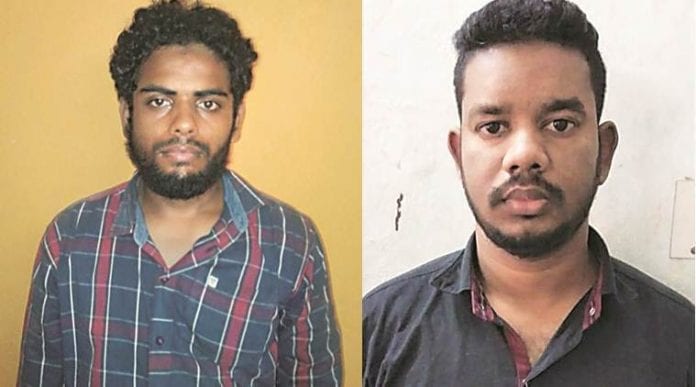 Tamil Nadu police have stumbled upon the biggest IS terror network which has operated in South India with the arrest of Abdul Shameem and Thoufique from Udupi. The two had gunned down Tamil Nadu Special Sub-Inspector Y Wilson on January 8.
Shameem, an accused in the murder of Hindu Munnani functionary Suresh Kumar in 2014 and Thoufique, is wanted by the National Investigation Agency (NIA) for their alleged link with an IS-inspired module. Shameem had jumped bail in December 2019.
However, it was after the arrest of Khaja Moideen, S Syed Ali Nawas (25) and Abdul Samad (28) on January 9, for allegedly planning a terror strike in the National Capital by Delhi Police that cops founder a larger network in play. Moideen along with Shameem and Nawas are co-accused for the Suresh Kumar's murder and had jumped on bail in December 2019 before going underground.
While Moideen and Nawas fled to Nepal before and later returned to Delhi, Shameem moved to Kanyakumari to join with Thoufique. After the module's arrest in Delhi, police also apprehended one more in Gujarat.
Meanwhile, based on specific intelligence inputs, Tamil Nadu police arrested three persons in Bengaluru, namely Imran Khan, Mohammed Haneef Khan and Mohamed Zaid, who were in touch with Moideen and allegedly helped him in getting people into the IS-inspired module. After sustained interrogation 26-year-old Ejaz Pasha was arrested in Bengaluru a couple of days ago.
Also read: Three detained in connection with cop's murder, IS-link suspected
However, it was after Pasha's confession that police realised that at least 20 more from Tamil Nadu have been radicalised by Moideen. "Ejaz Pasha was the latest to be radicalised by Mehaboob in Bengaluru, he happens to be Moideen's friend. So far Mehaboob has radicalised at least 20 people and the details of the youths are available only with him, but it is suspected that all are from Kanyakumari and neighbouring Tirunelveli districts," a senior official privy to the investigation said.
However, Mehaboob gave a slip to Tamil Nadu cops who had gone to arrest him in Bengaluru. "Mehaboob is believed to be from Tamil Nadu. We came to know about him only after Ejaz's arrest, but he had fled from soon after three were arrested from the city," the senior official added.
Besides Mehaboob, police have also come to know about the involvement of Kanyakumari resident Syed Ali. "Of all the other youths, we were told that Syed Ali was an expert in making an electronic circuit, which could be used for making explosives. However, he also went absconding and we could not get many details about him at his house after raiding the place," another official in Kanyakumari district said.
Tamil Nadu police seem to be more worried as the network is more than what they had imagined. "We thought it was a IS-inspired model in Tamil Nadu. But, they have people across South India. They also have people in Mumbai, from where they have received two parcels. Of the two parcels, one parcel was recovered after the arrest of the three in Bengaluru. The parcel contained pistols and bullets. The other parcel also might have had pistols and ammunition, which is suspected to have been used by Thoufique and Shameem to kill the Wilson," sources privy to the developments said.