App for quarantined people suspended on Play Store; resumed later
It was a shock for developers of 'CoBuddy' and the Tamil Nadu police when Google suspended the mobile app on March 29, just four days after its launch. It was taken down from the Google Play Store as the company felt that the app was not compliant with its developer program policies.
Facetagr, a Chennai-based an artificial intelligence company, had developed the mobile app for the police to ensure that those in home quarantine due to COVID-19 stayed indoors. The app was suspended when Tamil Nadu had over 43,000 persons quarantined at their homes.
Because of lockdowns, the response from Google was delayed. But after the developers explained that it was developed in public interest with the support from the government, it was resumed.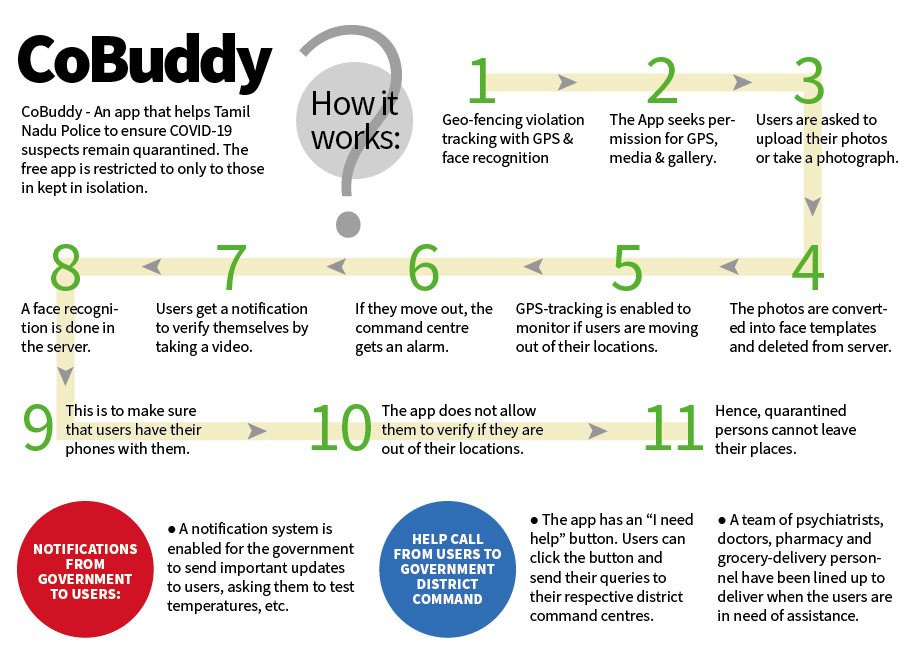 CoBuddy, which is restricted to those in home quarantine, works upon entering an OTP provided to the users by the government or police.
The users are required to register themselves by uploading their photograph or clicking a picture. Once these photos are converted into a face template, they get automatically deleted from the server. The users must also grant GPS access to the application.
Whenever the users get an alert, which is made randomly, they need to verify themselves on the app. They can do this only if they have their smartphones with them.
Related News: When drones took over sanitation workers to spray disinfectant
So, if users step out, leaving their phones at home, they cannot verify themselves. If users take their phone while going out, they overstep the app's quarantine zone. In both cases, the police get alerted, says Vijay Gnanadesikan, co-founder of Facetagr.
Besides these alerts, the app serves as a bridge between those kept in quarantine and the government. If the users need any services, including groceries, the government can offer help, says Vijay. He adds that the app will be helpful to the government in sending mass alerts or notifications to the people in quarantine.