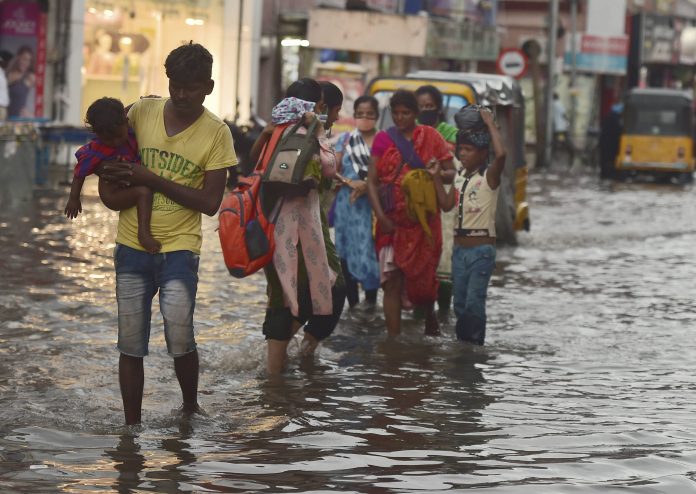 Heavy rain lashed Chennai and adjoining areas even as cyclonic storm Nivar lay centred off the coast of Tamil Nadu. [The storm is expected to make landfall and between Karaikal and Mamallapuram on November 25].
The rain in Chennai, which started Monday midnight, brought about water-logging and flooding to places like Anna Salai, Central Chennai, GST Road, and Wall Tax Road.
An India Meteorological Department (IMD) update said cyclonic storm NIVAR was 380 km east-southeast of Puducherry and 430 km south-southeast of Chennai.
"It is very likely to intensify further into a severe cyclonic storm during next 12 hours and into a very severe cyclonic storm in the subsequent 12 hours," read a notification from IMD.
The IMD also predicted that it was 'very likely' to enter the peninsula between Karaikal and Mamallapuram on November 25 with windspeeds touching 120-130 kmph, gusting to 145 kmph. [Gust would be the peak wind speed which lasts for 20 seconds approximately. It is shorter than a squall].
Independent weather blogger Pradeep John predicted that there would be severe rainfall during the day but the cyclone was likely to cross the coast in the evening.
"The incessant rain on Tuesday is just a tip of the iceberg and we would know the real picture only on Wednesday. There would be heavy rainfall at least for six hours before the cyclone crosses the coasts," John said.
Chief Minister Edappadi K. Palaniswami reviewed preparedness and the functioning of the control room set up by the State Disaster Management Department.
The CM announced a public holiday on Wednesday and said all government offices and educational institutions would be shut on the day. He said only the government offices tasked with essential services would function on Wednesday.
The Puducherry government also issued prohibitory orders from 9 p.m. on Tuesday till 6 am on Thursday to prevent people from coming in harm's way.
Districts expected to get heavy rainfall had been asked to take precautionary measures including the evacuation of people residing in low-lying areas and near dilapidated structures.
The residents of Chennai were anticipating a 2015-like flood situation after the water level in the Chennambarambakkam lake rose. Revenue Administration Commissioner Phanindra Reddy said there was no cause for worry. "We release 6,500 cusecs only when it rains heavily. The carrying capacity of the Adyar river is 60,000 cusecs and there is no need to fear," he said.