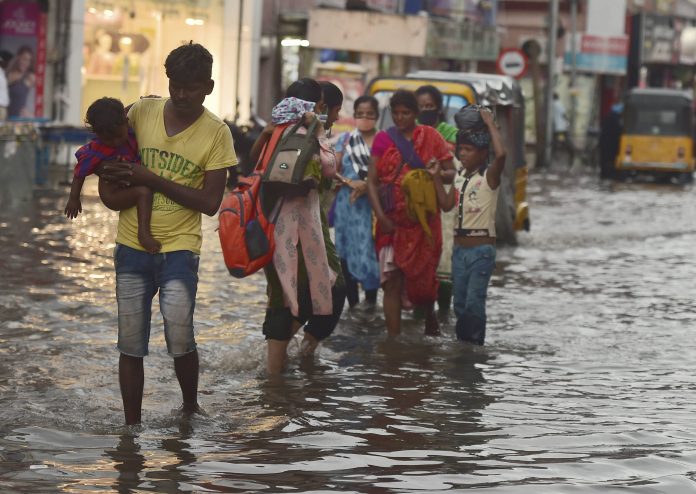 People near Chennai's IT Corridor are questioning the authorities as more the 5,000 of them have been stranded within a 3km stretch of approach road that got flooded after the two cyclones, Nivar and Buveri, hit Tamil Nadu recently.
According to a report on NDTV, hundreds of families have been affected in Thalambur and Semmancheri. Now, they have hired trucks to get to work and obtain daily essential items. Their vehicles were submerged in water after heavy rain.
Barani, an IT professional, who underwent a knee surgery recently, told the news channel, "I am scared if I've to undergo another surgery. It's so difficult… not just for work but even to buy groceries. Water is knee-deep now… often it rises to waist deep."
Advertisement
Related News: Heavy rain batters Chennai
The areas where the houses are built were once lakes and layouts were approved after systematic encroachments, the report said.
"We pay so much tax. Everyone has Aadhaar, voter ID. We only ask for basic amenities as citizens. It's hard to believe that this is the reality of the IT Corridor," Prabhakaran, another IT professional, said. He stays in Chengalpattu district.
Also, there is a young couple, which has to take its four-month-old baby for a medical test but don't know what to do. They said they can't climb on to a truck with their baby to go to the hospital.
Two domestic helps, who spoke to the channel, said they have to swim for 6km in waist-high waters to get milk everyday. An auto driver said there were poisonous snakes and requested the state government to drain out the water at the earliest.