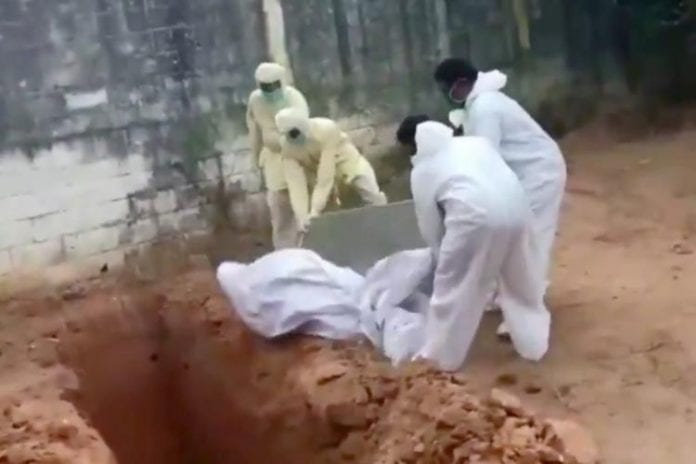 The authorities have ordered a probe after a video emerged of health workers throwing the body of a COVID-19 positive man into a burial pit in Puducherry.
NDTV reported that the body was of a Chennai man who died in Puducherry.
In the video, four men in PPEs are seen hurriedly shifting the body from an ambulance and literally throwing it in the pit. Soon after, a man is heard telling a government official that they 'have thrown' the body. The government official responds with a 'thumbs up.'
Advertisement
Reports were ambiguous on whether the body was embalmed as per protocol. The body was only wrapped in a white cloth and it was found open when it was thrown, thereby exposing the workers to risk too. As per protocol, a body bag should have been used.
Related news | Migrant worker's body found inside train toilet after 4 days in UP
NDTV reported that Puducherry Collector Arun had ordered a probe. "I've issued a memo to the department. It's very unfortunate. I am enquiring into the issue. Have properly briefed them," he told NDTV.
Recently in Chennai, an angry mob resisted the burial of Dr Simon Hercules. The doctor's friend then had to take the body and bury it on his own. The Tamil Nadu government had then brought in an ordinance allowing up to three years jail term for those who block funerals of coronavirus victims.
A report in The Times of India said the man was confirmed positive on Friday and was 'brought dead' to the Indira Gandhi Government General Hospital and Research Institute in Puducherry. The report also said his family did not intend to take part in the funeral.