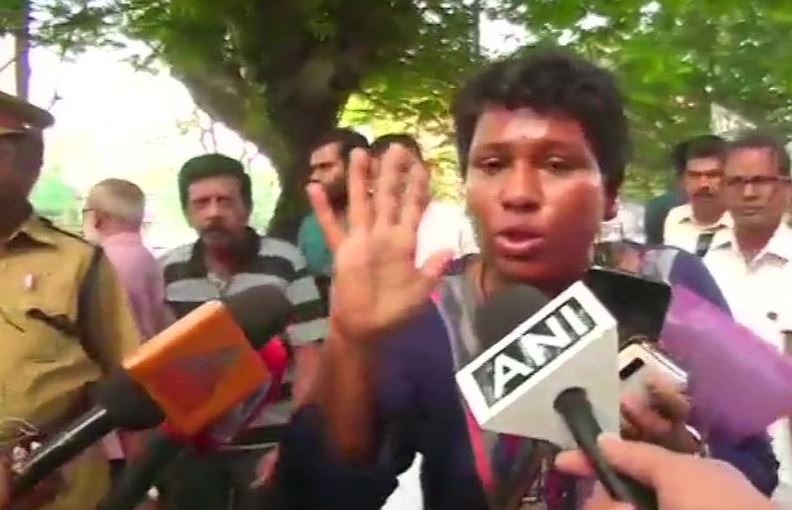 Women's rights activist planning to visit Sabarimala attacked with pepper spray
Soon after women's rights activist Trupti Desai announced that she will visit the Lord Ayyappa shrine on Tuesday (November 26) irrespective of being provided police protection, another women activist who reached Kochi was attacked with pepper spray outside the office of the Police Commissioner. The attack on activist Bindu Ammini has indicated that their attempts to enter the shrine will be met with resistance as it has been in the past.
Ammini was one of two women who first entered the temple in January this year.
"A Man sprayed chili and pepper on my face outside the Ernakulam city commissioner's office today morning," she was quoted as saying by ANI.
Women's rights activist Trupti Desai reached Kochi on Tuesday to proceed to Sabarimala to offer prayers at the Lord Ayyappa shrine.
Desai and a few other activists including Ammini who landed at the Kochi International Airport early Tuesday have been taken to Kochi city police commissionerate.
She said they preferred November 26 to visit the shrine as it was the Constitution Day.
She said she has come up with the 2018 order of the Supreme Court permitting entry of women of all age groups into the Lord Ayyappa temple in Sabarimala.
"I will leave Kerala only after offering prayers at the shrine," the activist said.
The Pune-based activist had made an unsuccessful attempt to enter the temple in November last year, weeks after the Supreme Court lifted the ban that prevented women and girls between the age of 10 and 50 from entering the famous shrine.
After the Supreme Court sent the review petitions on the entry of women in the age group of 10 to 50 to a bigger bench without staying the earlier judgement of 2018 which allowed the entry of women of all age groups to the temple, the Kerala government said it will not give protection to women who try to enter the temple.
The Travancore Devaswom Board since 1951 has been restricting the entry of menstruating women to the temple. Although the notification was upheld by the Kerala High Court in 1991, the Supreme Court in its verdict on September 28, 2018, opened the temple to women in the barred age group, sparking violent protests in the state. After hearing a batch of review petitions on the issue, the apex court on November 14 referred them to a larger bench.
(With inputs from agencies)