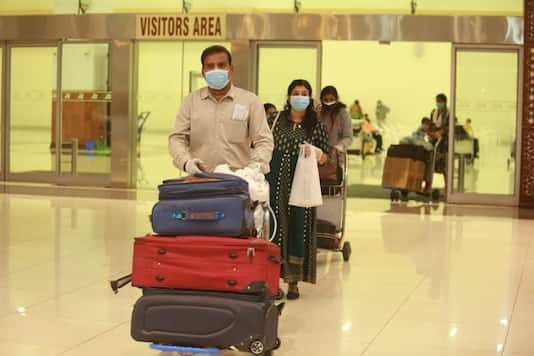 Two Indians, who were among those brought back from the United Arab Emirates by the Indian government as part of the Vande Bharat mission have tested positive for COVID-19, according to Kerala Chief Minister Pinarayi Vijayan.
During his daily press briefings, Vijayan said the two of them landed in Kerala on Thursday (May 7) and one of them is receiving treatment at Kozhikode, while the other is being treated in Kochi.
"The two of them reached the state on May 7 in the Abu Dhabi-Kochi and Dubai-Kozhikode flights respectively," Vijayan told reporters.
Two special flights from the UAE carried 363 nationals, including nine infants, back to Kerala on Thursday (May 7) as part of its biggest repatriation exercise to bring back Indian citizens stranded abroad due to the lockdown enforced in several countries to curb the spread of the coronavirus.
Vijayan, while addressing the media on Friday (May 8), said that while the state has succeeded in containing the virus so far, they must brace themselves for a possible third wave of infections after the repatriation of Indians stranded abroad.
Related news | COVID-19 to peak in India by July, say WHO envoy, AIIMS director
Thousands of people (reportedly 15,000 people) are expected to return to the country over the next four days, since Air India is planning to operate 64 paid flights between May 7 and May 13.
Furthermore, 698 Indians are being transported from the Maldives to Kochi on the Indian Navy warship INS Jalashwa.
The Kerala government has ordered mandatory testing of all passengers for COVID-19 before repatriation, and multiple screenings including thermal scanning after they arrive in India.
Those who land in Kerala must also be in quarantine under government orders on arrival and take an RT-PCR test (which is reportedly more accurate) that must show negative. They are also required to spend another seven days in home quarantine.
However, pregnant women and senior citizens will be allowed to go home and stay in quarantine at their houses.
The Chief Minister stressed on the importance of carrying their passes, and said they would be sent back if they did not have their passes on them.
The two new cases take the total number of COVID-19 cases in Kerala to 505, with 17 people receiving treatment at hospitals. Four people have died due to COVID-19 so far, while 484 people have been cured/discharged from hospitals.