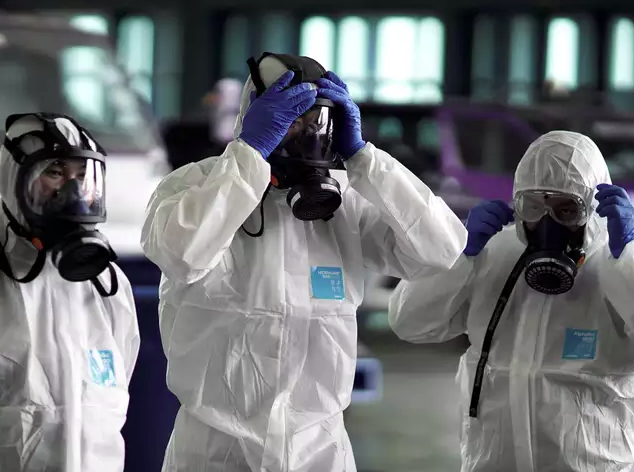 After a year of seesaw COVID battle, here's why Kerala is still vulnerable
India's first case was reported in Kerala — a medical student from Wuhan in China, the epicentre of COVID-19, who arrived on January 26 and was declared positive. Over the next few days, three more medical students — all coming from Wuhan — tested positive. As on February 3, Kerala had three active cases.
A year ago, on January 30, 2020, Kerala's Health Minister KK Shailaja, in an unusual press conference in the wee hours, announced that the COVID-19 virus had arrived in India. 
India's first case was reported in Kerala — a medical student from Wuhan in China, the epicentre of COVID-19, who arrived on January 26 and was declared positive. Over the next few days, three more medical students — all coming from Wuhan — tested positive. As on February 3, Kerala had three active cases.
The state, having drawn lessons from the Nipah virus outbreak in 2018, was prepared to handle the situation. Sensing the destructive potential of the virus, the Health Minister had already held discussions with officials and made necessary preparations. A control room was established and medical teams were deployed at airports well in advance to screen arrivals.
Also read: COVID-19: Kerala's TPR soars but government 'rationalises' spike
On arrival, all passengers from China were asked to go into quarantine. Rigorous contact tracing of all passengers who travelled in the same flights as the three medical students was done. It was the 'pre pandemic time' and Kerala had declared the coronavirus outbreak as a state disaster. The active management of the situation started yielding results. By February 20, 2020, all the three active cases recovered. 
But, more importantly, no new cases were reported. Not a single person got infected by coming into contact with the first three cases, as the patients were in home isolation under the watchful eyes of primary health care workers and health inspectors. So, from February 21, 2020, till March 8, 2020, no new case emerged — Kerala had zero COVID cases.
That was the end of the first phase of COVID as far as Kerala was concerned. The 'state disaster' status was lifted.
However, on March 9, three people — family members — who had travelled from Italy, which was then reporting a high number of COVID cases, to Kochi and had dodged airport screening and tried to hide their travel history, tested positive. Two others were also found to be infected with the coronavirus.   
Thus began phase two of the pandemic in Kerala. Thereafter, the state saw a consistent and steady rise in the number of cases. By the end of March 2020, the number of active cases stood at 215.  
The state government implemented multiple strategies to control the situation. The primary healthcare team in each ward of Kerala closely monitored everyone in quarantine. By April 30, the curve began to flatten, as the daily count fell below 10. In fact, on April 30, only two new cases were confirmed.  
Also read: COVID crisis: 65% of expats who returned to Kerala lost their jobs
In the first week of May, fewer than three cases were reported each day. 
Then the state borders were opened and thus started the massive reverse migration of Malayalees who were stuck in other states. That was the beginning of the third phase. The number of new cases began to spike from around May 17, 2020, when 14 new cases and 101 active cases were reported. From then on, the spread of COVID was rapid. Kerala made preparations for the institutional and home quarantine of returnees by taking over hostels, lodges, hotels and auditoriums. On May 31, 2020, 61 new cases and 670 active cases were reported. By the June 2020 end, there were 2,112 active cases; the number increased more than four fold by the end of July 2020, with 10,495 active cases. 
According to the department of Non Resident Keralites Affairs, around six lakh Malayalees came back in distress over a period of four months till September 2020. 
There was a big spike in cases after the Onam celebrations that ended on September 2, 2020. The case tally touched a peak towards the end of October 2020 — as of October 31, 2020, Kerala had 91,190 active cases; 7,983 new cases were reported on that day.
From then, however, the numbers started declining: by December 30, 2020, the active case count fell to 65202, with 5,215 cases confirmed on that day.    
The rising graph – yet again
The fortunes again changed in January. When cases were declining rapidly all over the country, Kerala started reporting an increases in the daily count of new cases. In the last week of January 2021, the total number of cases reported in Kerala was 9,17,630. As many as 8,41,444 had recovered, while the death toll mounted to 3,704. Kerala is among the top five worst-affected states now. On January 29, the state reported 6,268 new cases and it had 72,239 active cases
The Union health ministry data says out of the 20 worst-affected Covid districts, a dozen are in Kerala now. In recent days up to 44% of Covid-19 cases in the country have been reported from Kerala, which was once projected as the role model for management of the disease. Kerala health ministry statistics show that the state's positivity rate is five times the national average.
In Kerala, ICU beds in several hospitals are said to be almost full. According to the ministry, there are 3,050 ICU beds — 1,200 in government hospitals and 1,850 in the private sector — and of them about 90% are occupied. Ernakulam and Kozhikode top the state in Covid-19 cases. The Indian Medical Association's Kerala chapter has asked the state government to take tough measures in Ernakualm, including a lockdown to check the spread.
Prosperous, yet vulnerable
In states such as Maharashtra, Tamil Nadu and Karnataka, the curve has started flattening after touching the peak in September/October. In Kerala, the daily count has never been steep, but it has seen a slow and steady growth. Today, Kerala has the highest number of COVID cases in the country. Experts have some theories on how it came to this.
"Despite having a robust health care system, which has been internationally acclaimed, Kerala remains one of the most vulnerable states in India with regard to the outbreak of epidemics. There are four factors that keep Kerala highly vulnerable," explains Dr Mohemmad Asheel, the director of Kerala Social Security Mission. These are:
Population density: Kerala's population density is 859 per square km — more than twice the national average. Unlike many other states, there is no strict urban-rural divide in Kerala. Urbanisation is growing fast. Kerala neither has overcrowded metro cities like Mumbai nor empty villages. However, the population density is a factor that makes Kerala a place vulnerable to an epidemic.
Also read: COVID effect on jobs to be felt in 2021 as well: UN
Ageing population: According to official statistics, Kerala is ageing faster than the rest of India. Senior citizens constitute 16 per cent of the total population of the state, which is higher than the national average. It is estimated that 48 lakh people in Kerala have crossed 60. Among them, 15 per cent have crossed 80. Kerala has the highest life expectancy for both men and women (73 for men and 78 for women). "This is a reflection of Kerala's achievement in health care," says Dr Aravindan, an expert committee member of Kerala's COVID Task Force.
Non-communicable diseases: The prevalence of heart disease, diabetics, blood pressure and obesity is high in Kerala. According to a 2019 report by Niti Ayog, 52 per cent of the deaths in the age group of 30 to 59 happens because of such diseases. This is again higher than the national figure, which is 42 per cent. The report also says that 27 per cent of the adult male population in Kerala is diabetic, against 15 per cent at the national level. This is 19 per cent when it comes to the female population. Despite comorbidities being a deadly factor in the fatality rate of COVID 19, Kerala managed to keep the death toll lowest in the country.
Migration: According to the Kerala Migration Survey of 2018, there are 2.1 million emigrants from Kerala across the world. According to the survey, 24 out of 100 households in Kerala have a migrant. However, this has shown a consistently declining trend, according to Dr Irudayarajan, faculty at the Centre for Development Studies and an expert in migration studies. "All these are universally acknowledged factors as the key in enhancing the prevalence of epidemics. Considering all these factors, we have to learn to live with the virus — any virus in any part of the world which has the potential to reach Kerala, not only now but in future too," says Dr Asheel.
Kerala has been managing the COVID pandemic actively, conducting a high number of screenings and testings, and expanding the health infrastructure to treat cases when they burgeoned. Despite all this, the state, ironically, remains quite vulnerable, especially because there are many things about the virus and its various strains that are still not well understood.