Saved by a stroke of luck, landslide victims live to tell the tale
What used to be 33-year-old Santhosh's neighbourhood, is now a mass grave, levelled to the ground by a landslide that is feared to have killed almost 60 residents of Kavalappara village in Mallappuram district of Kerala.
But, Santhosh can exactly locate where his house stood if you show him a photo of the landslide site. Ask him how many houses were there, he can count them on his fingers, naming neighbours who died and those who are missing, closing the count at 30.
It has almost been a week since the calamity struck, but Silip Kumar, a resident of Kavalappara cannot reconcile with it. More so, he cannot reconcile with the fact that he couldn't save his friends whom he knew for years.
"The moment I heard the rumble of the approaching stones, I had to rush my family to safety. But before I could save the neighbours, massive chunks of earth had smashed our houses, burying them alive. It all happened in a matter of seconds," says 40-year-old Silip, who has turned reticent after the incident and avoids company.
Living in the flood relief camp at Catholic Higher Secondary School, Pothukal, Silip makes it a point to visit the landslide site every day.
"Earlier he used to help rescue personnel or the media in locating the colony from the mass of soil and rubble. Now, he just stands there, lost in thoughts. He comes back to the camp and sits alone, in silence," says Mansoor, an activist working as a volunteer at the relief camp.
All Silip can remember are the names of his friends – Sakina, Aneesh and Sridhar – whom he will never meet again, Mansoor says.
The flood relief camp at the Catholic Higher Secondary School is home to many heart wrenching wails and stories like Santhosh's and Silip's, and a refuge that is helping many reconcile with the tragedy and muster courage to move on. It is one of the 13 relief camps in Pothukal panchayat where almost 1,100 flood victims of Kavalappara, Mundiri, Poolaparam, Padar and Bhoothanam are residing.
Also Read: Faceless heroes of Kavalappara brave warnings, floods to restore normalcy
Over the past week, torn between re-living the traumatic experience of the landslide and an attempt to recover from it, those like Santhosh have chosen the latter.
"Earlier, flood warnings were issued, but didn't occur. So, this time many took it as a joke when the authorities issued an alert. It pains me to see my friends and my home gone, but I am thankful for being alive. There is no other way than starting from the scratch," says Santhosh, who works as a driver.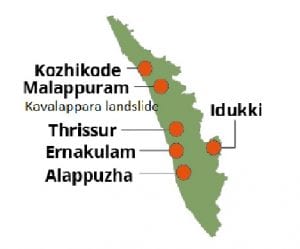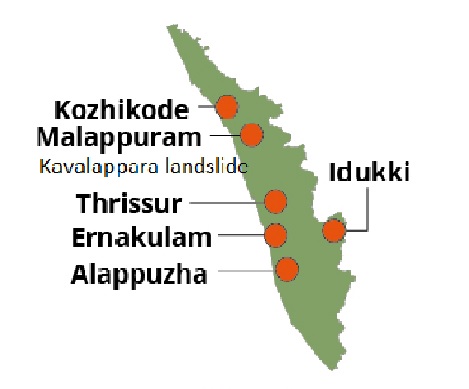 Fifty-year-old Kunzu Mohammad, a resident of nearby Kodalipoil village, visits the camp almost every day to meet his pregnant daughter Nazia, 24, who is living in the camp with her husband and in laws, residents of Kavalappara. The night before the landslide, a frenzied Mohammad, after learning about the alert at Kavalappara, had fought with the security forces and waded through waist-deep floodwaters to reach his daughter's house to ensure that she was safe.
The next day, the security forces had dropped Nazia and her children at Mohammad's house in Kodalipoil. "I wouldn't have dropped her back at the relief camp if they (officials) hadn't asked for her presence for documentation work to claim compensation," says Mohammad.
With teachers, students, alumni and volunteers from different NGOs working round the clock to cater to the needs of the rescued people and ensuring that they are fed and comfortable, many volunteers say the victims need constant counselling to recover from the shock.
"Many here have lost their house and property. Any mention of the flood, makes them sink back into despair. So, we constantly talk to them and see that they don't brood on the calamity," says Shibu, a teacher at the school.
"One of the survivors, a boy of our school, whose house was razed in the Kavalappara landslide, asked me if his name would be struck off the school rolls, now that his parents can't pay his fees. I was moved by his question. No one taught us how to answer such questions. I assured him that we are there to take care of him," he adds.
Also Read: Razed by a landslide, Kavalappara is a picture of death and despair
Teachers and volunteers at the school lighten the mood with small talks with flood victims, jokes and stories.
"The cruel joke was that the calamity happened just a few days before Eid-al-Adha. To disperse the gloom, we celebrated Eid at the relief camp. We have also been conducting magic shows and hypnosis sessions to keep their attention away from the devastation," says Mansoor.
"Thanks to our social media volunteers, we have received almost 120 vehicles of relief materials at the school. People have generously donated from across Kerala, Tamil Nadu and Maharashtra while many organisations like the Mumbai Malayalee Associations have offered to rebuild the houses. If not us, then who will pull them back to life?" he adds.