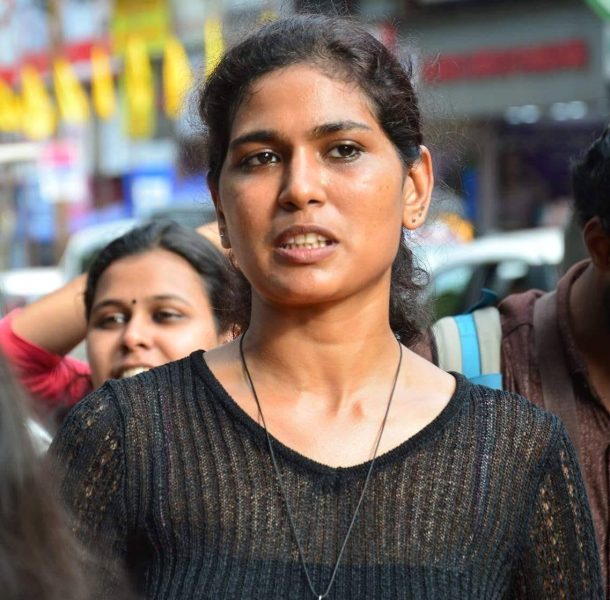 Rehana Fathima case judgment: 'It should act as a guide to understand body politics'
The  Kerala high court order, quashing the POCSO case against women's rights activist Rehana Fathima, hailed by many, is significant on many counts.
The judgment by Justice Kausar Edappagath observed that the video, shared on social media showing Fathima's children painting her body, cannot be regarded as obscene.
Rehana Fathima was facing charges under various provisions of the Protection of Children against Sexual Offences Act (POCSO) and Juvenile Justice Act, along with the Information Technology (IT) Act, for posting a video, in which she posed semi-naked for her minor children and let them paint her body.
My body, My choice
Anchored on the concept of 'My Body, My Choice', the judgment discusses the idea of personal autonomy and integrity of women's body and freedom of choice, before going on to positively engage with the notion of liberty, gender bias and choice.
The judgment said, "The body is the most fundamental space over which an individual shall have autonomy. Body autonomy that allows individuals the freedom to make their own choice about their bodies is a natural right and part of their liberty. Every individual is entitled to the autonomy of his/her body – this is not selective on gender. But we often find this right is diluted or denied to the fairer sex. The autonomy of the male body is seldom questioned, while the body agency and autonomy of women are under constant threat in a patriarchal structure. The women are bullied, discriminated against, isolated, and prosecuted for making choices about their bodies and lives."
According to Justice Kausar Edappagath's judgment, from the allegations against the activist, it was not possible for anyone to infer that her children were used for any real or simulated sexual acts and that too for sexual gratification. The court said that she only allowed her body to be used as a canvas for her children to paint on.
Also read: How Kerala activist Rehana Fathima uses her body to battle patriarchy
The judgment that relies upon Article 19 and 21 of the Constitution clearly states that the right of a woman to make autonomous decisions about her body, is at the very core of her fundamental right to equality and privacy. It also falls within the realm of personal liberty guaranteed by the Constitution.
"When it comes to the harassment and abuse that women experience because of their bodies, this ruling should be viewed as extremely important. It serves as a guide for upcoming generations on how to understand body politics," said Rehana Fathima, adding that the court's ruling reflects exactly what she had intended her body art to convey.
"My children are to be commended for sticking by me despite the unrelenting online and offline attacks that I endured," said Fathima.
Tackles sexualisation of women's bodies
This judgment should be regarded as one of the most path-breaking ones because it tackles the 'sexualization' of women's bodies and the issues surrounding body politics very seriously. In fact, it is a very positive follow-up to the Supreme Court (SC) verdict on abortion, which recognised women's right to equality, their agency, and their choice.
"This is a perfect example of how SC judgments influence the subordinate courts," said Athira P M, a feminist lawyer and political activist.
Further, Athira added, "Reading the court's observations about the petitioner, who has experienced harassment from various social groups, and seeing how positively it views her activism, artistic endeavours, and even her rebellion against the system, including the kiss of love protest and her Sabarimala visit, is really encouraging. The court has taken a comprehensive view of her political activity, which is rare."
While considering the merit of the case, the court had observed in the judgement that it is "a case where a mother who tried to challenge patriarchal stereotypes and spread a message that there needs to be nothing sexual or offensive about the naked female body by letting her kids be exposed to her semi-nude body was saddled with criminal prosecution alleging that she exploited her own children for sexual gratification. What started as a body art project for a mother with her kids with control of the narrative turned out to be a criminal act".
Nudity and obscenity not always synonymous
The court further asserted, "Nudity and obscenity are not always synonymous. It is wrong to classify nudity as essentially obscene or even indecent or immoral. This is a state where women of certain lower castes had once fought for the right to cover their breasts. We have murals, statues, and art of deities displayed in semi-nude in ancient temples all over the country. Such nude sculptures and paintings freely available in public spaces are considered art, even holy. Even though the idols of all Goddesses are bare-chested, when one prays at the temple, the feeling is not of sexual explicitness but of divinity. The male body is displayed in the form of six-pack abs, biceps etc. We often find men walking around without wearing shirts. But these acts are never considered to be obscene or indecent. When the half-nude body of a man is conceived as normal and not sexualised, a female body is not treated in the same way."
"Some people are so used to considering a woman's naked body as an overly sexualised one or just an object of desire. There is another dimensional view about female nudity- that is, female nudity is taboo because a naked female body is only meant for erotic purposes. The intention of the petitioner in making and uploading the video was to expose this double standard prevailing in society".
In this case, the court played the video in question in open session and heard arguments from both sides, in contrast to normal circumstances where such contentious videos are verified "in-camera."
In his order, Justice Edappagath said, '"I have already found that the video uploaded by the petitioner was neither obscene nor indecent. The petitioner only propagated her views on the default sexualisation of the female naked body. It is trite that the freedom of speech and expression includes freedom of propagation of one's thoughts, ideas, opinions, and views. The State cannot, by any legislative or executive action, interfere with the said right except insofar as permissible under Article 19".
The case was registered against Rehana Fathima based on a report filed by Cyberdom, the cyber wing of Kerala police. A BJP leader lodged the complaint against her for posting the video titled "Body and Politics" on social media.
Fathima was already in the public eye for attempting to enter the Sabarimala shrine in October 2018, following the SC's decision to allow women of menstruating age to do so, and as a result, had come under attack from right-wing activists.