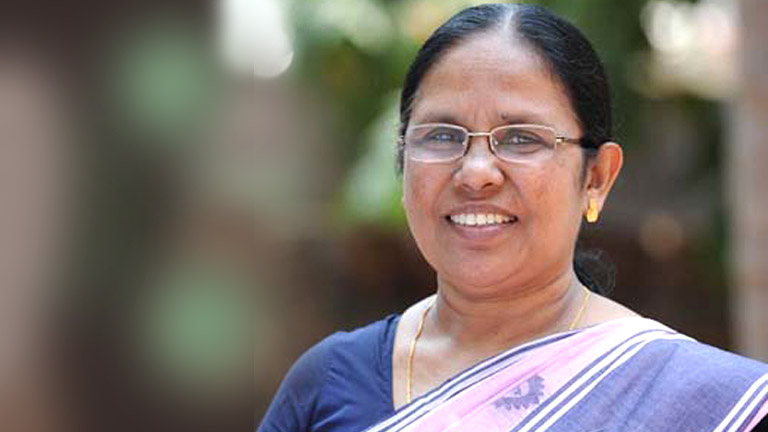 KK Shailaja brushes off graft allegations in purchase of PPE kits in 2020
K K Shailaja, the former health minister of Kerala, dismissed allegations of corruption in the purchase of PPE kits during the first phase of Covid in 2020.  Based on a complaint by Youth Congress leader Veena Nair, the Kerala Lokayukta sent a notice to the former health minister seeking explanation on the allegation of corruption.
"It was the time when we were focused only on saving lives. There was scarcity of PPE kits. Hence, we had to purchase the kits from wherever available and the price was not a matter of concern," said Shailaja.
Also read: Wealthy, highly educated Kerala is avid consumer of superstitions
Allegations regarding PPE kits
Notice has been served to 13 persons arraigned as respondents, including IAS officers and the office bearers of Kerala Medical Services Corporation Ltd, a government-owned company that provides medical services to healthcare institutions. The allegation is that PPE kits were purchased at a higher rate when the same were available at a lower rate.
Shailaja explained that it was a collective decision taken by the government. "At that time, there was scarcity for PPE kits. Our healthcare workers were badly in need of kits. Protecting them was the most important consideration. When I consulted with the chief minister and brought his attention to the price of PPE kits, he gave us instructions to purchase the kits from wherever possible as saving lives was the most important thing. According to this decision, we gave an order for 50,000 kits at a rate of Rs 1,500. We received the first batch of 15,000 kits at that rate, but after that kits were available at a cheaper rate. Thus, the rest of the order — that of 35,000 kits — was cancelled."
'Attempt to malign govt'
Shailaja told The Federal that she is confident that she would be able to make the Lokayukta understand the context. "I will file an explanation through my lawyer. This is nothing but an attempt to malign the government which fought the Covid battle well."
"It was the time to act. If we would have taken time to think and analyse the price, the life of our health workers would have been in danger. The government took quick decisions and acted according to the powers entrusted by the Disaster Management Act," she said.
Also read: Room No 13: Is Kerala HC suffering from triskaidekaphobia?
"The CM was only concerned about one thing — the quality. He told me to purchase the kits at whatever price, but not to compromise on quality. If we had stayed reluctant… scared of allegations, we would have lost lives of health workers," Shailaja said while speaking at a public function in Kuwait organised by the Malayali Association.