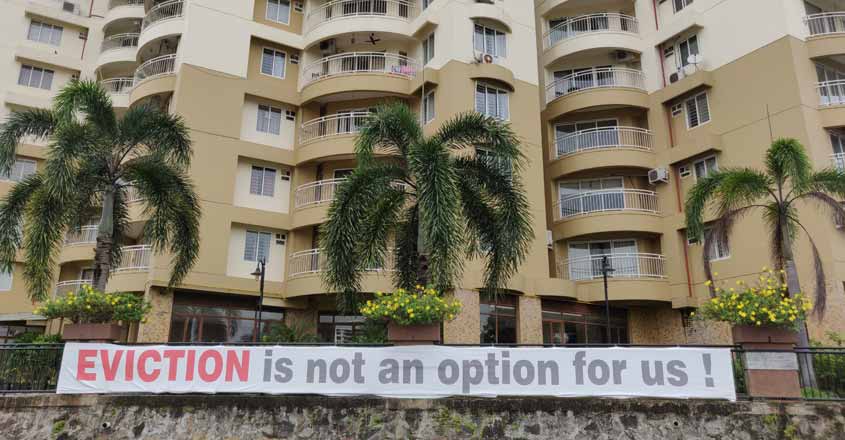 Kerala to submit action plan on Maradu flats demolition in apex court
Days after the Supreme Court hauled up the Kerala administration for failing to comply with its order on demolishing the flats at Maradu in Kochi, the left front state government is scheduled to submit a 138-day-long demolition plan at the Apex Court on Friday (September 27).
As per the plan, the residents have time to move out of the apartments by October 3, by when the telephone connections too would be cut. Thereafter, the demolition processes will start on October 11 and continue till January 9, 2020. The cleaning of the debris will start on January 10 and end on February 9.
ALSO READ: Shocked by Kerala govt's inaction on Maradu flat demolition, says SC
At 4 am on Thursday, power and water supply lines were disconnected at the four apartment complexes. This follows a meeting that the government had on Tuesday in which it was decided to direct the Kerala State Electricity Board and Kerala Water Authority to disconnect power and water supply to the apartments with immediate effect.
Residents of the apartments protested the move calling it a violation of human rights.
They said that they would not leave their flats but intensify their agitation against the "human rights violations". "Officials are taking steps to throw us out on the streets. We are not the culprits. We will not leave our homes. We will stay here," a representative of the flat owners had told PTI on Wednesday.
ALSO READ: Maradu residents live in fear as sword of demolition drive hangs
In a move to fix accountability, the Kerala Police have registered an FIR against three builders under IPC sections 406 (Punishment for criminal breach of trust) and 420 (Cheating and dishonestly inducing delivery of property). More than 60 bank accounts of these builders have also been frozen.
With the issue having become a political tug-of-war between the ruling left front and the Congress-led UDF, CPI(M) state secretary Kodiyeri Balakrishnan said that the government was all for implementing the orders of the apex court. "SC has taken a strong stand. State government has to implement the order. When we're trying to implement it opposition is trying to tell people that we are against them."
He further said, "Builders should return the amount flat owners had given them. If builders fail to do it, the government should take legal action."