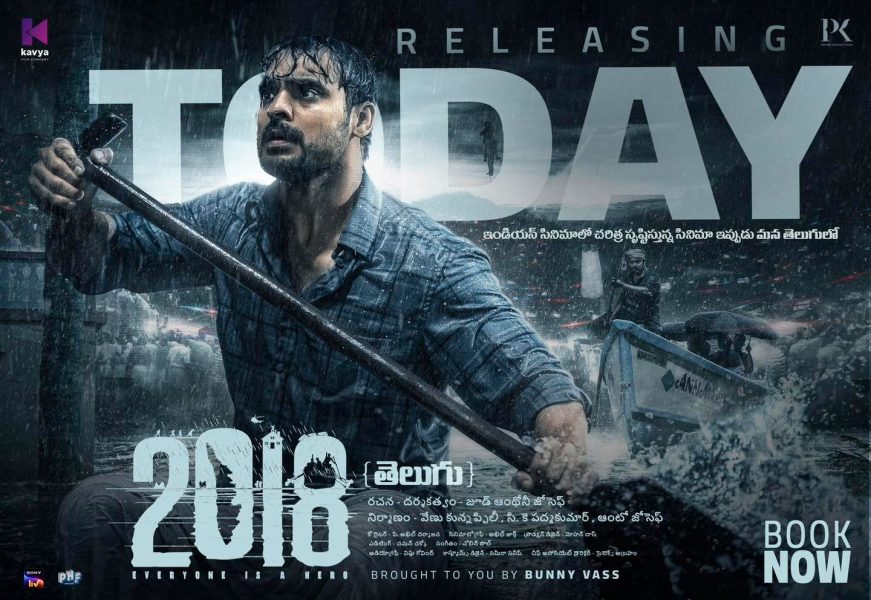 Kerala: Theatres shut for two days; owners seek 120-day window for OTT releases
Many cinema theatres in Kerala pulled down their shutters on June 7, responding to a call by the theatre owner's association, Film Exhibitors United Organisation of Kerala (FEUOK), to stop screening films on the big screens for two consecutive days.
This strike is to protest against filmmakers releasing their movies on OTT platforms earlier than the time window agreed upon and allegedly flouting the agreement with the theatre owners.
So what triggered the protest now? Malayalam film '2018', starring Tovino Thomas, has been aired on Sony Liv, just five weeks after its theatrical release. And it's one of the biggest grossers in Malayalam after a long lull, and became successful despite not being headlined by big stars.
The theatre owners expected a longer run for this super-hit film since it drew audiences back to cinema halls in droves.
"We had several discussions with all the stakeholder associations in the industry. They had agreed to the 42-day window between the theatrical and OTT release, but they continue to flout this. Now, it's high time we stopped this and we have nothing to discuss with them further. The government must intervene and make a 120-day window possible. If this will not happen in 20 days, we will be forced to shut down theatres indefinitely," warned Suresh Shenoy,  managing director of Shenoy's Cinemas, Kochi.
Also read: Kerala govt releases 'The Real Kerala Story' ad to mark its second anniversary
K Vijayakumar, FEUOK president, claimed that the perception among viewers is that they can easily access films on their personal devices within a few days of its theatrical release. This is the primary cause of the decline in theatre audiences. According to Vijayakumar, this has had a significant impact on the overall theatre business.
"There were attempts by some people to have simultaneous theatrical and online releases. They belong to a global lobby and have powerful producers and celebrities on their side. However, we resisted this action, forcing them to give up their plans as a result," claimed Vijayakumar.
Further, he said, "There used to be a clause that allowed films to choose to go for an OTT release after 32 days of their theatrical release. This rule, though, needed to be reconsidered because it was deemed to be inapplicable. Next, 42 days were chosen as the new duration."
"For some films, such as '2018', which entered into an OTT agreement before May 31, exceptions were made. We will no longer work with the film's producers in the future, and we will refuse to screen their films in our establishments, if any film has an online premiere before the 42-day mark following its theatrical release. If the producers of '2018' had waited a little more, it could have been the first Malayalam film to gross ₹200 crore," said Vijayakumar.
Vijayakumar slammed the actors who run their own production companies, accusing them of being motivated by greed. "This kind of behaviour is unpardonable. These actors have actively supported the practice of releasing their films on OTT platforms soon after their theatrical releases ever since they took on the role of producers."
Also read: Theatre owners unperturbed over 'The Kerala Story' release; Madras HC dismisses PIL
Meanwhile, Jude Anthony Joseph, the '2018' director, posted on his Facebook page, "I respect theatre owners for calling a strike. Prior to the release of my films, I have always worked to make sure the producer is safe. The SonyLiv deal seemed to be a blessing because of this. It was never meant to harm anyone, it's part of the business. I want to thank everyone for supporting our movie and SonyLiv for believing in it before it was released. The theatre owners and patrons—you two are the real heroes."
The theatre owners complained that the emergence of OTT platforms has driven away audiences and the filmmakers are only helping this trend and making a hole in their entire business.
"Producers and directors of films have no other motivation than to make money; they have no regard for anyone else working in the industry. We have no choice but to shut down," affirmed Suresh Shenoy.
"The crisis is real and the concerns raised by the theatre owners are genuine," said a successful young filmmaker and writer, who did not want to be named. "Basically, it is a business crisis, but in a small-scale industry like ours, we cannot differentiate this from a creator's crisis. A few corporates who own the entire OTT ecosystem get to call the shots in our industry. As far as small-time filmmakers are concerned, they are left with limited options," he told The Federal.
Movie theatres were the first to close and the last to reopen during the COVID pandemic. And, even though they did reopen, nothing has been the same as it was before the pandemic. And, this is where the OTTs found their way in.
"Now, as the audiences are slowly starting to return to watch movies on the big screen, all the theatres need is good films," said Siyad Kokker, a former theatre owner and producer.