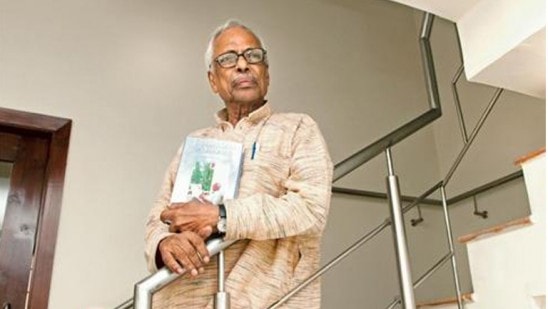 Veteran peace activist and Pakistani politician of Kerala origin BM Kutty passed away in Karachi on Sunday after a protracted illness. He was 89.
Biyyathil Mohyuddin Kutty, popularly known as BM Kutty, was born in Kerala's Tirur on July 15, 1930. He migrated to Pakistan in 1949 at the age of 19 and rose to prominence there.
"He had great pride about his Indian origin and roots… But he never wanted to change his Pakistan nationality," says Mohammed Kutty, brother of prominent Indian-origin Pakistani politician and activist BM Kutty who had died in Karachi after a prolonged illness on Sunday (August 25).
Though his family members here wanted him to come and stay at Vailathur, his ancestral village at nearby Tirur at the dusk of his life, Kutty had fondly rejected their demand and said he wanted to die as a Pakistani, the brother recalled.
Advertisement
"He had love and respect towards the people of Pakistan. He used to say that people of India and Pakistan share similar thoughts and sentiments and partition had failed to divide their united hearts. Problem was with politicians only, he had said," Mohammed Kutty told on Monday (August 26).
"When I asked him if he could remain in Kerala, he had said no way…He never wanted to change his Pak nationality," Kutty said.
As soon as they received the news about his death, the family members gathered at his ancestral home here and conducted special prayers on Sunday evening.
They distributed rice to over 250 poor families and read his autobiography "Sixty years in self-exile: No Regrets; A Political Autobiography", reviving Kuttys memories.
Mohammed Kutty, the youngest brother, said though he tried to call B M Kutty's daughter in Karachi, the phone was continuously switched off.
"I had talked to my brother a week ago. He sounded very weak.. he was upset about the recent developments in Kashmir," the 70-year-old recalled.
Born in 1930 in Tirur town in Kerala's Malappuram district, Kutty was the eldest of five siblings. He belonged to a family of peasants and landowners and was raised in middle-class circumstances.
During his student days, Kutty developed Socialist and Leftist political views and joined the Kerala Students Federation affiliated with the Communist Party. In 1946, he also joined the Muslim Students Federation under the All-India Muslim League.
He attended Mohammedan College in Chennai, where he studied science for four years. "After his studies, my brother and some of his friends had gone on a trip to various places in India and Pakistan. As part of the tour, he visited Lahore. Though his friends later returned to India, my brother decided to stay back in Pakistan," he said.
He found a job first in Lahore and then in Karachi and eventually settled down there and acquired citizenship.
The younger brother recalled that his parents were initially upset about their son's migration to Pakistan and his marriage with Brigees Mohiuddin, whose family had migrated to Karachi from Uttar Pradesh.
But, even after settling down in Pakistan, he continued to be in touch with family members in Kerala and tried to visit the southern state as frequently as he could.
After 2002, he began visiting the ancestral home at least once in two years, the family said. When he suffered a stroke, which left him paralysed in 2017, Kutty flew to Kerala for Ayurveda treatment which improved his condition.
"He took treatment at a private ayurveda hospital in Palakkad. He came in a wheelchair but returned to Pakistan walking with the help of a stick. His son also spent one month in the state during the time of the treatment," he said.
The entire family saw Kutty as an inspiration and cherished memories about his visits to the state. Kutty took part in several political movements in Pakistan. The high point of his career was his association with Ghaus Baksh Bizenjo, the Governor of Balochistan province, in 1972.
He also served as political secretary to the Governor of Balochistan. Kutty came to the limelight after he launched his autobiography "Sixty years in self-exile: No Regrets; A
Political Autobiography" in 2011.
In the autobiography, he narrated the story about his journey from Kerala to Karachi, explaining why he had opted to stay in Pakistan. Kutty was the general secretary of Pakistan Peace Coalition, a group that has been working to promote peace process between India and Pakistan.
Intellectuals, journalists and politicians expressed their condolences on Kutty's death and paid rich tribute for his services for Pakistan and the community. His wife Birjis Siddiqui pre-deceased him in 2010. The couple has four children.