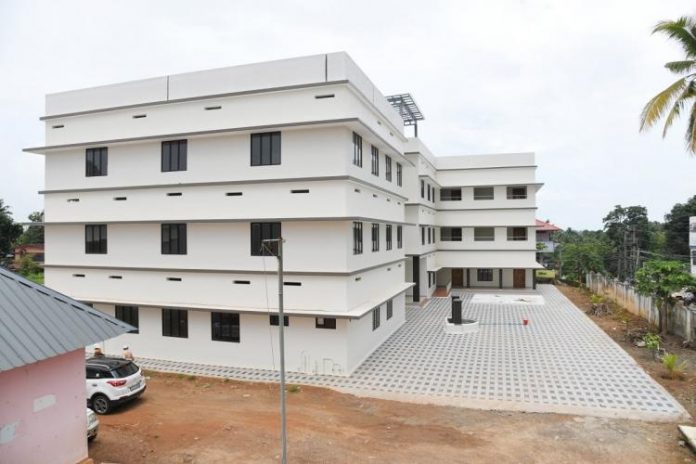 Brand new buildings, clean and modern toilets and washrooms, high-tech classrooms, well-designed libraries and dining areas — this is not the look of a private school charging parents lakhs in annual fees. This is how the government schools in Kerala, which have been going through a revolutionary face-lifting process, now look.
The chief minister, Pinarayi Vijayan, inaugurated 34 new school buildings on Wednesday, in the latest phase of the mission. Vijayan has said 1,000 government schools are being renovated in all.
The modernisation of schools is a Rs 3,129-crore project, with the funding coming from the Kerala Infrastructure Investment Fund Board (KIIFB).
Rs 5 crore will be spent on 141 schools each, Rs 1 crore each on 446 schools and Rs 3 crore each on 395 schools, the chief minister announced in a Facebook post on Wednesday.
The state government's focus on improving the quality of public education is yielding results. According to official statistics, 5.05 lakhs students have shifted to government schools from private one, arresting and even reversing a 25-year trend of a consistent fall in the number of students in government schools. In the last three years, there is a tangible change with more parents opting to admit students in government schools.
Kerala has scored the highest (76%) in the Education Quality Index released by Neeti Aayog this year. Tamil Nadu, with a score of 74%, ranks second. According to the report, Uttar Pradesh ranks last among the large states, with an overall performance score of 36.4 per cent. The index consists of 30 critical indicators that assess the delivery of education, including infrastructure facilities, learning outcome, access, etc.
Related news: NEP may appear erudite, but can it help repair a school toilet?
"This government does not follow the policy of closing down government schools saying they are economically unviable. Instead, we believe in investing in public education to provide quality learning for the masses," the chief minister said.
"The administration of schools has been handed over to LSGs, which has been a key factor in quality improvement of public education in Kerala," said Dr Thomas Issac, the finance minister of the state. He said that Kerala's success in decentralisation has played a vital role despite opposition from the private sector.
So far, 56 schools have been renovated, including the 34 inaugurated by the chief minister on Wednesday. According to official statistics, there are over 12,644 schools in the state, of which 4,504 are government schools, 7,277 are aided and 863 are unaided. Kerala has a teacher-student ratio of 1:27, with a staff strength of 1,68,062.