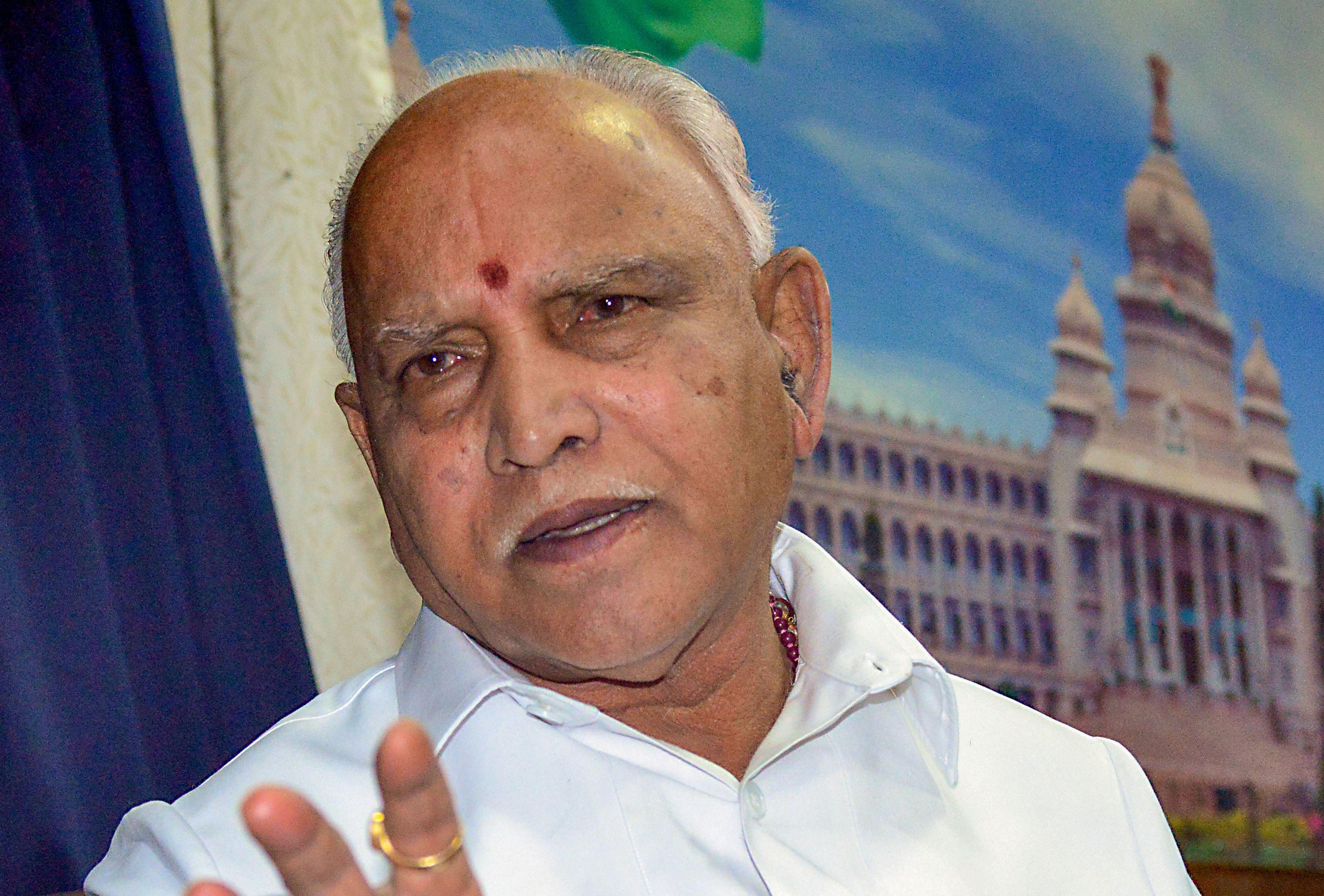 Yediyurappa allocates portfolios to new ministers, reshuffles cabinet
In the backdrop of simmering discontent among party MLAs after his much-anticipated cabinet expansion last week, Karnataka Chief Minister B S Yediyurappa has gone ahead and allocated portfolios to his seven new inductees today.
In the backdrop of simmering discontent among party MLAs after his much-anticipated cabinet expansion last week, Karnataka Chief Minister B S Yediyurappa has gone ahead and allocated portfolios to his seven new inductees today. He also took this opportunity to make several significant changes in his cabinet by reshuffling key portfolios.
JC Madhuswamy, a strong defender of the government on the assembly floor, has been divested of his Law, Parliamentary Affairs, Legislation and Minor Irrigation portfolios. The minister who was in the news recently for a viral video showing him abusing officials, has instead been allocated the Medical Education, Kannada and Culture departments.
His departments have gone to Home Minister Basavaraj Bommai, as additional portfolios. K Sudhakar too, who held two departments, is now left with just the Health department, as Medical Education has been taken away from him. Sudhakar, is one of the 17 Congress-JD (S) rebels who had helped Yediyurappa form the government in 2019. From being an outsider, he had rapidly gained favour in the BJP party, with his efforts to contain the pandemic in the state.
In the case of the new ministers, six-time MLA from Sullia assembly constituency in Dakshina Kannada, S Angara, has been given Fisheries, Ports and Inland transport. Political observers say that he has been finally rewarded for his patience and loyalty to the party. This portfolio was with Minister Kota Srinivas Poojari, who has been relieved from the responsibility will now have Muzrai and Backward Classes Welfare Department.
While, Umesh Katti, another senior MLA and BJP leader, who had been making desperate bids to join the cabinet for a long time, has bagged the Food, Civil Supplies and Consumer Affairs portfolio.
Also read:Resentment in BJP after Yediyurappa announces list of new ministers
Sugar baron Murugesh Nirani has become the Mines and Geology minister, while the Forest Department has gone to BJP state general secretary, Arvind Limbavali. This department earlier was with Anand Singh, who had ironically many cases pending against him, including serious offenses under the Karnataka Forest Act.  He has however been given the Tourism portfolio, in addition to Environment and Ecology.
R Shankar (also known as flip-flop Shankar for switching sides) has been given the Municipal Administration and Sericulture portfolio.
MTB Nagaraj, reportedly one of the richest legislators in India, jumped ship from the Congress to the BJP in 2019. The 70-year-old member of the legislative council is a businessman who has built a real estate conglomerate worth over Rs 2,000 crores. Nagaraj will be Karnataka's new Excise Minister, while CP Yogeshwar, an MLC who often switches loyalties, is in charge of the Minor Irrigation department.
C C Patil, who is famously known for his involvement in the Karnataka assembly 2012 video clip controversy or Porngate, no longer holds the Mines and Geology portfolio. He has however been given charge of Small Scale Industries and Information and Public Relations department as well.
While Haj and Wakf Department has been taken back from Animal Husbandry Minister Prabhu Chauhan; Labour Minister A Shivaram Hebbar no longer is in charge of the Sugar department.
K Gopalaiah, who has been divested of the Food, Civil Supplies and Consumers Affairs Department, has now been made in-charge of Horticulture and Sugar departments and K C Narayana Gowda gets Youth Empowerment, Sports, Haj and Wakf Departments, while Municipal Administration, Horticulture and Sericulture departments have been taken back from him.
Also read:Amit Shah stalls Yediyurappa's plan to include Lingayats in OBC central list
The Chief Minister has kept the Department of Personnel and Administrative Reforms (DPAR), Cabinet Affairs, Finance, Bangalore Development, Energy, Intelligence, Planning, Programme Monitoring Statistics, Infrastructure Development and all unallocated portfolios with himself.
Yediyurappa had expanded his 17-month old cabinet on January 13, by inducting seven ministers, and dropping H Nagesh, who held the Excise portfolio. With this expansion, Yediyurappa accommodated 12 of the 17 Congress and JDS rebels in the cabinet, leaving 21 berths for BJP legislators.
Among the seven inducted, four are long-term BJP leaders, while the selection of C P Yogeshwar, an MLC who has often switched loyalties, is learnt to have caused resentment in BJP ranks. The move is being seen as the BJP's attempt to counter state Congress president D K Shivakumar in the Vokkaliga belt, where the two are rivals.
Several ruling party legislators are angry about MLCs, not elected by the people being made ministers, and the lack of representation to certain regions – with most ministers still from Bengaluru and Belagavi districts. BJP MLA Raju Gouda said the expansion had "not addressed regional and caste imbalances" in the cabinet and said prominence was given to leaders from Bengaluru and Belagavi regions and Hyderabad-Karnataka region had been ignored again.
In fact, Vijayapura City MLA Basanagouda Patil Yatnal, has accused the chief minister of making appointments under "blackmail", without considering seniority or honesty. Other BJP MLAs who made their resentment known are Arvind Bellad, M P Renukacharya and Abhay Patil.
Meanwhile, the CM Yediyurappa has said that if the BJP MLAs have any objection they can go to Delhi, meet national leaders and give them all the information and complaints they have. "I won't object to that but I ask them not to damage the party's reputation by talking ill," Yediyurappa told reporters in Bengaluru.