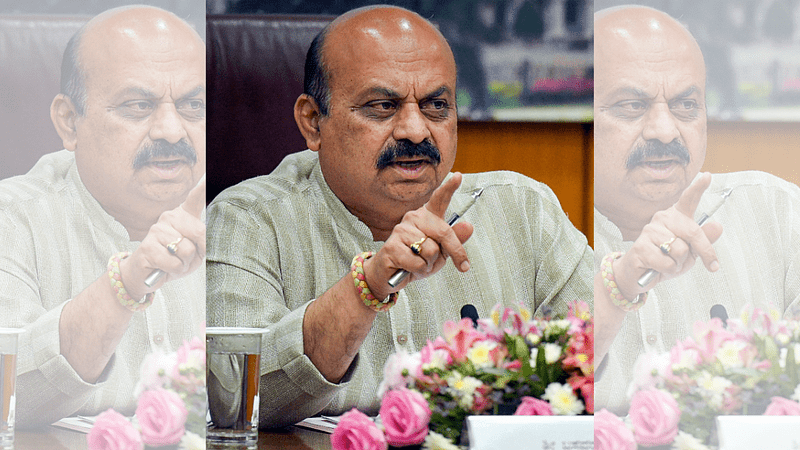 Ban exists on loudspeakers, says Bommai; NCP minister stops speech for azaan
As right-wing groups and MNS chief Raj Thackeray raised the pitch on the call to ban loudspeakers in mosques in neighbouring Maharashtra, Karnataka Chief Minister Basavaraj Bommai on Tuesday (April 5) said that there is already a high court order on loudspeaker ban and that this is not "forced".
Further, Bommai told reporters, "Everything has to be done by talking and explaining to people." Moreover, he stressed that this ban is not only for azaan, it is for all loudspeakers. "So, we will take a call," he said ominously.
Last year, the high court had curbed the use of loudspeakers in religious places. In November last year in fact, while hearing a petition, the Karnataka high court had sought the state government's explanation on the provisions of the law, under which loudspeakers and public address systems have been allowed in mosques. The court also wanted to know if the government had initiated action to restrict their use.
Meanwhile, NCP leader and Maharashtra home minister, Dilip Walse Patil, who had brushed of the call given by MNS chief Raj Thackeray, as an attempt to divide society, halted his speech midway in Pune's Shirur area, when the Muslim call for prayer was being made nearby. A video of the incident went viral on social media platforms.
#WATCH Maharashtra Home Minister Dilip Walse Patil halts his speech midway for Azaan, at an event in Shirur, earlier today pic.twitter.com/IpV35YuIAr

— ANI (@ANI) April 4, 2022
In his view, there are several real issues such as petrol price hikes, inflation, unemployment, and the poor economic condition of the country to talk about, but attempts were being to create tension between communities.
On Monday, Karnataka minister, KS Eshwarappa, responded to Raj Thackeray's call to stop the use of loudspeakers in mosques. He said the attempts by Raj Thackeray or Sri Rama Sene against the use of loudspeakers at mosques have to be naturally done by taking the Muslim community into confidence.
Also read: BJP leader in Mumbai offers loudspeakers for free to play Hanuman Chalisa
According to Eshwarappa, there have been complaints for a long time that it disturbs students and patients during morning and evening hours.
Last week, Raj Thackeray's call stirred up a storm in Maharashtra. Thackeray had said at a rally in Mumbai that he was not against any religion but his party workers "will play Hanuman Chalisa in front of mosques, if the state government does not remove loudspeakers outside mosques". While Shiv Sena chief Sanjay Raut dismissed it saying that the rule of law prevails in Maharashtra, the state home minister Dilip Patel said that "some people were trying to create a divide in the society."
Meanwhile, Mohit Kamboj, a billionaire bullion trader and BJP leader, offered to install loudspeakers in temples for free to play the Hanuman Chalisa. He tweeted, "Anyone who needs a loudspeaker to install it in a temple can ask us for free!
Eshwarappa however did not think this was a competition in which they play Hanuman Chalisa loudly on speakers to counter them. "I have no objections to you (Muslims) offering prayer but because of your using loudspeakers, if prayers are offered at temples and churches also in a similar way, it will lead to conflict between communities," he said.