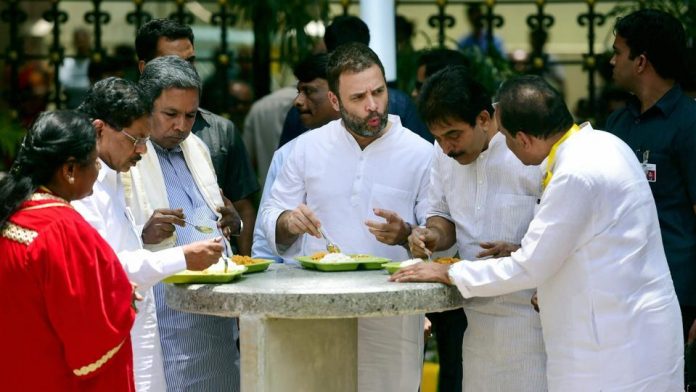 The poll cauldron in Karnataka has started simmering with a new controversy, with reports of substandard food being served in Indira Canteens across the state, coming to the fore.
According to a Times of India report, food items like sambhar, bisibele bath and rice served in Indira Canteens in Bengaluru are not fit for consumption as per reports from two laboratories.
The food samples were sent for testing by BJP corporator Umesh Shetty, who claimed the food was "poisonous" after test results suggested high levels of bacteria in them.
Advertisement
Responding to the charges, Deputy Chief Minister of Karnataka G Parameshwara said, "I have asked the Commissioner to submit a report to me. We are taking food samples from all 198 wards and will get them examined in the laboratory."
"Some reports said it is poisonous, it can't be poisonous, we can't be feeding poisonous food," he told ANI.
The Indira Canteens — launched by the previous Siddaramaiah-led Congress government in Karnataka — is an initiative named after former Prime Minister Indira Gandhi. The subsidised canteens were opened in 2017 with an aim to provide food at low cost to the urban poor. Run on the lines of the popular Amma canteens in Tamil Nadu, there are around 200 Indira canteens across Bengaluru.
However, this is not the first time BJP leaders raised questions over the quality of the food served in these canteens. Last year, Karnataka corporators had refused to eat food from Indira canteens, calling it below their standards.