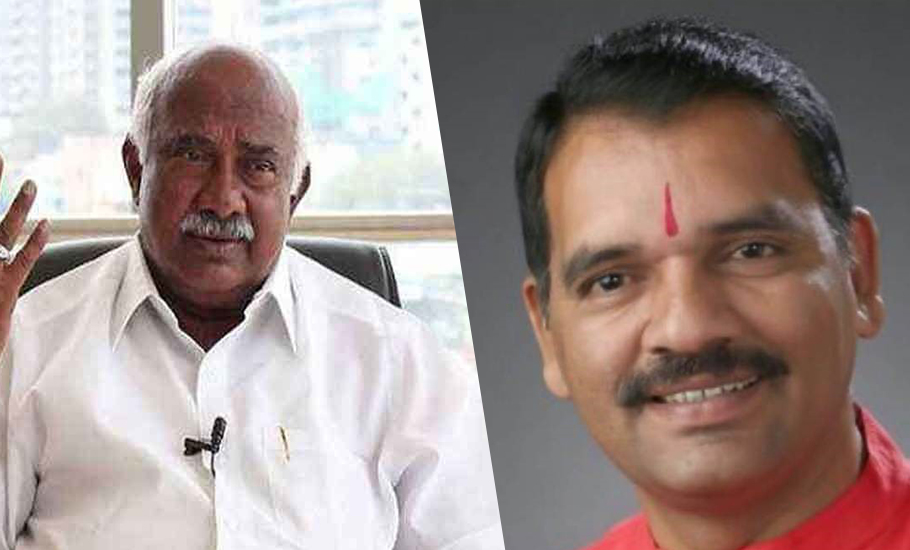 Two BJP leaders question 'madness' behind boycott of Muslim traders at temple fairs
Two BJP leaders in the Basavaraj Bommai-led government have openly questioned the "madness" behind the move of Hindu organisations to ban Muslim traders from temple fairs and festivals in the state.
While the other ministers in the Karnataka Assembly dismissed the issue as a "reaction" against the hijab row and did not seem to want to take up the matter, these two BJP legislators however have voiced their disapproval over the issue.
Member of Legislative Council, H Vishwanath, a former Janata Dal (Secular) state president who joined the BJP in 2019, has called the ban as "madness", while Anil Benake, a BJP MLA from the Muslim dominated Belagavi North, has referred to the Constitution to emphasise that equal opportunities have to be provided for all and added that people should "be smart" about doing business.
Expressing disappointment over the state government's silence over the issue, Vishwanath said this move is undemocratic. "No God has asked you to ostracise anyone. The government has to intervene. I don't know why the government is mum over this issue," Vishwanath told reporters Monday (March 29).
Further, he said Muslims in India chose to live in India when the partition of India and Pakistan occurred and they did not go with Jinnah. "We must ponder on this, they remained here to be Indians. They are Indians, not people of some other nationality…I cannot understand on what basis they are targeting Muslim vendors and businesses. This is a very sorry state of affairs. The government must take action or there will be a reaction from the people," added Vishwanath, as a voice of sanity amid this move to boycott Muslim traders from Hindu festivals.
Many temples in Karnataka hold festivals at this time, which draw traders of all backgrounds. Muslim traders are foremost among those who set up stalls at these functions. But this year, Hindutva groups are trying to prevent their participation.
Initially, banners came up stating that non-Hindu vendors and traders should not be allowed entry at the annual Kaup Marigudi festival in Udupi district. The temple management too paid heed to the request of certain pro-Hindu organisations. Soon, this spread to other districts in Dakshin Kannada as well.
Also read: Ban madrasas as they teach 'anti-national' lessons: Karnataka BJP MLA
Vishwanath is a vocal critic of the BJP government in the state, especially, after he was denied a cabinet berth by former CM BS Yediyurappa. His defection, along with other legislators had led to the collapse of the JD(S)-Congress coalition government in Karnataka in 2019.
Benake too was vocal about his stand against the call to boycott Muslim businesses. He said he was not in favour of imposing any restrictions during temple fairs. "We (local authorities in Belagavi North) will not impose any restrictions during temple fairs, but if people do (boycott even without a ban), then we can't help it. We will not allow imposition of restrictions," the MLA said.
"It is wrong to tell people where to buy from and where not to. The Constitution also provides equal opportunity to all, but people have become smarter. People should decide where they want to buy from," he added.
This ban on Muslim traders in temple fairs seems to be catching on slowly, as some Hindu groups are calling for the boycott of halal meat (ritualistic slow slaughter) by Hindus during the upcoming Ugadi celebration on April 2. "Ugadi is a Hindu festival and there is a practice of cooking meat delicacies in Hindu homes. I appeal to all Hindus to boycott halal meat, because Muslims slaughter the animals with Islamic verses and offer it to Allah. Using this meat for Hindu festival is against Hindu religion," alleged Mohan Gowda, an office bearer of the Hindu Janajagruti Samiti.