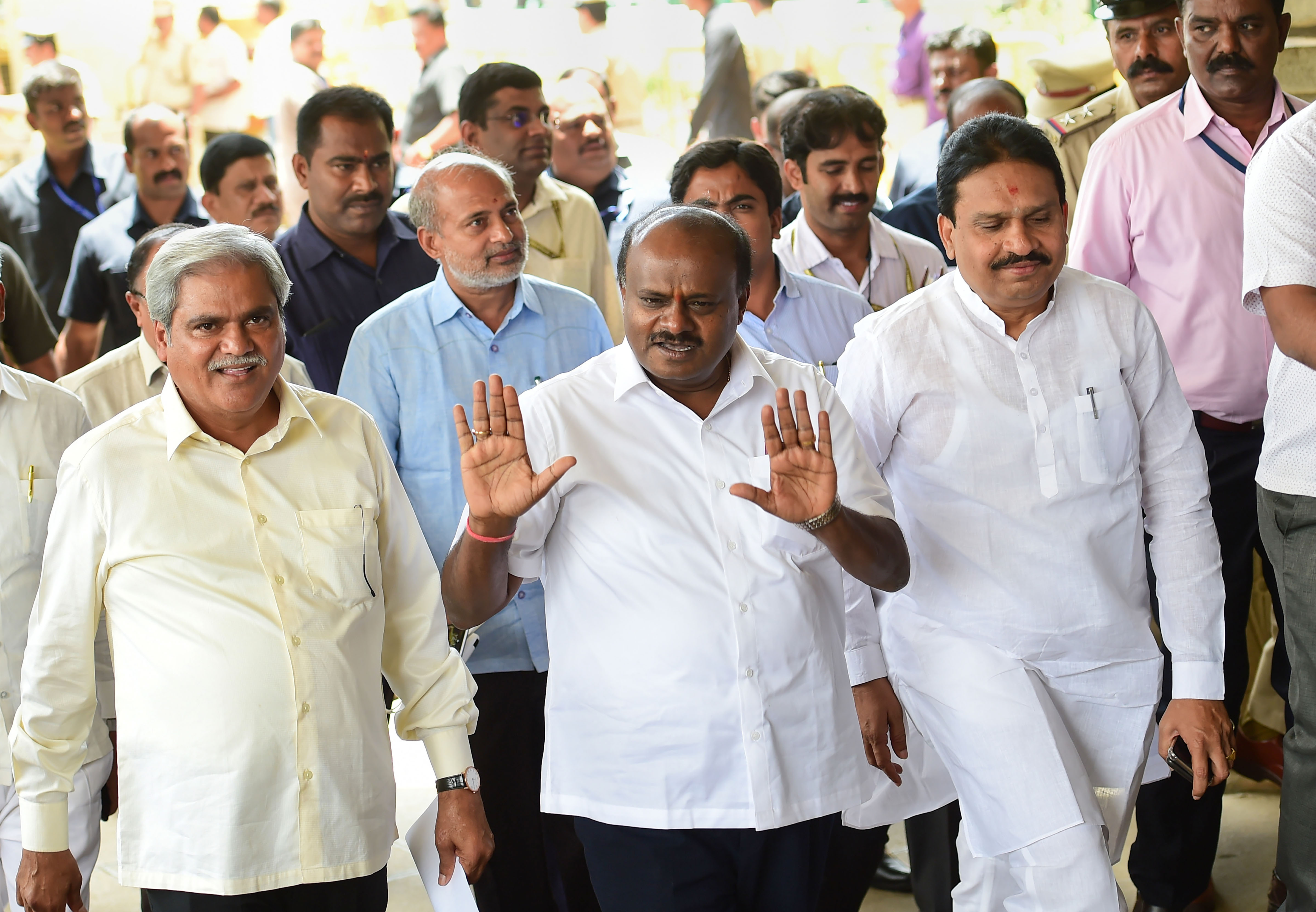 Resort politics returns in Karnataka with a bang
People often go to resorts or weekend gateways to rejuvenate themselves and have some fun time. But when is the fun time for politicians? Perhaps, only in times of crisis. Whenever political parties in Karnataka do not have faith in their own MLAs, they rush them to luxury resorts.
With the state's Congress-JD(S) government on the brink of collapse, all the three political parties in the race for power — the Congress, JD(S) and BJP — are herded their legislators do different luxury resort around Bengaluru.
Besides, some of the resigned MLAs who rushed to Bengaluru in a chartered flight on July 11 to resubmit their resignations, were seen holidaying (temple hopping from one place to another) in Maharashtra.
Also read: Karnataka: Cong MLA Nagaraj hints at taking back resignation
With the current political crisis lasting for almost a week now, the shameless resort politics remained the only entertainment for some — from what they eat to where they go and what exercises the do — media couldn't ignore it. While the BJP took its MLAs to Ramada Hotel in Yelahanka, Congress chose Taj Vivanta and JD(S) lodged their MLA in the outskirts near Nandi hills in Presige Golfshire, and rebel MLAs were in Renaissance Hotel in Mumbai.
The flagrant display of political parties politicking sitting in resorts in Karnataka is back with a bang. And it is nothing new to the state legislators. MLAs, whose votes count in the Assembly during a no-confidence motion, were kept in "house-arrest" so that they were not lured by the opposition, either by cash or kind. Thus, avoiding the situation of horse-trading.
Also read: K'taka: Congress reaches out to rebel MLAs, Yeddyurappa wants trust vote
Last year, when parties took their MLAs to resorts, the Kerala Tourism Department wanted to cash in on the opportunity. The official twitter handle of Kerala Tourism Board tweeted saying, "After the rough and tumble of the #KarnatakaVerdict, we invite all the MLAs to unwind at the safe & beautiful resorts of God's Own Country." They later deleted the tweet.
In Karnataka perhaps it all started when the state witnessed a hung assembly in 2004. While the same Congress-JD(S) went on to form the government by keeping BJP at bay, the decisions came after the MLAs felt "rejuvenated" in resorts on the city's outskirts. They went to resorts to either to save the government or to topple one.
It increased during the BJP's tenure subsequently in 2006, 2008, 2009, 2010, 2012. It followed yet again with a hung assembly in 2018 elections. Former Karnataka Chief Minister and BJP leader BS Yeddyurappa had to resign for is involvement in the illegal mining land deals, he took 60 of the BJP legislators to ensure that his nominee Sadananda Gowda, now Union minister, became his successor. He wanted to keep K S Eshwarappa and Jagadish Shettar away from grabbing his seat. In less than six months, he shepherd all of them again to a resort to ensure Gowda was thrown out and he be reinstated again.
Karnataka became the hub for resort politics. The state hosted not just its own politicians, but legislators from Maharashtra and Gujarat in times of crisis.
Also read: Amid storm, Karnataka Speaker sticks to his guns
In 2002, the Democratic Front led by Vilas Rao Deshmukh in Maharashtra flew 32 Congress MLAs to Bengaluru by a special aircraft. The party wanted to check defection and to keep the flock together. Then, the Karnataka Congress troubleshooter D K Shivakumar had come to their rescue. And this time fighting a lone battle trying to reach out to rebel MLAs in Mumbai, Shivakumar, who alleged that BJP kidnapped one of the independent MLAs, remembered helping Deshmukh in crisis times.
In 2017 again, Shivakumar took 44 Gujarat Congress MLAs to Eagleton Resort on the outskrits of Bengaluru, when there was a threat of poaching by the BJP. In fact, they were in the resort that the government accused of encroaching upon their land. In 2017, a Cabinet sub-committee fixed ₹982 crore as the amount that the resort had to pay for encroaching 77 acres of government land.
Besides, Gujarat, Karnataka and Maharashtra, states like Bihar, Andhra Pradesh, Uttarakhand and Tamil Nadu have all had history of resort politics.
After all, it's all for power and not to refresh or rejuvenate oneself.
Also read: K'taka CM Kumaraswamy to seek trust vote, asks Speaker to fix time