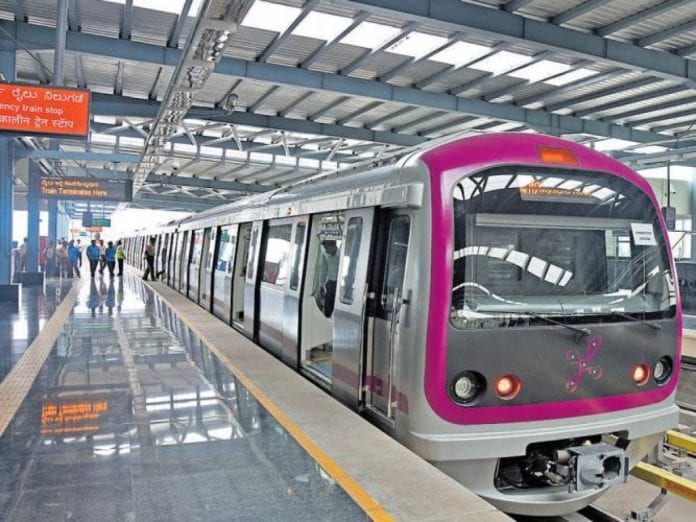 The Bangalore Metro Rail Corporation Limited (BMRCL) said it would allow only those who use Smartcards to travel by metro in the future, a move which is expected to cut down queues for daily travel tokens and enable social distancing.
As an added measure, only 65 people will be allowed to travel per coach. Earlier, around 300 passengers would travel in a coach.
Downloading Arogya Setu app on mobiles during travel would also be made compulsory.
The New Indian Express quoted BMRCL Managing Director Ajay Seth as saying, "Only those using travel cards will be allowed to board trains and they have to be recharged online only."
When asked how they would keep count of the number of passengers, Seth said, "The train operator (loco pilot) gets an approximate idea based on the weight of the coaches."
On when metro services would resume in the city, Seth said, "We have no idea as of now. We should know when Unlock 2.0 guidelines are issued," according to The New Indian Express.
Meanwhile, the Karnataka government on Thursday said Bengaluru was still safe compared to the COVID-19 situation in other cities and states and ruled out the idea of a fresh lockdown for now, putting to rest speculations that it was planning such a move in view of the spike in cases.
"There will be no lockdown in Bengaluru. It is clear, no lockdown in Bengaluru," Revenue Minister R Ashoka said after a high-level meeting chaired by Chief Minister B S Yediyurappa and attended by senior Ministers, including himself, and officials.
"There will be only containment zones in the city and regions that have a large number of cases will be sealed," he told reporters.
The government also changed quarantine rules and exempted those travelling to the state from Tamil Nadu and Delhi from three days of institutional quarantine. However, those coming from Maharashtra will have to continue be under seven days institutional quarantine.
The Chief Minister has issued directions to officials to prepare for any situation that may arise in future due to the pandemic, Ashoka said.