Monsoon flood fury follows drought in north Karnataka
After witnessing a severe drought condition until the last month, northern Karnataka is now suffering from the monsoon flood fury.
With an increase in water inflow from Maharashtra, to 3.01 lakh cusecs (cubic feet per second) on Monday (August 5), the situation remained grim as the water released from the reservoirs in the Krishna river basin inundated several villages, bridges and farmlands.
Heavy rainfall continued to batter Belagavi, Raichur, Bagalkote, Dharwad, Yadgir and Vijayapura districts, as the state received 89 per cent more rainfall in the first week of August. Schools and colleges remained shut and several trains bound for Karnataka from Mumbai were cancelled.
Traffic movement along the Pune-Bengaluru national highway came to a halt on Tuesday (August 6) as it was flooded due to an overflowing Vedganga river.
Also Read: Rain continues to batter Maharashtra, swollen Godavari floods Andhra
As against the normal rainfall of 48 mm in August, the state received 91 mm. For the entire period of Southwest Monsoon between June 1 and August 5, the rainfall deficit reduced from 19 per cent in July to 8 per cent in August (till date).
According to data from the Karnataka State Natural Disaster Monitoring Centre (KSNDMC), northern Karnataka received 125 per cent excess rainfall, while coastal and Malnad region received 87 and 89 per cent excess rainfall in August. During the same period, southern Karnataka region (Mysuru and Bengaluru limits) received 40 per cent less rainfall.
In view of Almatti, Ghataprabha and Malaprabha reservoirs nearing its full storage capacity, people living in flood-prone areas in the downstream have been evacuated and shifted to safer places.
According to officials, about 3,000 hectares of crops have been destroyed due to floods in northern Karnataka. Besides, one person has been washed away by floodwaters in Belagavi.
According to a KSNDMC report, the state authorities have issued red alert in the coastal districts with heavy rainfall prediction for the next two days.
KSNDMC director Srinivasa Reddy noted that the inflow of water from Maharashtra was more than what Karnataka could handle and therefore, it led to a flood-like situation.
Also Read: The Cauvery conundrum: Weak monsoon worries Karnataka farmers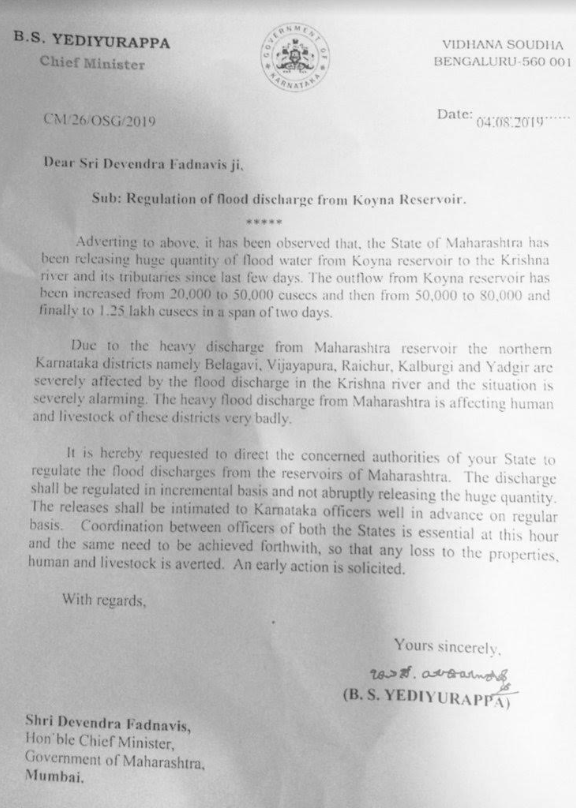 Chief Minister BS Yediyurappa, who took stock of the situation before heading to Delhi on Monday, ordered the district authorities to set up relief centres with adequate basic requirements for the flood victims. He had also written to Maharashtra Chief Minister Devendra Fadnavis, requesting him to regulate the water discharges from reservoirs in the neighbouring state.
As life was thrown out of gear in Belagavi district, which remains partly shut due to heavy rainfall, many houses and farms were submerged in Bavan Savadatti village of Raibag taluk.
Meanwhile, the situation prompted the North Western Karnataka Road Transport Corporation to cancel the leaves of its employees even though it halted bus services towards Maharashtra and Goa due to road blockades.
Also Read: 5 drown as heavy rains pound North Kerala, 300 shifted to relief camps
The lack of rainfall in the Kodagu region until last month affected crops such as coffee, tea, rubber, cardamom and pepper, and the district remained one of the worst affected with 58 per cent rain deficit. But with heavy rainfall over the past week, it is now facing a flood-like situation.
Meanwhile, the southern region presented a different picture with 22 per cent deficit in rainfall during the Southwest Monsoon. The government has advised not to release water from Cauvery River for irrigation purposes, but to save for drinking purposes.
Farmers in Mandya protested for about 15 consecutive days, blocking the Bengaluru-Mysuru highway, demanding the release of Cauvery water to save their standing sugarcane crops.
The water level in Krishna Raja Sagara Dam in Mandya stands at 84.20 ft as against full storage capacity of 124.80 ft. During the same time last year, it stood at 123.75 ft.
According to Reddy, the rainfall in July and August were crucial for the Cauvery basin and that the rainfall predictions remained below normal for these two months.