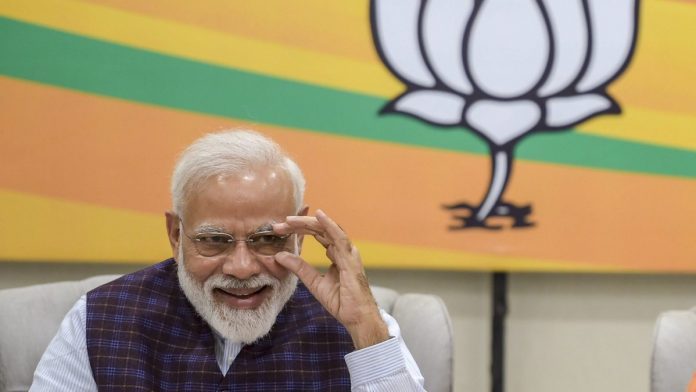 Two rallies Prime Minister Narendra Modi addressed on April 13 were held in Karnataka — Mangaluru and Bengaluru. The PM invoked a sense of nationalism in both places ahead of the state going to polls in two phases on April 18 and 23.
The day's speeches were no different from the earlier ones where he mocked the Congress and its legacy. To woo the local audience, he spoke of welfare schemes for the fishing community in Mangaluru, and he highlighted the tax rebate on income up to ₹5 lakh announced in the last Budget, in Bengaluru.
However, in both places, his speeches were in Hindi and not translated to Kannada, unlike his rallies in Theni and Ramanathapuram earlier in the day where they were translated to Tamil immediately.
Advertisement
While he minced no words on the BJP leadership in the state, Modi spoke in brief about the Congress-Janta Dal (Secular) coalition in Karnataka. He spoke of the recent income tax raids on the Congress and JD(S) leaders and said that if they were not corrupt, they wouldn't make such a hue and cry. "If they are clean, why should they worry?"
While an IndiaSpend report indicates the BJP is no less dynastic than the Congress, Modi accused both it and the JD(S) of playing dynasty politics while his party was inspired by nationalism. He went into the details of the Congress party manifesto and accused it of working against national interest. As usual, he sprinkled his speech with issues of Kashmir, the Indian Army and the terror strikes.
"The Congress party, in its manifesto, states it would dilute AFSPA (Armed Forces Special Powers Act) that gives special powers to India Army. They want to make our soldiers helpless," Modi said. "They also want to withdraw forces from Jammu and Kashmir."
Of the 28 Lok Sabha seats in the Karnataka, BJP bagged 17, Congress had nine and JDS two in the 2014 Lok Sabha elections. In 2014, all the three city constituencies — Bangalore South, Bangalore Central and Bangalore North — went to the BJP. Modi's rallies will boost the party's image and influence among voters to win more seats in Karnataka as it is less hopeful in the other southern states.
While he addressed 21 rallies last year during the Assembly elections, he will address seven rallies in a span of 10 days in Karnataka this election season. Earlier this week, BJP president Amit Shah held a road show in Bengaluru's outskirts to woo both the urban and rural voters in Bengaluru rural, Tumkur and Chikkaballapur.
Modi surprised the crowd by speaking a few words in Kannada towards the end.