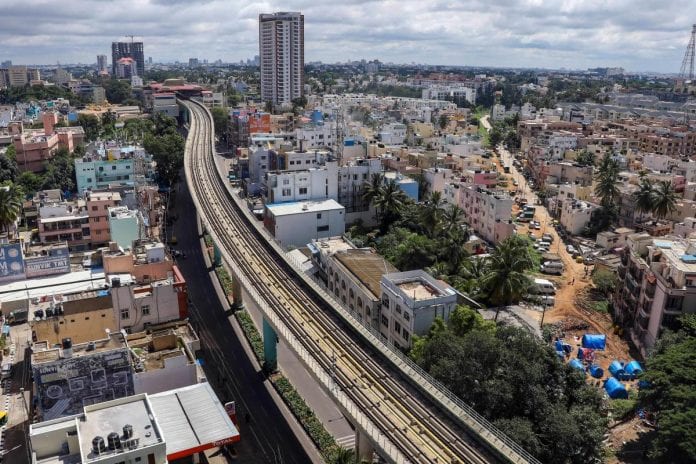 With Karnataka witnessing a three-fold rise in active COVID-19 cases and death toll since July 1, the state government decided to impose another complete lockdown in five districts — Bangalore Urban and Rural, Dharwad, Kalaburgi, and Dakshina Kannada for seven days, starting this week.
The active cases rose from 8,194 on July 1 to 24,572 on July 13, taking the total number of cases to 41,581 across the state. Nearly 60 per cent of the total active cases in the state were reported in Bangalore.
The positivity rate (number of people testing positive among the total tested) stood at 16 per cent on July 13. In an alarming sign, the number of people who succumbed to the disease increased from 253 to 757 during the same period. 
Advertisement
The situation in Bangalore became worse due to community transmission and infected cases spread across the city, taking the containment zone count from 487 on July 1 to 4,616 on July 13.
Related news: 7-day total lockdown in Bengaluru from July 14: Karnataka CM
A large number of people tested positive for COVID-19 even within small clusters. Earlier this week, 80 labourers working for the Bangalore Metro Rail Construction Ltd's Namma Metro Phase 2 project tested positive for the virus infection. 
While on one side, patients grappled with shortage of hospital beds, delay in testing and announcement of test results is another major concern. The number of COVID-19 tests being conducted in Karnataka failed to increase beyond a point to keep the disease under control.
Even with the three-fold rise in cases and the positivity rating shooting up, the number of tests done per day is still at 17,000 over the past two weeks. As of July 13, the state conducted 8.56 lakh tests cumulatively for a population of 640 lakh. 
Micro, small and medium enterprises (MSMEs) in the state fear that the lockdown extension could result in cancellation of export orders and further affect the already impared industries. C R Janardhana, President of the Federation of Karnataka Chambers of Commerce and Industry said the move will not only impact production and affect jobs, but will also impact state GST collections.
Related news: Graft charges over PPE procurement put Karnataka BJP on the backfoot
Unlike the scene with the previous lockdowns, shops selling essential services are allowed to be open from 5 am to 12 noon this time. Government offices and PSUs will remain shut, barring essential utilities such as BESCOM, water supply, and all other government agencies engaged in COVID-19 relief work. 
Reiterating that the lockdown was only for a week and not more, Karnataka Chief Minister B S Yediyurappa's office tweeted saying there is no proposal before the government to extend the week-long lockdown in Bengaluru Urban and Rural. "The Chief Minister has appealed people to cooperate without worrying and paying heed to rumors," his office said in a tweet.
ಇಂದು ಮುಖ್ಯಮಂತ್ರಿ ಶ್ರೀ@BSYBJPರವರು ಕೋವಿಡ್ ಟಾಸ್ಕ್ ಫೋರ್ಸ್ ಸಭೆ ನಡೆಸಿದರು. ಬೆಂಗಳೂರು ನಗರ ಮತ್ತು ಗ್ರಾಮಾಂತರ ಜಿಲ್ಲೆಗಳಲ್ಲಿ ವಿಧಿಸಲಾಗಿರುವ 1 ವಾರದ ಲಾಕ್ ಡೌನ್ ಅನ್ನು ವಿಸ್ತರಿಸುವ ಪ್ರಸ್ತಾಪ ಸರ್ಕಾರದ ಮುಂದಿಲ್ಲ. ಜನರು ಆತಂಕಪಡದೆ, ವದಂತಿಗಳಿಗೆ ಕಿವಿಗೊಡದೆ, ಸರ್ಕಾರದೊಂದಿಗೆ ಸಹಕರಿಸಬೇಕೆಂದು ಮುಖ್ಯಮಂತ್ರಿಗಳು ಕೋರಿದ್ದಾರೆ (1/2) pic.twitter.com/Gy5Xp4W6Z7

— CM of Karnataka (@CMofKarnataka) July 13, 2020
While the Opposition Congress blamed the ruling government for mishandling the COVID-19, it also requested the government to come clean on the corruption in purchase of PPEs and medical equipment. It also alleged irregularities in renting beds for COVID-care centres.
Asha workers are protesting,
Pourakarmikas are preparing to protest, KSRTC employees may be asked to go on leave without pay,
Inadequate number of doctors & nurses,

This is the result of @BJP4Karnataka's governance.

Should opposition sit quietly? Or Speak up for the aggrieved? pic.twitter.com/YFECMqFViu

— Siddaramaiah (@siddaramaiah) July 10, 2020
"Asha workers are protesting, pourakarmikas are preparing to protest, KSRTC employees may be asked to go on leave without pay, inadequate number of doctors and nurses.  This is the result of @BJP4Karnataka's governance. Should (the) opposition sit quietly? Or Speak up for the aggrieved?" opposition leader Siddaramaiah tweeted on July 10. 
Meanwhile, former prime minister and JDS supremo Deve Gowda demanded a lockdown across the state and said the issues of alleged irregularities in the procurement of PPE kits and other equipment can be dealt with later.