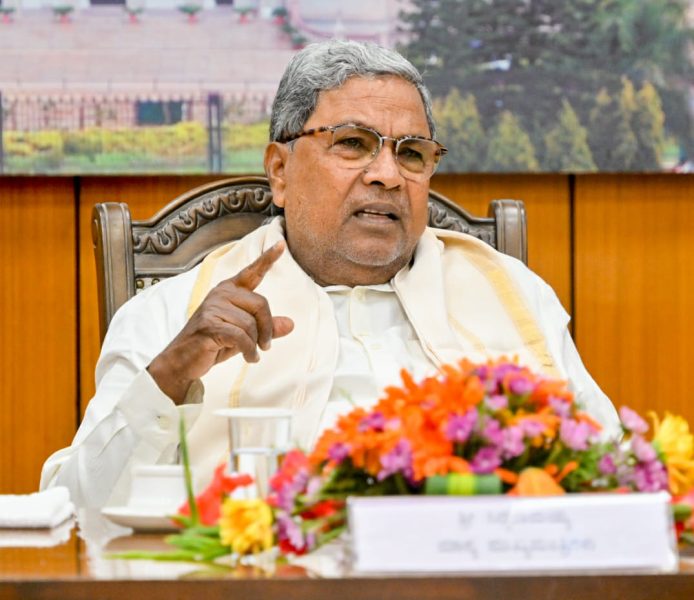 Karnataka: Senior citizen blocks CM's car over parking issue in Bengaluru
There was high drama in front of Karnataka Chief Minister Siddaramaiah's official residence in Bengaluru as a senior citizen blocked his car over parking issues.
Narottam, who stays opposite Siddaramaiah's Kumara Krupa Road residence, on Thursday (July 27) blocked the chief minister's house and argued with police personnel.
According to Narottam, people who come to visit Siddaramaiah, park their vehicles in front of his house, making it difficult for him and the members of his family to take out their vehicles.
Also read: Karnataka Governor misses flight to Hyderabad, AirAsia apologises
Fed up with this, the senior citizen decided to talk to Siddaramaiah to put an end to parking woes. When he arrived at his residence, CM's security personnel asked him to make way as Siddaramaiah's vehicle was coming. However, Narottam argued with the police and said he would not move and let the CM's car "ride over" him.
"What nonsense is this? We are fed up for the last five years," Narottam said.
He added that whenever a vehicle was parked in front of his gate, he had to go to CM's house to find out who the owner of the vehicle was to get it removed.
Also read: Karnataka HC issues notice to Siddaramaiah on petition seeking his disqualification
When the CM's car arrived, Siddaramaiah rolled the window glass and spoke to Narottam. He directed the police personnel to look into the issue.
"I have been requesting people to leave some space near my gate and park their vehicles. Almost every morning, I have to come near this house (Siddaramaiah's home) and search for the owner of the vehicle, who would have parked opposite my gate. This has been happening for the last five years. Now, with Siddaramaiah becoming chief minister again, there is an increase in the number of people visiting him and also the vehicles," Narottam told the media.
"It's true that vehicles are parked outside that house, blocking the gate. Innumerable times, the house occupants have come out, looking for owners of such vehicles. They ask why we cannot stop people from parking outside their house. The issue is, many times, people close to chief ministers or other influential ministers park those vehicles. And knowing them and their position, we cannot direct them to park elsewhere," a police officer said, according to a report in Times of India.
Also read: Bengaluru-Mysuru Expressway | Over 100 people died in accidents last 6 months: Govt
Siddaramaiah, who took oath as Karnataka chief minister in May, is yet to move into the official residence.