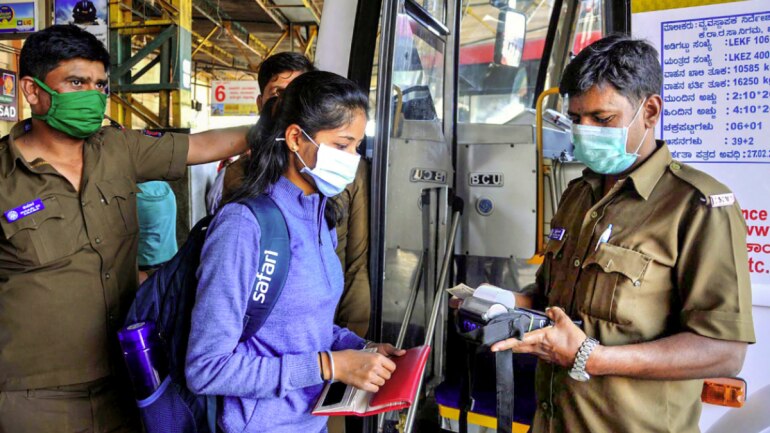 Karnataka reports two more coronavirus cases; shutdown till March 31
Two more persons tested positive for COVID-19 on Wednesday in Karnataka, taking the total number of infected persons to 13 in the state.
Two more persons tested positive for COVID-19 on Wednesday (March 18) in Karnataka, taking the total number of infected persons to 13 in the state.
The two new cases were reported in Bengaluru.
State Health Minister B Sriramulu said a 56-year-old male resident of Bengaluru, who returned from the US on March 6, and another 25-year-old woman who returned from Spain, tested positive for the virus.
The minister said on Twitter that the two of them have been isolated and admitted to a hospital.
2 more #Covid19 case has been registered in Bangalore today, taking the total infected cases to 13. 56yr old male, resident of Bangalore returned from USA on 6th March. Another, 25 yr old female, who has returned from Spain. Both are admitted in designated isolated hospital

— B Sriramulu (@sriramulubjp) March 18, 2020
Medical Education Minister of Karnataka K Sudhakar said 14 cases have been reported totally in the state. Eleven out of these 14 people had returned from foreign countries.
However, contradicting Sudhakar's statement, Sriramulu said only 13 cases were reported, and that the most recent patient's details are yet to be revealed.
Karnataka has the fourth highest number of confirmed cases in India. Maharashtra, Kerala, and Uttar Pradesh stood at the first, second, and third place respectively.
As a precautionary measure, instructions were given to cancel summer camps and birthday parties, and close marriage halls and sports centres. Furthermore, the state government, which had on March 13 ordered to shut malls and theatres and placed restrictions on mass gathering activities until March 21, extended the restrictions until March 31.
Related news | Coronavirus: All you need to know about the dos and don'ts
Karnataka Chief Minister B S Yediyurappa held an emergency cabinet meeting on Wednesday to discuss measures to contain the spread of the virus and formed a task force to monitor the pandemic in the state.
Sudhakar said the state cabinet decided to allocate ₹200 crore to contain the spread of the coronavirus. Besides, the state also announced that all passengers arriving at international airports from March 18 will be quarantined for 15 days.
Much on the lines of Maharashtra, the incoming passengers will be stamped on their hands.
The decision was announced by Sudhakar on the floor of the House.
Related news | Coronavirus was neither predicted by Dean Koontz, nor is it a bio weapon
The minister also suggested that the government provide incentives to healthcare workers apart from covering their health insurances under the respective schemes.
He further stated that government medical colleges and hospitals, private colleges, and budget hotels and resorts near airports are being identified to be used for quarantine purposes.
The minister also said the government was conducting trials to use technology and track people who are home-quarantined. "In case a home-quarantined person, who is advised to stay indoor ventures out and comes in contact with people on the streets, we will track them using their mobile phones. This initiative starts from today," Sudhakar said.