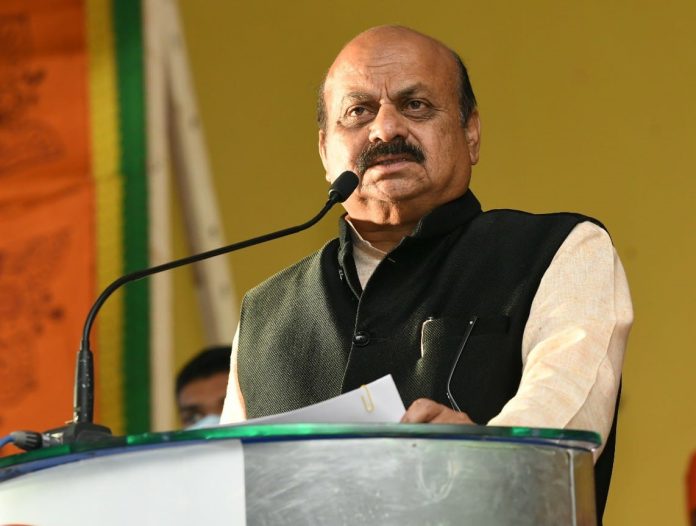 Karnataka Chief Minister Basavaraj Bommai on Saturday (April 15) filed his nomination as BJP's candidate from Shiggaon segment in Haveri for the May 10 Assembly polls and expressed confidence of getting elected again with the highest number of votes.
Bommai was accompanied by Public Works Minister CC Patil, Haveri-Gadag MP Shivakumar Udasi, and son Bharath Bommai among others as he submitted his papers to the Returning Officer.
Bommai, son of former Karnataka chief minister and Janata Parivar veteran late S R Bommai, has represented Shiggaon thrice since 2008.
Also read: Karnataka polls: BJP picks aggressive Hindutva faces to up its chances
With a saffron shawl on his shoulder, the 63-year-old Chief Minister visited Shiggaons Dyamavva Devi temple, before filing his nomination.
'Confident of breaking all records'
"I have filed my nomination today. People of my Shiggaon constituency have supported me tremendously in the past and this time too, I'm confident of breaking all the records and getting elected with the highest number of votes. People here are aware voters and they vote for development," Bommai said after filing his nomination.
Pointing out that he had submitted his nomination papers as there was a good muhurta (time) today, Bommai added that he will be filing nomination once again on April 19 in the presence of BJP national President JP Nadda and other senior leaders.
Also read: Karnataka polls: Shettar warns BJP that denying him ticket could impact 20-25 seats
To a question that Congress was planning to field a strong candidate against him, the Chief Minister said, "Opponent is an opponent whether strong or weak, I will take everyone equally. If there are opponents, only then there will be a contest. I have confidence in the people of my constituency, who have supported me."
Bommai won in Shiggaon in the 2018 Assembly polls by about 9,260 votes.
He started his political career with the Janata Dal, and was member of the Karnataka Legislative Council twice (in 1998 and 2004) from Dharwad local authorities constituency, and had also served as Parliament Secretary to Chief Minister and as Deputy Leader of Opposition.
He quit Janata Dal (United) and joined the BJP in 2008 and in the Assembly elections held later that year got elected as MLA from Shiggaon constituency in Haveri district.
He then went on to retain the seat in 2013 and 2018 Assembly polls.
Bommai, who served as Home Minister in the BS Yediyurappa-led BJP government, became the Chief Minister in 2021 following the veteran leader stepping down from the post, citing age and making way for others as reasons.
Bommai's assets
Meanwhile, Bommai has assets of Rs 49.70 crore, revealed his election affidavit filed before the returning officer.
The investment details show that he has movable properties of Rs 5.98 crore, while he got Rs 1.57 crore as wealth got from the Hindu Undivided Family.
His wife Channamma has invested Rs 1.14 crore and daughter Aditi Rs 1.12 crore. Since his son Bharat Bommai is not dependent on his father, his investment details have not been mentioned. However, Basavaraj Bommai has given Rs 14.74 lakh to his son Bharat.
The Chief Minister has immovable properties of Rs 42.15 crore which includes Rs 19.2 crore from the Hindu Undivided Family. Bommai has a liability of Rs 5.79 crore.
The affidavit shows that Bommai purchased nearly three acres of land in Tarihala village in Hubballi Taluk of Dharwad when he was a chief minister on March 26, 2022.
In all, Bommai and his dependents have assets worth Rs 52.12 crore.