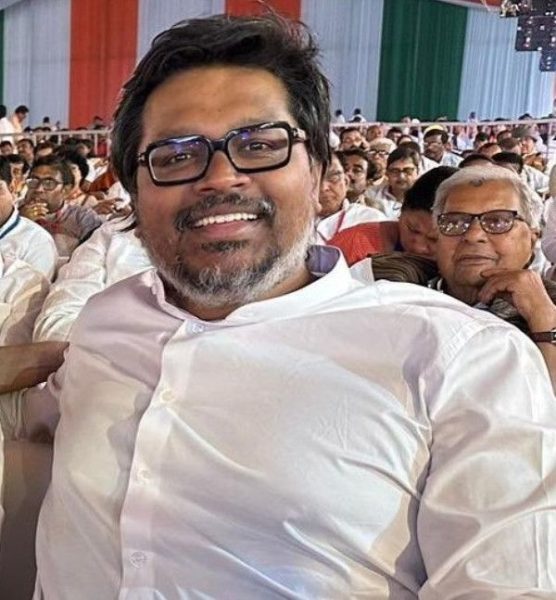 Karnataka: Poll strategist Sunil Kanugolu picked as CM's advisor; 2024 LS polls next mission
The 'low-profile' poll strategist Sunil Kanugolu, 41, who led the Congress campaign in the recently concluded Karnataka Assembly elections and helped the party to break the BJP's winning streak, has been appointed Chief Minister Siddaramaiah's new advisor.
Party sources told The Federal that Kanugolu, who was behind the 'PayCM and 40 per cent sarkara campaign', has also been given the charge of handling the 2024 Lok Sabha elections for the Congress in Karnataka. As the CM's advisor, Kanugolu will find it easy to plan strategies for the 2024 Lok Sabha elections, the source added.
The orders to appoint Kanugolu as the CM's advisor has already been issued by the department of personnel and administrative reforms (DPAR). The poll strategist's new position will be equal to the rank of a cabinet minister.
Kanugolu is an Indian political strategist and tactician. In April 2022, the Indian National Congress officially announced that Kanugolu accepted the offer to oversee their election campaigns in various states of India. In May 2022, Sonia Gandhi named him as a member of the Congress' 2024 Lok Sabha polls task force.
Also read: Karnataka CM Siddaramaiah gives ministers target of winning 20 seats in Lok Sabha polls
Who is Kanugolu?
Kanugolu did his primary education in Bellary in Karnataka and later his BE from Anna University, Chennai. He has a Master of Business Administration (MBA) and a master in finance from New York University. According to sources, Kanugolu's father is a Kannadiga from Bellary, while his mother is from Andhra Pradesh. He has spent a large part of his life in Chennai.
At first, he was part of political strategist Prashant Kishor's team but later broke away to set up his own outfit.
Along with Kishor, Kanugolu, was one of the key strategists of Prime Minister Narendra Modi's 2014 election campaign. Unlike Kishor, Kanugolu is said to be a reclusive, low-profile person whose style of operating is different, said sources.
After the two parted ways,  and after striking out on his own, Kanugolu designed DMK chief and current Tamil Nadu Chief Minister MK Stalin's "Namakku Naame" campaign during the 2016 TN assembly polls. Though it caught eyeballs and elevated Stalin's public image, the DMK failed to win, as a third front split the votes and helped the AIADMK retain power.
He had worked in Telangana for KC Rao's party as well.
Also read: Karnataka Cabinet expansion: All you need to know about 24 ministers
Pro-Congress strategy in 2023 Karnataka assembly polls
It is poll strategist Kanugolu's success in spearheading a pro-Congress strategy in the 2023 Karnataka assembly elections that has catapulted him to an important position with cabinet ranking in the party. AICC leaders were impressed by Kanugolu's strategy of creating a pro-party wave by effectively appealing to the public with clear-cut solutions.
Congress is now relying on Kanugolu and AICC leaders have instructed him to start strategising for the 2024 Lok Sabha elections and have requested him to guide the party in the state assembly elections in Rajasthan, Chhattisgarh, Madhya Pradesh and other states.
Kanugolu's political strategy involves identifying the failures and anti-people moves of a ruling administration and amplifying them and then offering new promises to the masses as remedial measures. And uses various media to drive home his agendas. His modus operandi has greatly impressed the Congress party, sources said.
Last year, poll strategist Kanugolu took up the task of strategising for the Congress party for the state assembly elections at a time when the Congress was being described as a sinking ship. However, he steered the narrative towards the ruling BJP government's mistakes and failures. And, he worked to create hope among the public that the Congress party is the alternative and the solution.
As part of that strategy, a campaign called '40 per cent commission government' was drawn up against the BJP government. He is credited with the PayCM and 40 per cent sarkara campaign targeting the BJP for alleged corruption. Though several other party leaders and workers too had lent their support to these campaigns, said the sources.
The campaigns drove home the corruption and incompetence of the ruling government. Kanugolu steered clear of polarising rhetoric and focussed on development, anti-corruption, and inefficiency of the incumbent government. All of which, played a role in the Congress romping home to a victorious finish in the Karnataka state assembly polls.