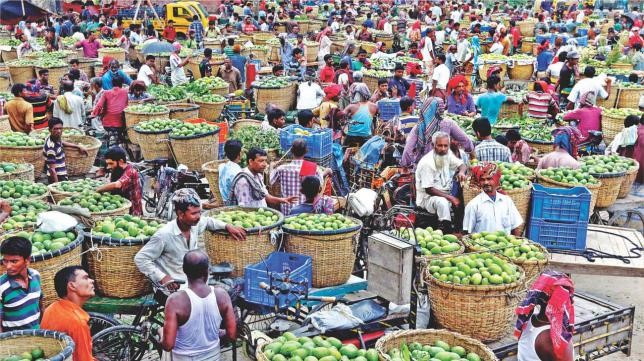 Karnataka mango growers dismiss boycott of Muslim traders
As communal divisiveness continues to be stoked in Karnataka, ostensibly with an eye on the upcoming assembly polls in the state next year, a fringe right-wing group has now targetted Muslims in the mango trade.
After questioning the widespread use of halal meat and played politics over the wearing of hijab in educational institutions, the Hindutva groups have now turned on Muslim mango traders. Siddalinga Swamiji of Srirama Sene said the mango trade has been dominated by Muslim traders until now but the time has come for Hindu mango growers and traders to take over the trade and prosper.
As the ruling BJP party reportedly seeks to distance itself from this call to boycott Muslim mango traders, (neither are they condemning it), the Hindutva group said that they were not telling the Muslim traders to stop trading in mangoes.
Also read: BJP's Hindutva push aimed at quick expansion in Karnataka before elections
The Srirama Sene just wanted them to make way for young Hindus to join the trade and get involved in market related activities so that they will not have only Muslims dictating the prices.
The Kolar district mango growers association, however, dismissed the boycott call and told the media that they were not affected by the campaign in any way. Instead, they were more interested in getting better sops and remuneration for their produce, said the association spokesperson to the media. In the mango trade, Muslims had always been providing market facilities and nothing was about to change, said the mango growers.
Muslim and Hindu mango growers and traders have been closely working together for generations and Muslims have even lent money to Hindus to procure agri produce, said news reports. And prominent people in Kolar have ridiculed the efforts of these right-wing groups to stir up trouble and suggested that it was a case of "vested interests" jumping into the fray.
Also read: Kumaraswamy slams Bommai over halal, hijab, Muslim vendors rows
Also read: Kiran Mazumdar-Shaw bats for communal harmony, appeals to CM Bommai to end 'exclusion'
Also read: Two BJP leaders question 'madness' behind boycott of Muslim traders at temple fairs
Also read: Hijab ban: AIMPLB moves SC challenging Karnataka HC verdict