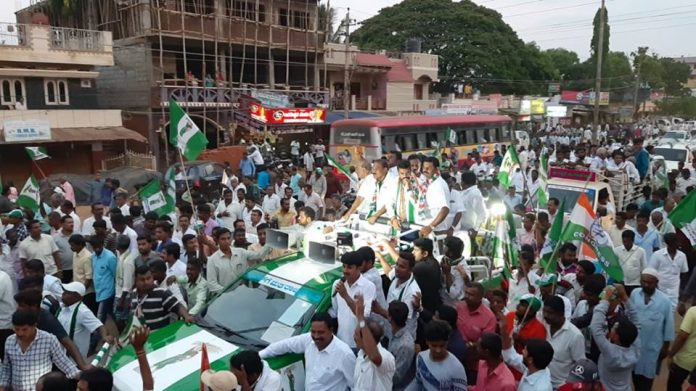 Unlike in Mandya, where many voters are hesitant to back the Janata Dal (Secular) for its dynasty politics, the party may have it easy in its bastion, Hassan Lok Sabha constituency.
In Hassan, former prime minister HD Deve Gowda's grandson Prajwal Revanna contests against Congress party's rebel candidate A Manju, who moved to Bharatiya Janata Party (BJP).
Gowda represented Hassan five time since 1991, only to vacate the seat this time to make way for his grandson. The party, which is in power in the state, expects to win Hassan with the support of it coalition partner, the Congress.
Out of eight Assembly segments in the constituency, JD(S) holds six — Holenarasipura, Belur, Shravanabelagola, Arkalgud, Arsikere, Sakleshpur — while Hassan and Kadur in Chikkamagalur district are with the BJP.
Advertisement
Barring a few urban pockets and the Arkalgud Assembly segment, where Manju is from, voters across the constituency this reporter spoke to expressed support to Prajwal because of their loyalty to Gowda.
"What is the contribution of the BJP or Prime Minister Narendra Modi to this constituency? Deve Gowda cares for this constituency and works in the interest of farmers. We expect the same from his grandson," said Vimala RT, a worker at the agriculture market in Hassan.
Another voter, CB Keshavamurthy of Chikanahalli in Belur, said, while Congress workers protested against Prajwal's candidature at first, they united as the election dates got closer. "Congress workers at the block level did not want to support Prajwal. But things changed in the past week," he said.
The party's contribution to reservoir projects along the Hemavathi river, its pro-farmer stand with is symbol — a lady famer carrying paddy on her head — still appeal to many voters. Keshavamurthy, a panchayat member in his village, estimates over 75% of the votes go in favour of JD(S).
In Mandya, Gowda's other grandson Nikhil's speeches don't go beyond the generic — a bit about how his family is indebted to the voters, more on what a great source of inspiration his grandfather and father are. In Hassan, it's different with Prajwal. Throughout his campaigns, Prajwal talks about the development work done by JD(S) and the work carried out by his father and PWD minister HD Revanna. He talks less about the opponent but criticises Modi by asking people to think about the failed policies and promises of his government.
"They (BJP) always critique the opponent because they have no development work to showcase. But we are not like them. We want to talk more on development and critique less," Prajwal said. There's also more media focus on him and farmers' groups have not moved away from the JD(S).
Even the videos and memes of Prajwal and his grandfather crying, an emotional outburst soon after he was announced as the Hassan candidate, which the BJP called as the first drama of the 2019 election, was not a talking point. All this makes it easier for Prajwal.
BJP: Not there, but not willing to let go easily
In this vokkaliga-dominated belt, the BJP never had dominance. In the 2014 Lok Sabha election it had a vote share of 14.44% while the JD(S) took 44.43% and the Congress polled 35.67%. In the previous Lok Sabha election, Gowda defeated Manju by a margin of one lakh votes. Out of 17 Lok Sabha elections so far, the Congress has won nine times, Janata Dal thrice, and JD(S) five times.
The BJP got a shot in the arm when Manju turned a rebel in the Congress party. The party gave him a ticket with a hope to capitalise on various factors: the anti-dynasty votes, its traditional vote bank, cross-votes from Manju's supporters, and the Modi factor in urban pockets.
A minister in the previous Siddaramaiah-led Congress government, Manju lost Arkalgud seat in 2018 state Assembly elections. Yet, he has support from a section of Congress workers in Arasikere and Holenarsipura taluks. Even former MLA HM Vishwanath joined the BJP to support Manju's candidature.
Speaking to The Federal, Manju claimed in addition to the BJP votes, he can secure about three lakh traditional votes, 75% of what he secured in 2014. He also said he could get about 10% of cross-votes from JD(S), and about 85% of the first-time voters.
"People had no alternative so they did not vote for any other candidate than Deve Gowda. But things are not the same now," Manju says. "In 2014, though I lost, I came close with 35% vote share despite just being an MLA. This time, people realise there's someone who raises voice against the dynasty and I bank on them."