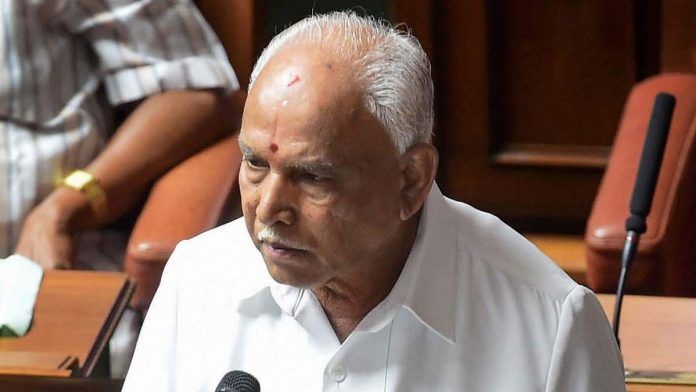 Carrot and stick policy helps contain dissidence in Karnataka BJP
Fissures in the Karnataka BJP that emerged after the portfolio allocation and the choice of three deputy Chief Ministers last week appear to have died down with the party issuing a stern warning to dissidents.
Alongside, BJP national general secretary B L Santosh playing a mediator between Yediyurappa, the central leadership and the disgruntled MLAs too have helped matters. He reportedly has assured all of them that their contribution will be kept in mind and that they would be rewarded suitable at the right time.
In order to pacify some of them the party could appoint a few of the disgruntled MLAs and their sympathisers in boards and corporations.
The carrot-and-the-stick approach seems to have worked. Those who were unhappy with the composition of the cabinet and portfolio allocation came up with statements supporting party's decision. While Ravi dismissed there was any dissidence, Eshwarappa and Sriramulu condemned their supporters for protesting against the leadership and added that the party came before any individual.
A senior leader said that those revolting will be sidelined completely if they revolted against the decision of the party leadership. "So isn't it better to have something than have nothing. So we have to accept for now," he said.
With the Supreme Court not agreeing to hear the plea of the disqualified MLAs on an urgent basis, they too seem to have adopted a wait and watch approach.
For Yediyurappa who had formed the cabinet, partially, after 25 days of forming the government, dissidence has been quite a challenge.
Eshwarappa and Ashoka who served as deputy CMs in the earlier BJP-led governments were give rural development and panchayat raj and revenue ministries, respectively. That irked them a lot.
Party seniors like K S Eshwarppa, C T Ravi, R Ashoka, B Sriramulu, Umesh Katti and Basavaraj Yatnal were upset with the portfolio allocation as the plum posts had gone to juniors in the party. As also, the appointment of three deputy CMs hasn't gone down well with Yediyurappa.
But then, it appears that the caste balance has been maintained in the cabinet with seven Lingayats, three Vokkaligas and there Schedule Caste members finding their way in.
Meanwhile, former Chief Minister Siddaramaiah tweeted questioning the reason for discontent among the BJP leaders and opined that it was high time the state went in for fresh polls. Questioning the rationale behind the discontent, he has asked if it is due to the incapability of Yediyurappa or the greed for lucrative portfolios or frustration over invisible hands controlling the government. "Whatever may be the reason, it is not a good sign for a healthy democracy. It is better to dissolve the government and go for elections," he added.