Diwakaran, who is differently-abled and doesn't have the use of his right leg, had been incarcerated in Parappana Agrahara prison for three months. During this time, he missed the birth of his nephew and much of the panic around the coronavirus pandemic that was unfolding outside the prison walls. But its effects seeped in regardless.
The prison authorities stopped visiting hours, they began manufacturing masks through their work program and the prisoners were given basic instructions on how to maintain hygiene and social distancing.
On Tuesday night, Diwakaran was told he might be released the next day, in a statewide effort to decongest prisons in light of the pandemic. The bail hearing was done swiftly via video conference on Wednesday morning and he was granted interim bail.
Advertisement
Related news: COVID-19: Amid shortage, jail inmates make masks for fellow prisoners
He was released on the night of April 1, at around 9 pm, with nothing but a slip of paper with the current date and a short note to show the police in case he is stopped. As he walked out into the lockdown, limping on his bad leg, he found himself among the dozens of other stragglers, completely unsure as to how he was going to get home to Mahadevapura, about 20 km away.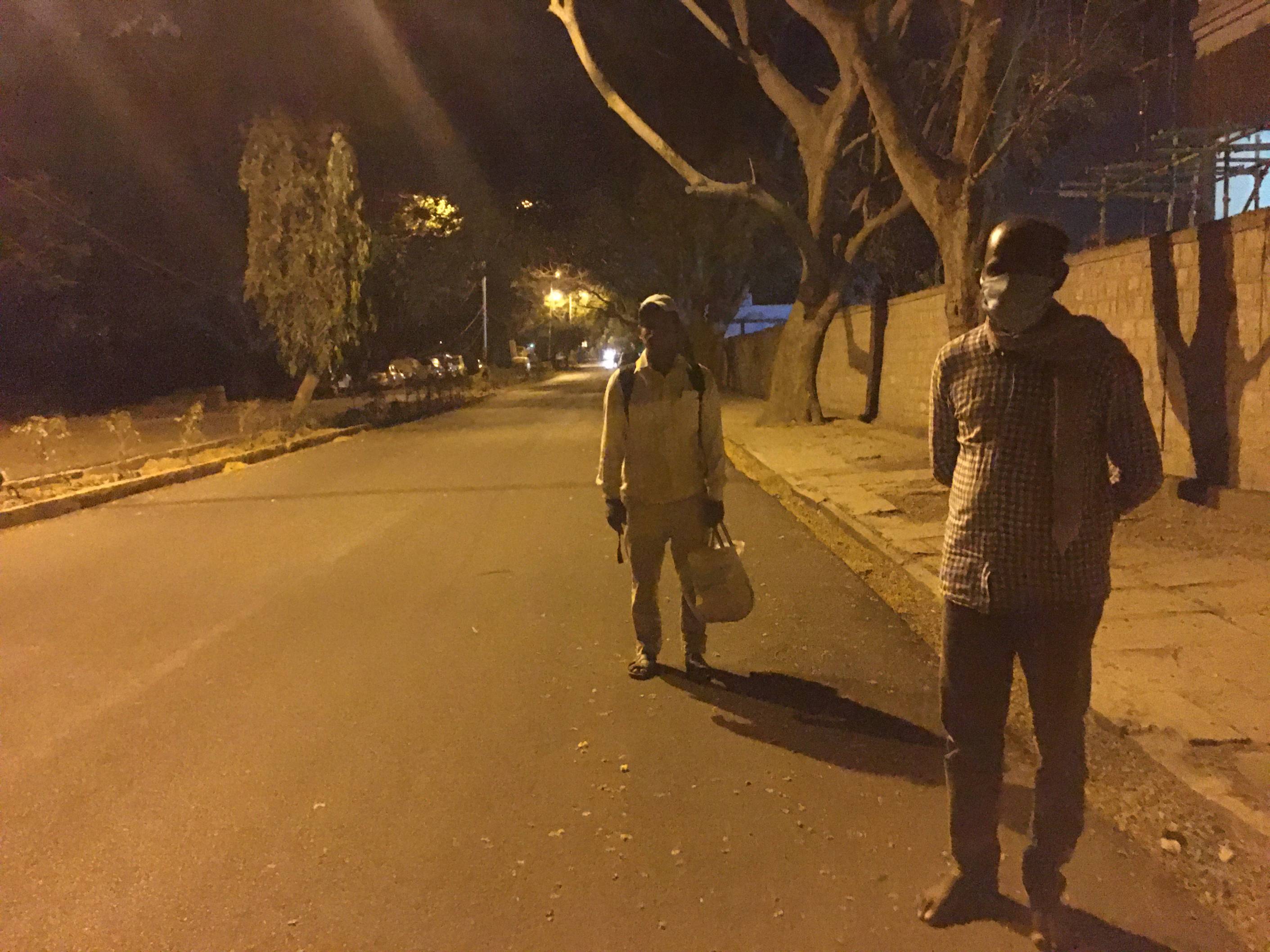 "I didn't want to call my brother. They have a newborn baby and I don't want him to get into trouble," he said. He had the option of heading back to Mahadevapura police station along with a constable who had come to the prison for procedural matters. But as it took more than eight hours for his release to be processed, the constable left without waiting for Diwakaran.
He wasn't alone – those who didn't have family there or couldn't call them in time were left wondering how they were to get home with all buses and autos out of commission during the lockdown. One man had to go to Hassan. When he was told that buses were not plying, he paused, unsure and then decided he would walk to a relative's place in Malleswaram, 25 km away. Another inmate, Babu Reddy, who has been suffering from long-term head trauma, is also among those who set off home on foot.
Setting things in motion
The Supreme Court on March 16 took cognizance of the need to decongest the country's 1336 prisons in order to stave off the infection among its population of 4,66,084 prisoners and issued directions on the matter to all states on March 23. The Apex Court was pre-empting incidents like what transpired in Dum Dum Central Correctional Home in Kolkata where undertrials rioted on March 21 after visiting rights were suspended due to the pandemic, resulting in one death and multiple injuries.
Several states have already started releasing prisoners – Delhi, Punjab, Maharashtra, Haryana – and other states like Kerala and TN have asked the police to make arrests only when absolutely necessary.
According to Prison Statistics India 2018, Karnataka's prisons are on the borderline in terms of prison occupancy, meaning it is slightly above capacity. In its petition on behalf of the prisoners, the Prisons Forum of Karnataka noted that among the 105 prisons in the state, some of them like the Vijayapura Central Prison have overcrowding to the tune of 98%, almost double its capacity.
DG, Prisons Alok Varma said that the process of identifying those who can be released – undertrials on bail and convicts on parole – had already begun this weekend under the High Powered Committee which comprises himself, the chairman of the Karnataka Legal Services Authority and Home Department officials.
"The district committees have also been set up under the district judge who will be deciding who can be released," he said. As of now, those who are charged or convicted for offenses entailing a prison term of seven or fewer years are eligible for mandatory release, in line with SC directions.
Basava Prasad Kunale, a lawyer who is part of the Prisons Forum of Karnataka, said there is a need to go beyond this.
Related news: COVID-19: After Kerala, Rajasthan jail inmates make sanitisers, face masks
"As per a recent government submission, there are 10,107 undertrial prisoners in the state, of which 1,632 are facing charges of seven years or less. There are also 4,203 convicts, out of which 665 are entitled to the mandatory release benefit. So a large chunk of people will still be in prison. Only by expanding the categories to include women, women with children, the sick, the elderly and those not of sound mind can we realise the objectives of decongestion" viz. reducing the risk of an outbreak among the inmates. They will be making a submission to the HC on this regard on Friday.
In Parappana Agrahara, which houses roughly 3500 prisoners, around 150 undertrials are due for release over the next couple of days, a senior official in the prison wing said, on condition of anonymity. The process of identifying and releasing convicts will begin next week and those with sentences up to 14 years (or even above depending on good behaviour) could be considered though this is entirely at the discretion of the committee.
Those already on parole are being asked to stay back and the High Court has ordered bail/parole of two months to be given those being released.
Beyond the gates
In light of the three-week lockdown, the HC observed on March 30, "…it is necessary for the State to ensure that the prisoners reach their respective places of residence. The exercise of releasing prisoners on parole or bail will have to be undertaken after obtaining due consent of the concerned prisoner. The State will have to ensure that the prisoners who are released do not suffer in the sense that they are not required to stay on the streets and they safely reach their respective places of residence."
Speaking to The Federal a day before the release of the first prisoners, Verma said, "These challenges we will overcome. Our intentions are clear and the state will take care of it. Maybe the relatives will be given a one-day curfew pass to come toceive the prisoners. And those who can't afford bail, the district committee will make decisions on them on a case by case basis."
Related news: COVID-19: Lockdown violators may face 6 months jail, ₹1,000 fine
The source in Parappana Agrahara said that self-bonds were being accepted by those who can't afford bail.i.e an affidavit submitted by the prisoner that he has accepted all the conditions stipulated by the court and he will surrender himself whenever he is called up to do so. On the night they were releasing over 100 prisoners, our source was certain there wouldn't be any issues due to the lockdown as police vehicles will be waiting outside to escort the prisoners to their nearest police station.
But despite these assurances,the scene was quite different outside. The first of the prisoners started coming out at 8 pm, in small batches of five people. A handful of family members had come to pick up some of them and the rest simply melted into the night on foot.
Babu Reddy was one of them. While he had applied for bail three months ago, it was processed in a rush along with the others on the day of their release. Between meeting the judges, receiving instructions on release formalities and preparing for his exit, he had to skip breakfast and lunch. He was told that he had to report to the nearest police station next month, failing which he'd be sent back to prison again.
"They told me that there would be no buses and asked if I would like to stay back till the lockdown was over. I said no, I wanted to leave right away and I'd rather walk home. And they let me go," Reddy said.
And walk home he did and it took him nearly 10 hours. Perhaps he had underestimated the extent of the shutdown; the jaunt in his step slowed to an amble once he realised he had no way of getting to Yelahanka, nearly 40 km away. He had no phone and very little money. Unable to contact his brother from prison, Reddy was able to inform him about his release from a borrowed phone only as he was exiting the gate. But his brother was equally helpless. With police seizing any vehicles plying on the road without a permit, he was afraid to come to pick him up. The police helplines were of no use. The policemen outside the prison refused to help to say their responsibility towards the prisoners ended at the gate.
Suresh was also released on Wednesday after spending 80 days inside. He spoke of a hunger strike two weeks ago where the inmates protested the overcrowding and the shortage of water in light of coronavirus. Things improved after that, he said, with new rules instituted around social distancing, quarantine and better hygiene.
"Every Monday, the jailer, superintendent and others meet everyone out in the open field and ask us if we have any problems. This Monday, when we told him that it was difficult for us to not see our relatives, he told us our release was being discussed by some big people in the Supreme Court." And two days later, he had his freedom.