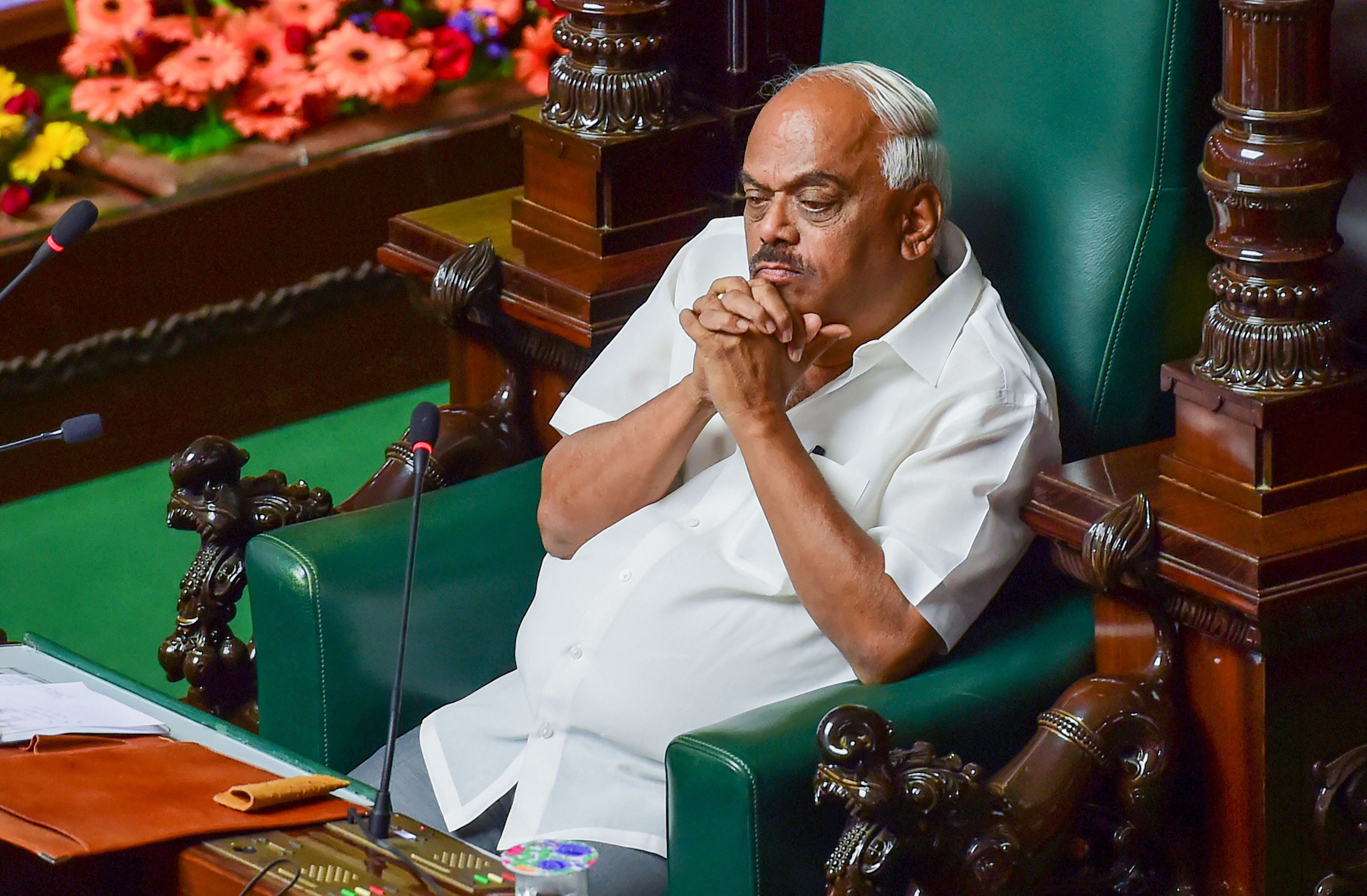 Amid storm, Karnataka Speaker sticks to his guns
The Supreme Court on Friday forced a 4-day stalemate in the Karnataka crisis, restraining Assembly Speaker KR Ramesh Kumar from taking any decision on the resignations and disqualification of 11 Congress MLAs until July 16.
This comes a day after Kumar refused to comply with an SC ruling asking him to decide on the resignations immediately. The 69-year-old veteran politician had stood his ground, saying he needed more time to convince himself that the resignations were genuine.
"I am not obligated to anyone but to the aspirations of people of this state and the Constitution," he had said in a press conference on Thursday. "I am nowhere responsible for the political crisis in Karnataka nor am I interested in the outcome of it."
Even as the opposition BJP dubbed it as a tactic to give the ruling Congress-JD(S) coalition more time and help it recover, the top court relented as he had pointed to the Constitution.
For Ramesh, it was a moral victory against an overarching BJP, which is known to have influence over powers that be in the topmost of judicial corridors.
For, BJP is seen to be pulling the strings from behind, getting the Congress-JD(S) MLAs to resign. When that happened last Saturday, Ramesh, who was not in office, directed his officials to receive the resignation letters and give an acknowledgement.
After making them wait till Tuesday, he examined the letters and said eight of them were not in order. When he delayed further, an annoyed and desperate BS Yeddyurappa-led BJP, waiting to take over from HD Kumaraswamy, moved court.
Firm and grounded, Ramesh is known to be sharp and articulate. And Thursday was not the first time the opposition has cast aspersions on his decisions. During the Siddaramaiah government, the BJP staged a walkout from Assembly when a bill to strengthen the grama sabhas, based on a committee headed by Ramesh, was passed in both the houses of Karnataka legislature without any discussion. The bill had a contentious clause where it gave the right to recall an elected gram panchayat member on corruption grounds.
Yet again, as a health minister, he had stoked a controversy when he proposed a law to jail doctors for medical negligence. After widespread protests from healthcare professionals, the government withdrew the clause from The Karnataka Private Medical Establishments (Amendment) Bill 2017, and passed a toned-down version of it.
According to fellow legislators, Kumar has silenced critics, both in the Congress and the BJP, with well-thought out arguments.
Apart from his sarcastic comments, jokes and anecdotes, Kumar is also known to have silenced critics, both in the Congress and the BJP, with sharp arguments, a trait that has also helped keep the House in order.
In a witty speech on the motion of thanks to the Governor's address in 2014, Kumar sympathised with former CM Yeddyurappa, who was forced to step down in 2011 on corruption charges, saying, "He (Yeddyurappa) was not the only corrupt leader in the state, but he, unlike others, did not know how to avoid getting caught."
He went on to suggest that the then-Chief Minister Siddaramaiah may consider opening a college to train people in how to avoid getting caught after committing misdeeds.
In a bizarre analogy, when Chief Minister Kumaraswamy earlier this year referred to an audio clip which purportedly carried the voice of Yeddyurappa offering Rs 50 crore to the Speaker as bribe, Kumar compared himself to a rape-survivor being repeatedly questioned about his integrity.
Last year, when Kumar was appointed as Speaker unanimously, he became the first person in the history of Karnataka Assembly to serve as Speaker for a second term. The BJP's five-time MLA Suresh Kumar, from Bengaluru, withdrew his nomination for the post to make way for him. The six-time MLA from Srinivasapur in Kolar district held the post between 1994-99 when the undivided Janata Dal was in power under chief ministers HD Deve Gowda and JH Patil.
As a legislator, he has often taken up the parchedness of his rain-starved Kolar region. Once, he even urged legislators from Bengaluru to send sewage water from the city to Kolar, considering that the water level in his district had gone below 1,600 ft. Years later, the Karnataka government proposed a ₹1,300 crore project called Koramangala-Challaghatta Valley Project (KC Valley) to pump treated sewage water into Kolar and Chikkaballapur lakes to improve the ground water situation.
Perhaps, the only major blot on his career was when he was charged in the murder case of his bete noire Shamashankar Reddy, a Congress worker, in 2004. But the court acquitted him in 2017. And since then, he has been going strong.