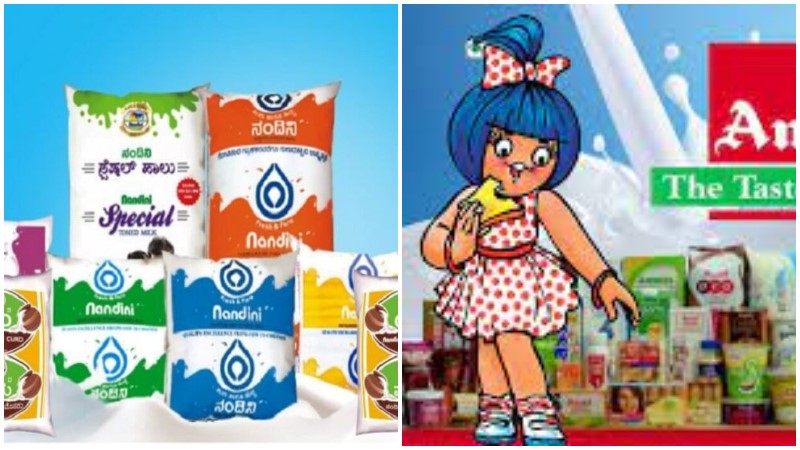 As the political slugfest over Amul's foray into poll-bound Karnataka escalated, the state's signature milk brand Nandini received support from Bengaluru hoteliers.
The Bruhat Bengaluru Hotels Association, in a press statement said that Bengaluru hoteliers decided to use Nandini milk to "support the state's dairy farmers". The Association, without naming Amul said that Kannadigas should only promote Nandini products, which is owned by the Karnataka Cooperative Milk Producers' Federation (KMF).
The statement said, "We are all proud of Karnataka's Nandini milk produced by our farmers and it should be encouraged. In our city, clean and delicious coffee stands as the backbone of snacks. And, we encourage it with great pride. It is being heard that milk from other states are being shipped into Karnataka recently. We are all Nandini."
This will be a major setback for Gujarat Cooperative Milk Marketing Federation's product Amul, which is already the target  of social media campaigns with hashtags such as #SaveNandini and #GobackAmul.
Also read: Milk war hots up: Amul's entry has Karnataka on the boil
Political war over Amul's entry into Karnataka
This development also comes in the backdrop of a war of words that has broken out between the ruling BJP and the Opposition Congress and JD(S). The Opposition parties fear Amul will be a "threat" to the state's famed dairy brand 'Nandini' and this is a conspiracy being hatched by the ruling government to kill the state brand.
Meanwhile, according to a news report, Bommai asked the Opposition to not "politicise" Amul's entry into the state. He told the media that they have absolute clarity with regard to Amul. "Nandini is a national brand. It's not restricted to Karnataka. We have popularised Nandini as a brand in other states as well," he told PTI.
"There is no need to be afraid of Amul. Our Nandini is an established brand. We will take all the steps to give Amul a tough competition," he pointed out, adding milk production increased in the state but incentives have also been given to the milk producers. He pointed out that many KMF dairies have been established in the state during BJP rule.
Against the Gujarat model
But, Opposition leaders are demanding that they are against the introduction of the Gujarat model in the milk cooperative industry in Karnataka. Even as Congress leader Siddaramaiah called all Kannadigas to pledge not to buy Amul products, Karnataka Congress chief D K Shivakumar said that their rights, their land, their soil, their water and their milk must be protected.
Also read: Amit Shah milks benefits of Amul-Nandini merger during visit, triggers political storm
"We don't want the Gujarat model. We have a Karnataka model here," he told the media. The Opposition parties have charged that the BJP government was out to kill Nandini.
Former CM Siddaramaiah has said that Chief Minister Basavaraja Bommai should immediately intervene and stop Amul from entering through the back door. And, added that '#SaveNandini #SaveKMF' should be the state's motto.
He lashed out at Prime Minister Narendra Modi and Union cooperation minister Amit Shah for being the reason behind all efforts to kill the KMF, which is the livelihood of millions of dairy farming families. And, he attacked the weak leadership of the state BJP unit, for caving in to the demands of the central high command.
On Wednesday, Amul had announced its entry into Karnataka through a tweet that a new wave of freshness with milk and curd is coming to Bengaluru. Under their hashtag #LaunchAlert, the tweet added "From Kengeri to Whitefield, wishing everyone a Taaza day." In another tweet, the dairy brand had said, "The #Amul family is bringing in some Taaza into #Bengaluru city. More updates coming in soon. #LaunchAlert. Taaza arriving soon in Bengaluru."