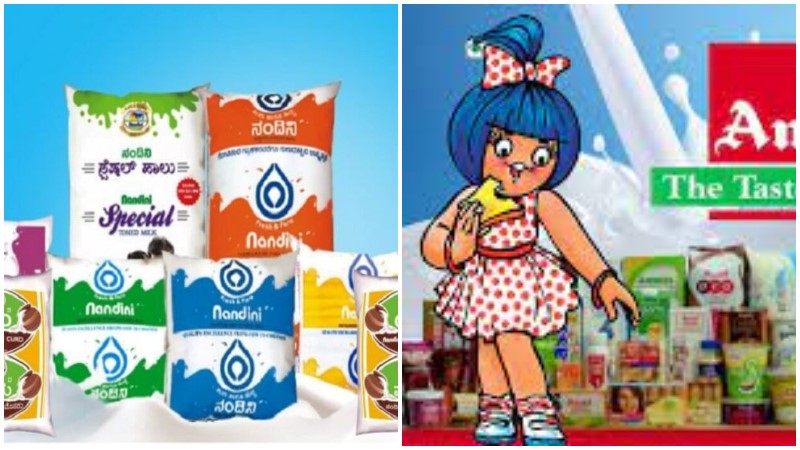 A Nandini-Amul merger can't be good for accountability, decentralised ops: IIM-B Prof
Centre's moves on cooperative sector, BJP's focus on cattle economy and Amit Shah's comments create a scare that Nandini dairy will be merged with Amul
Consolidation among dairy cooperatives would undermine democratic accountability to milk producers and should not be a policy objective, MS Sriram, Chairman, Centre for Public Policy at the Indian Institute of Management, Bengaluru, said in a Zoom interview with The Federal. He was speaking in the context of Gujarat Cooperative Milk Marketing Federation's (GCMMF) Amul entering the Bengaluru market from April.
Though Amul has been selling milk products in Belagavi and Hubbali-Dharwad since 2015, Opposition leaders projected the extension of its operations to Bengaluru, in the run up to the Assembly elections in May – as a threat to Nandini, the popular brand of the Karnataka Cooperative Milk Producers' Federation (KMF). They tried to draw parallels with the merger of the native Vijaya Bank with Bank of Baroda.
Also read: Amul-Nandini row: Congress says it won't allow BJP to raise 'One Nation, One Milk' slogan
There is no formal proposal of Amul taking over Nandini. But suspicions gain currency in fraught political circumstances. A few developments stoked them. In December, Union Home Minister Amit Shah suggested joint operations by the two, while inaugurating a KMF dairy in Mandya. Last year, the Centre introduced an amendment to the Multi-State Cooperative Societies Act that would make mergers between cooperatives easy and give control over them to the Centre. The amendment is likely to be taken up in the monsoon session of Parliament.
In 2021, the ministry of cooperation was carved out of the ministry of agriculture and the home minister was given charge of it. And last October news reports attributed comments to the home minister that five dairy cooperatives would be merged, but this was denied by the then chairman of GCMMF.
Sriram said that milk producers' relationship with a cooperative was transactional. There was no emotional attachment. They would shift to whoever paid them more. Amul, with deep pockets, would win them over but Karnataka milk producers would have no leverage over it as it would be accountable to the farmers of Gujarat, who are its members. He said a cooperative should not encroach on another's turf if the latter was doing a fairly good job of returning a substantial share of the retail price to milk producers; they should compete in product (butter, cheese etc) markets. Milk procurement had elements of monopoly as an elaborate structure of collection points, chilling units and refrigerated vans has to be set up. And monopolies need to be checked with accountability.
Though Amul is a much larger entity both in terms of milk procurement and revenue, Nandini, which is the second largest procurer of milk in the country – despite Karnataka ranking ninth in the country in 2021-22 in milk production and per person milk availability – is very competitive. It sells a litre of toned milk for Rs 40, while Amul charges Rs 54 for it in the Delhi market. True, Nandini gets a subsidy of Rs 6 per litre from the state government – which has made an outlay of Rs 1,068 crore in this year's budget. That still leaves a gap of Rs 8 per litre. A reason for low prices is low logistical cost. About 90 per cent of the milk Nandini sells in Bengaluru, for instance, is sourced from within a radius of 200 km.
Also read: Amit Shah milks benefits of Amul-Nandini merger during visit, triggers political storm
With the Congress displacing BJP in the recent Assembly elections, the threat of merger might have receded for the time being. But the BJP is unlikely to give up. Shah has said that the government intends to set up a primary cooperative in every panchayat. Cooperatives have been vehicles for political mobilisation. But for the BJP they are also tools for ideological dissemination. The BJP is focused on the cattle economy like no other political party is. Through control of dairies, it can stop the culling of animals, promote the use of dung and cow urine and encourage the propagation of indigenous breeds.
Sriram says this could backfire. Over the past few decades India's dairy sector has moved from a primitive backyard activity to an industry based on science and technology. He gave the example of oilseeds where a focus on lowering the cost of oil to consumers – through low import duties – reversed the gains of the 1980s, resulting in import dependence and over-consumption of imported palm oil.