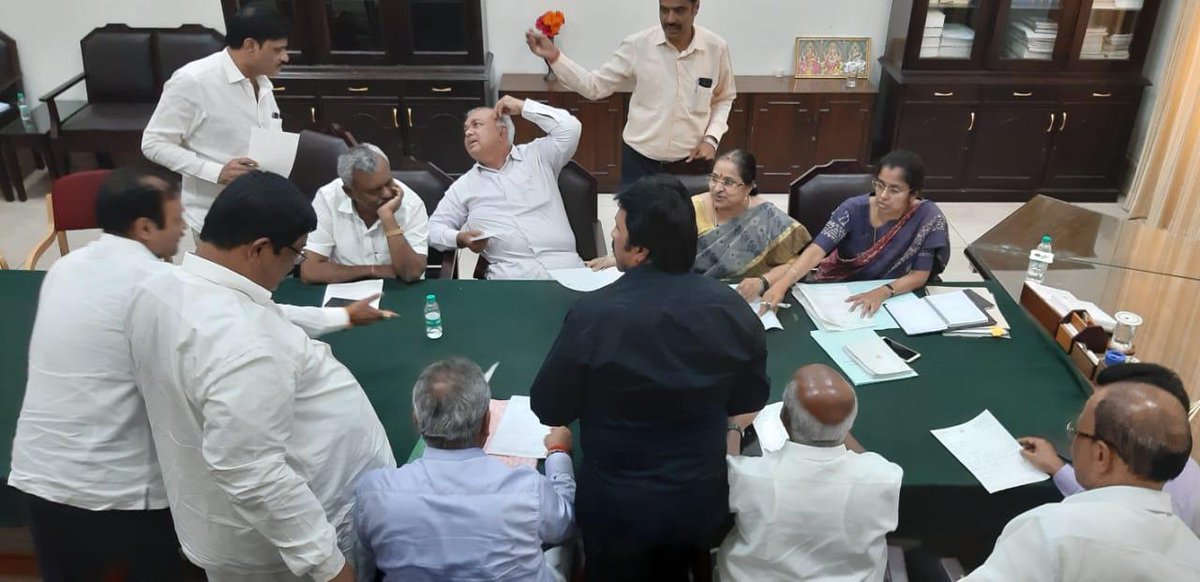 11 Karnataka coalition MLAs quit, BJP waiting in the wings
In a big jolt to the Congress-JD(S) coalition government in Karnataka, senior Congress leader Ramalinga Reddy announced he had submitted his resignation as legislator on Saturday (July 6).
Seven other Congress MLAs and three JD(S) MLAs, including former party president H Vishwanath, have also quit.  Of the total 11,  Ramesh Jharkiholi and Anand Singh had submitted their resignations on July 1. The rest submitted their resignations on Saturday.
In an attempt to scotch speculation about the possible "behind-the-scenes" role of the BJP in engineering the resignations, state party chief B S Yeddyurappa said "me and my party have nothing to do with the developments in other rival parties. I have heard through media that Congress and JD(S) legislators have resigned from their Assembly seats".
Though it is the BJP which stands to gain from these resignations, Yeddyurappa insisted that his party "has absolutely no say on the issue".
However, he added that "if the situation arises we will definitely explore the constitutional provisions to form the next government".
Watch: How long will Congress-JD(S) coalition govt last in Karnataka?
Speaker K R Ramesh Kumar said there were 11 resignations in total and he directed his office to accept them and give acknowledgement, reported the news agency ANI. Kumar was not in office and will return on Tuesday. Until then, the resignations technically are in abeyance.
JD(S) leader H Vishwanath claimed that 14 MLAs have resigned. But The Federal could not verify this independently. "We have submitted our resignations to the Karnataka Assembly Speaker. He assured us he will take a decision by Tuesday. We also met the Governor (Vajubhai Vala)," he said, according to ANI.
"This government did not meet the expectations of the people of Karnataka. It did not take everyone into confidence in its functioning. That's why we've resigned voluntarily today. We are not influenced by any 'Operation Kamala'," he said, referring to the BJP's attempts to bring down the government.
H Vishwanath: In Congress-JD (S) coalition government in Karnataka, 14 MLAs have resigned against the Government till now, We also met the Governor. We wrote to speaker to accept our resignation. Coalition Government did not meet the expectations of the people of Karnataka pic.twitter.com/e0hDXrpAIz

— ANI (@ANI) July 6, 2019
The development comes even as Chief Minister H D Kumaraswamy is on a private visit to the US and Congress state president Dinesh Gundu Rao is reportedly in the United Kingdom. The Chief Minister is likely to return on Sunday.
The remaining eight who have submitted their resignations are: Byrathi Basavaraj, S T Somashekar, Shivaram Hebbar, Pratapgouda Patil and Mahesh Kumathali — all from the Congress. The JD(S) MLAs who have handed in their resignations are Narayana Gowda, H.Vishwanath and K Gopalaiah.
Meanwhile, speaking to reporters at the Vidhana Soudha, Ramalinga Reddy said his decision comes as the state Congress leadership sidelined and discriminated against a few senior leaders like him. While he did not take names, he said it pains to take such a decision as he has worked with the Congress since his college days.
Reddy said the Congress working president Eshwar Khandre on Friday night (July 5) tried to convince him to not quit.
In December, loyalists of the seven-time MLA threatened to quit and dent chances of the Congress in the Lok Sabha elections if Reddy was not made a minister.
Congress and JD(S) declined to comment on the development.
B. S. Yeddyurappa, BJP: People are watching the way DK Shivakumar is behaving. He tore resignation letters of some of the MLAs inside the Speaker's office, who had went to resign, it is condemnable. #Karnataka pic.twitter.com/ZGrdIYodLf

— ANI (@ANI) July 6, 2019
Discontent began brewing among MLAs in the coalition government after the cabinet expansion in June. Karnataka Pragnyavantha Janatha Party MLA R Shankar (Ranebennur) and independent MLA H Nagesh (Mulbagal) were inducted as ministers. Ever since, speculations have been rife that senior leaders would quit the party.
The government overlooked the request of senior Congress leaders like Ramalinga Reddy and Shivaram Hebbar among others during the expansion. The Congress leaders opposed the induction, and interpreted it as doubting their loyalty.
Meanwhile, after the JD(S) failed to convince H Vishwanath to withdraw his resignation from the post of state party president, the party on July 4 appointed five time MLA, H K Kumaraswamy, to the post. Nikhil Kumaraswamy, the CM's son was made the party's youth wing leader.
Karnataka BJP chief BS Yeddyurappa last week had said that resignations in Congress reflected large-scale uneasiness with the coalition and his party was willing to explore constitutional provisions to form the new government.
BJP which has 105 seats in the state Assembly was hoping to gain in numbers and form the government with the mass resignation of Congress-JD(S) MLAs. For that to happen, at least 16 MLAs would have to resign. Last week, two MLAs quit.  On Saturday, nine have handed in their resignations. That leaves five more to quit before the BJP can stake claim to form government.