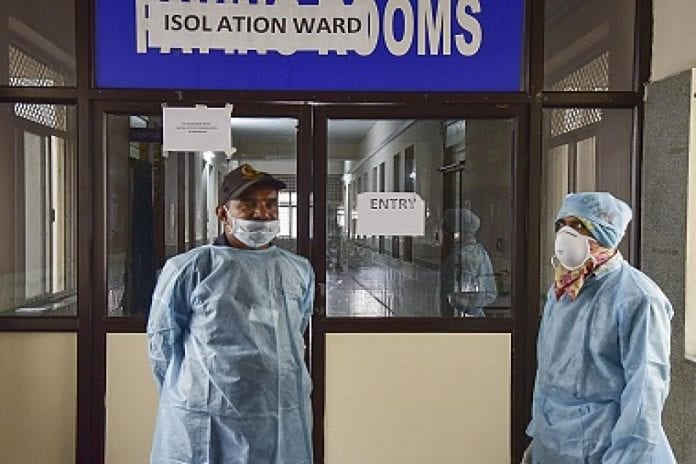 India's first coronavirus death has been reported from Karnataka. A 76-yr-old man from Kalburgi who passed away on March 10 was confirmed to have tested positive for Covid-19 on Thursday night.
The man earlier identified as Mohammed Hussain Siddiqui was only suspected to have contracted the disease and it was not confirmed.
Karnataka Health Minister B Sriramulu took to Twitter to confirm the death.
"The 76 year old man from Kalburgi who passed away & was a suspected #COVID19 patient has been confirmed for #COVID19. The necessary contact tracing, isolation & other measures as per protocol are being carried out," he tweeted.
The man had returned from Saudi Arabia on February 29 and was screened at Hyderabad airport. While he showed no symptoms at that time, on March 5, he was admitted to the Gulbarga Institute of Medical Sciences, about 575 km away from Bengaluru.
Related news | 76-year-old Karnataka man with suspected coronavirus dies
He was kept in isolation initially and allowed to leave with his family to Hyderabad for treatment. However, he returned to Kalburgi after for treatment.
Regional channels quoting sources alleged that he was denied treatment in Hyderabad and was told to go back to Kalburgi.
The health officials, who allayed fears that he died due to coronavirus on the day of his death, indicated that the patient had pneumonia, hypertension and asthma among other ailments and was being treated as a suspect for possible infection of H1N1.
But with the test results confirming positive for Covid-19, lapses in the healthcare system has emerged, especially in the failure to quarantine and isolate the person as required.
Incidentally, the state just passed a notification to contain the pandemic by giving powers to health officers to forcefully quarantine people if someone denies to get treated.
From Sunrise Hospital to state-run Gandhi Hospital and then to CARE hospital in Hyderabad, the patient and his family members were sent for treatment one after the other considering the seriousness of the case.
"There was no one care in Gandhi Hospital. Which is why we shifted him to CARE hospital. But after two hours, without giving my father the required treatment, they asked us to go to Gulbarga by which time the district health officer was calling us to come back," son of the deceased said.
The lapses in the system were highlighted and the government which first ordered for a state-emergency refuted the claim and said there was no health emergency but they only issued notifications to contain the virus. From delays in test results to changing version of the government officials indicate something is amiss with the first coronavirus death case.
Meanwhile, the health officials have how quarantined four media professional who interviewed the deceased family members.
Interactive | Coronavirus dashboard: Outbreak in numbers
The state government, which had asked schools up to class 5 to be shut, on March 12 asked all schools up to class 9 to close from Saturday. Exam if any will be conducted from March 16. Even CBSE schools have been asked to be shut and conduct exams as early as possible, before March 23.