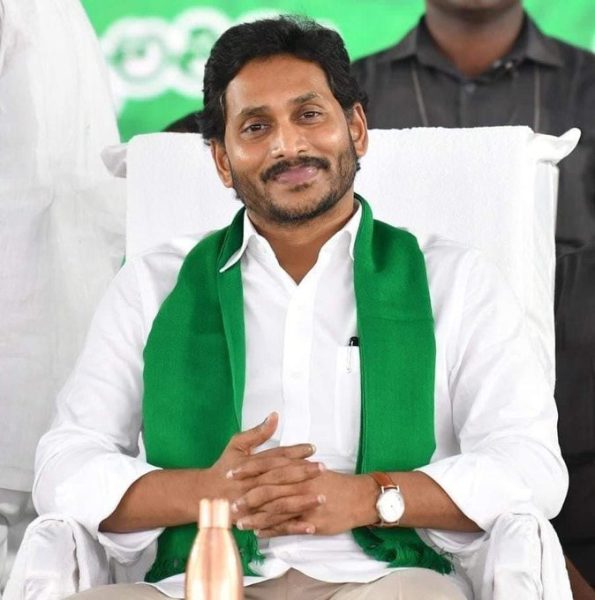 Will Jagan opt for snap polls in Andhra Pradesh? Decision may come on June 7
A political war of nerves is being played out in Andhra Pradesh between ruling YSR Congress and Opposition Telugu Desam Party (TDP) over the issue of early elections in the state.
While Chief Minister YS Jagan Mohan Reddy appears to derive pleasure in keeping the Opposition guessing about the early polls, TDP supremo Chandrababu Naidu quite often wants people to believe that Jagan's fear of growing anti-incumbency will lead to the same. Andhra Pradesh Assembly elections are scheduled in April/May 2024 along with Lok Sabha polls.
It was Chandrababu Naidu who first started kite flying as early as January 2022 by stating he was expecting early polls in Andhra Pradesh amid unabated desertions from the party following TDP's miserable defeat in the 2019 election. Many former TDP MPs, former MLAs started joining YSR Congress and the TDP cadre was totally disheartened by the thumping majority Reddy was accorded in the elections.
Also read: Jagan shifts focus to North Andhra to overcome his capital woes
Bid to keep flock together
Naidu's failure to build the capital at Amaravati and Jagan's effective campaign against alleged insider trading in buying land by Naidu's friends unnerved TDP leaders, triggering large scale desertions. So, to keep the flock together, and to boost the morale of the cadre, an astute strategist Naidu started predicting the snap polls much ahead of the 2024 general election. Naidu used to make people believe by stating he had confidential information about snap polls.
Though his prediction has not come true in the past 18 months his repeated and effective talk has become grist for media speculation over early polls whenever Jagan faced embarrassing moments.
CBI arrests of his family members in connection with uncle's murder case, possibility of arrest of his cousin and MP Avinash Reddy looming, the defeat of YSRC candidates in MLC elections, and the high court striking down of proposal for three capitals are being projected as the "misfortunes" of Jagan that would force him to take refuge in the snap polls.
All eyes on cabinet meet
Despite repeated denials from Jagan's principal adviser Sajjala Ramakrishna Reddy that there was no need for the government to go in for early polls and Jagan would complete the five-year term, TDP intensified its campaign, anticipating the move. Now, there is a buzz that Jagan's cabinet meeting scheduled on June 7 will take a final call on the snap polls.
Unmindful of Naidu's campaign, Jagan has been on an inauguration spree. He launched YSR Yantra Seva scheme meant to make farm equipment available for farmers on Friday, while more schemes are in the pipeline. Earlier, he had launched a grievance redressal program 'Jaganannaku Chebudam' on May 9 and unveiled Machilipatnam port works Rs 5,516 crore in Krishna district on May 22. Before that he inaugurated the 'Family Doctor' programme under which a qualified doctor would visit every village twice a month along with a mobile laboratory to conduct 15 types of tests.
According to Jagan, as many as 1.41 crore households have benefitted with one or another scheme in the state since he assumed office in 2019. YSR Congress' confidence stems from the fact that this works out to about 2.80 crore voters assuming that each household consists of two votes and this is more than 50 per cent of the total 4.07 crore electorate of the state.
Meanwhile, the Centre is extremely liberal in releasing funds to the state. Two days back the state received an amount of Rs 10,460.87 crore to bridge the revenue deficit. Another amount of Rs 17,000 crore is expected to be disbursed soon for Polavaram project.
Alleging that Naidu was dishing out fake news on early polls, Jagan's key aide Sajjala clarified that they would go to polls only after completing the term so that the YSRC government could implement few more welfare programmes.
Also read: Andhra CM Jagan Reddy's uncle arrested by CBI in murder case
No end to guessing game
Dr Anjireddy, associate professor of political science at Acharya Nagarjuna University at Guntur, told The Federal that the chances for early polls in Andhra Pradesh are remote. He opined that early polls are not necessary and there are no compelling reasons for the dissolution of the state assembly. "Naidu harping on early polls is understandable. All Opposition parties talk of growing anti-incumbency and early polls as the escape route for the chief minister. It's all part of politics. However, there is no need for the chief minister to dissolve the assembly."
"Given Jagan's well entrenched position, completing the term is more beneficial to YSRC than early polls. In the remaining eight months, he could streamline the welfare schemes, plug the loopholes, campaign leisurely and consolidate his party. Both Naidu and Jagan know their strengths and weaknesses. They understand each other well. So, Jagan may not walk into Naidu's trap," he added.
But, the guessing game over the possibility of snap polls in 2023 along with five other states has attained fever pitch. Political observers, local media and Opposition parties are keeping their fingers crossed that the cabinet meeting scheduled on June 7 will clinch the issue.