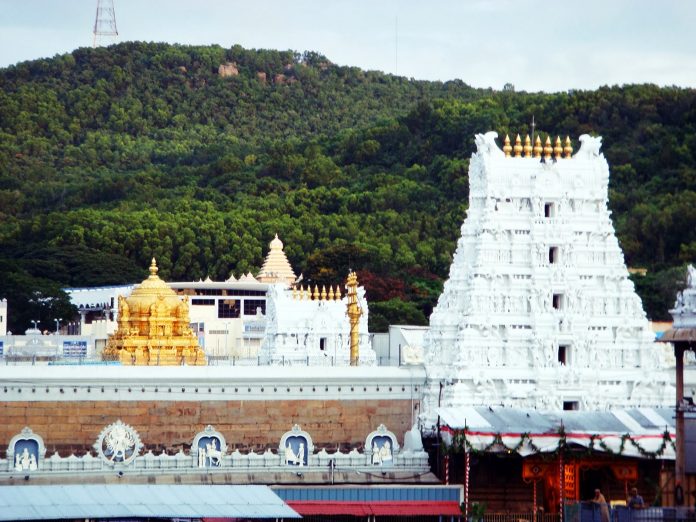 The Tirumala Tirupati Devasthanams, an autonomous body that manages the operations of Tirupati Balaji temple — the country's richest temple — has finalised guidelines for Darshan at the shrine after the lockdown ends.
The TTD said they were planning to permit 14 hours of Darshan per day after the lockdown is lifted.
A maximum of 500 people will be allowed to visit and pray at the shrine per hour, indicating that 7,000 people can visit the temple per day. This amounts to 49,000 visitors at the temple per week.
Advertisement
Only TTD employees will be allowed inside the temple for the first three days after the end of the lockdown.
For the next 15 days after that, people from Tirumala and Tirupati will be allowed inside the temple as an experiment to check the inflow of visitors and the health consequences that might follow.
Related news | Why India's richest temple is caught in a cash crunch
The guidelines noted that if all goes well, the TTD will then make plans to allow people from other districts and states.
Tickets only for Special and Sarva Darshan will be sold, and only those with tickets will be allowed inside Alipiri, the pilgrim city of Lord Venkateswara, which is located at the foot of the seven hills in Tirupati.
The hill shrine has reportedly incurred a revenue loss of approximately ₹400 crore due to the lockdown enforced to curb the spread of COVID-19.
The temple body spends ₹110 crore every month towards payment of salaries to its 22,500 employees and contract workers, and for maintenance of temples and security.
Related news | Tirupati Balaji temple to be closed from Friday due to COVID-19 outbreak
"We have paid salaries for the months of March and April. We have some reserves kept ready for paying salaries for May as well," sources at the TTD said.
The sources also said they would be left with no cash to pay the salaries of employees for June if the lockdown continued in that month.
This statement comes despite the fact that TTD has fixed deposits (FDs) worth ₹14,000 crore and nine tonnes of gold reserves.
When questioned on why the board was reluctant to use the funds from the FDs or gold reserves, TTD chairman YV Subba Reddy said, "We will never do that. It is a question of public sentiment. We are not going to touch either FDs or gold reserves."