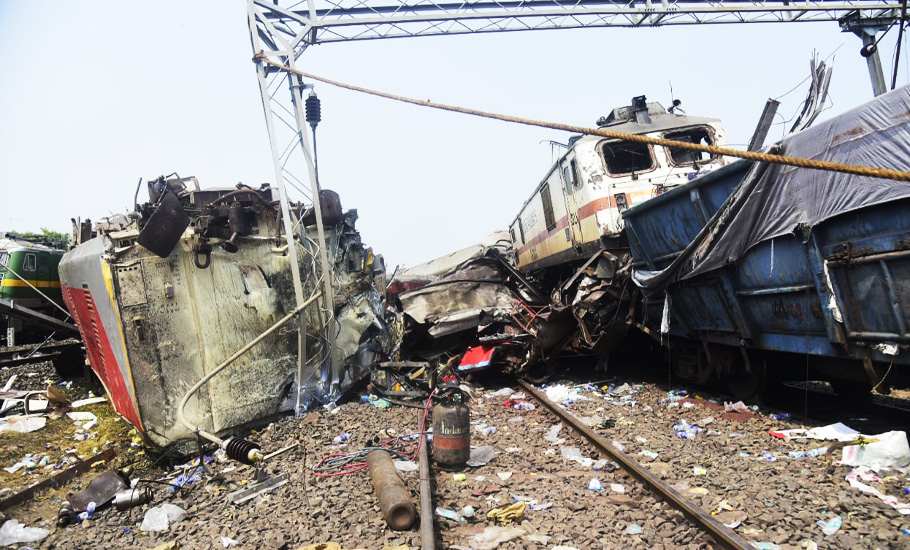 AP passengers travelling by trains that collided are safe: Railways
A total of 178 Telugu passengers were travelling by Coromandel Express. Of them, 110 were Vizag, 26 were Rajahmundry, 39 were Vijayawada, two Eluru and one Tadepalligudem bound passengers.
Officials were able to contact the majority of the passengers and are hopeful that remaining passengers would be reached soon. Officials are sharing details of passengers based on reservation data. However, the number of Andhra Pradesh passengers among the dead has not been ascertained.
Three trains full of passengers, including the Yeswantpura Express and Coromandel Express, collided on Friday (June 2) near Bahanaga Bazar Station in Balasore district of Odisha. The crash left more than 280 passengers dead and 900 injured.
Also Read: Railways launches probe into Odisha train crash, cites absence of anti-collision system
Railway officials also told media that two Eluru bound passengers, who sustained minor injuries, had been traced and they were being treated in a local hospital. Officials were not able to gather any information about Andhra passengers travelling in general coaches.
As per the reservation data, 42 passengers were travelling from Vijayawada by two trains. Giving the details of the passengers, NTR district Collector Dilli Rao said that 39 were travelling by Coromandel Express while 3 by Yeswantpura Express. Of them, 30 have been contacted, 5 had their phone switched off, while 2 were not answering the calls. He said efforts were on to contact the remaining passengers.
Among others, 6 Chirala bound passengers from the same train are safe and have been contacted by the Railway authorities.
Help lines
As many as 28 passengers from Tirupati and 8 from Guduru were travelling by Yeswantpura–Howrah Express. According to Tirupati MP Dr Maddila Guruswamy all are safe.
Similarly, as many as 31 passengers were travelling to Rajahmundry by two trains. Of them, 22 have been contacted and are safe. Officials are making efforts to contact other passengers. Help lines have been set up at all major railway stations in Andhra Pradesh.
Railway officials from Vijayawada informed that as many as 52 passengers boarded the train no. 12864 at Vijayawada with destination as Balasore and beyond Balasore. A total of 68 passengers belonging to the Vijayawada Division boarded the train no. 12841 Coromandel Express.
According to the official press note from the Vijayawada division of the South Central Railway (SCR), the passenger list and their contacts have been shared with all 10 major stations of the Vijayawada Division. Officials from all the departments are continuously monitoring the situation and working in shifts from the command control centre at the divisional office.