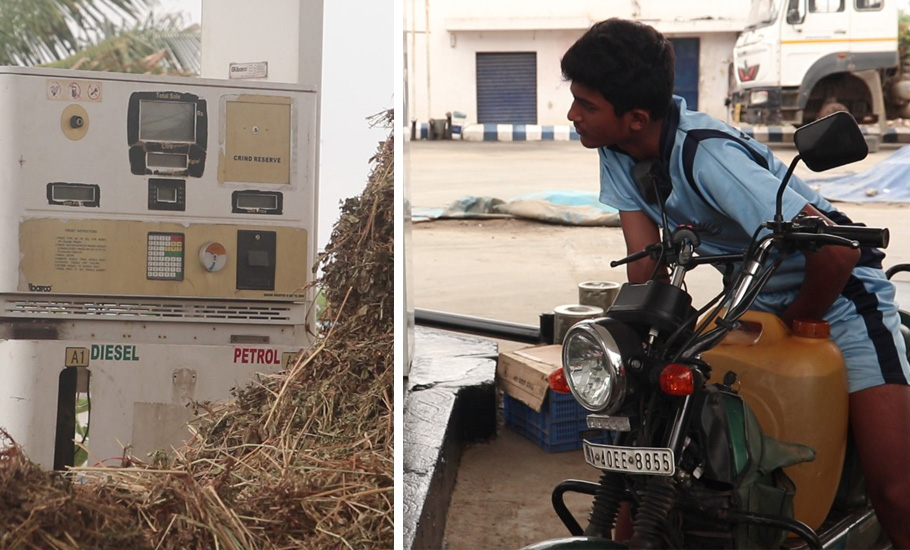 Andhra petrol bunks in doldrums as vehicle owners zip past to Karnataka for cheaper fuel
Many Andhra Pradesh petrol bunks close to the Karnataka border have shut down since business has become unviable; some others are using the space to store hay
Swetha Pula, a native of Anantapur, Andhra Pradesh, works for a software company in Bengaluru. She often travels down to Anantapur to visit her parents. But, she always fuels her car in petrol pumps located on the Karnataka side of the Andhra Pradesh border. 
Petrol and diesel rates in AP have always been higher than in Karnataka; Swetha can't recall when she last filled the tank in her own state. She is among thousands of consumers travelling to and from Karnataka, who invariably fuel their vehicles from pumps located in Karnataka, which has led to the closure of outlets in AP. And, hundreds of employees have been rendered jobless.
Also read: Amalapuram violence just a tip of anti-Dalit sentiment in Andhra's Konaseema
Meda Narasa Reddy is a businessman in Kadiri. He travels to Bengaluru twice a week and always buys diesel for his car in Bagepalli, a Karnataka town closer to Kadiri. His routine is to buy enough diesel close home to reach an outlet near Bagepalli and then completely fill up the tank. 
On his way home as well, he fills the tank up in Karnataka for use in his hometown. It will take care of his local travel needs for two or three days. So, he has no need to visit the petrol pumps in AP at all.
The same is the case with Golla Sriramulu, a pomegranate farmer from Chilamathur, which is just 15 km from Bagepalli on National Highway 44. He told The Federal that he would cross the Andhra-Karnataka border to get diesel in cans. Many farmers who need diesel for agricultural purposes get it from Karnataka in cans ferried in auto rickshaws.
"Two Karnataka commodities are very popular in these areas: one is liquor and the other fuel," Sriramulu quipped. Ever since AP Chief Minister YS Jaganmohan Reddy increased liquor prices by 75 per cent with the hope that it would discourage tipplers, smuggling from Karnataka has replaced Andhra liquor in border areas. The reason: the vast price difference. 
Also read: States demand more cuts on fuel tax, say slashing VAT will drain revenue
Fallout of price variation 
The fallout of the fuel price variations is evident on NH44 in the direction towards AP. If one travels from Bagepalli, Karnataka to Chilamathur in AP, one cannot ignore a strange spectacle – haystacks in petrol pumps. Since the business has been completely lost to Karnataka, many dealers have chosen to close their outlets and use the area as gaddi vamu (haystacks). Others have just left the petrol stations idle.
On May 25, the petrol and diesel rates in Anantapur were ₹111.57 and ₹99.34, respectively, while in Bagepalli they were ₹101.98 and ₹89.93, respectively. The difference works out to be ₹9.59 for petrol and ₹11.41 for diesel.
Also read: Why 'kingmaker' Chandrababu Naidu finds it tough to forge an alliance now
The impact of this variation is felt as far away as Kadiri town, which is 70 km from the Karnataka border. 
Since the rates in AP have always been higher than neighbouring Karnataka, bulk users of diesel and petrol have stopped buying fuel from the petrol bunks in the state, said Y Raja Reddy from Kadiri town.
Raja Reddy, owner of SV Fuels, said he lost 50 per cent of his business due to higher rates in AP. "We lost entire business from bulk users. Trucks have stopped buying from us. Those who are on long-distance car travel also stopped visiting our outlet. Even if they visit, they purchase very little — just enough to reach the Karnataka border, where they can fill up their tanks fully. So, our clientele has dropped and we just have local two-wheelers, autos and other vehicles whose operations are confined to Kadiri and surrounding areas," he said in a chat with The Federal.
At present, Raja Reddy is selling 1,600 litres of petrol and 2,000 litres of diesel a day, on an average. "If the prices are brought down on par with Karnataka, my business will be doubled," he added. According to Reddy, the price difference between AP and Karnataka is about ₹10 and ₹11 for petrol and diesel, respectively, on any given day. 
"Major contractors, who require huge quantities of diesel, are buying the fuel from Karnataka and smuggling it via rural routes or enter by bribing officials on NH," said an employee of a petrol station that has shut down.
Also read: TDP, Cong want Article 360 (financial emergency) clamped in Andhra Pradesh
The savings in buying fuel in Karnataka
The petrol station employee pointed out that contractors who operate a lot of heavy machinery and tippers require thousands of litres of diesel every day. "If they buy a tanker of 4,000 lt capacity in Karnataka, they would be saving as much as ₹40,000 a day.  Even if they forego some amount for bribes, the saving will not be less than ₹30,000 a day, which works out to ₹9 lakh a month. These contractors quote prices based on the rates in AP and get the cheaper fuel from Karnataka illegally and benefit," he said.
K Ranga Reddy, a dealer of a public sector company, said as many as 60 dealers chose to close their business due to the price variation and many more are set to follow suit if the AP government fails to cut taxes.
Ranga Reddy also pointed out that the AP government has refused to slash taxes like  BJP-ruled Karnataka has done. "The state has imposed 31 per cent VAT on petrol and 22.5 per cent VAT on diesel. It is also collecting ₹4 per lt as additional VAT and ₹1 as road cess. As a result, in Andhra, fuel is costlier. So, those living within a radius of 25 km from the Karnataka border never visit petrol outlets in Andhra," he explained. 
Petrol bunks go out of business in AP
"Unable to meet expenditures such as employee salaries and electricity bills, many petrol bunks have become unviable," said K Venugopal, a senior journalist from Anantapur. "In D Hirehal Mandal, Kalyandurg division alone, seven out 14 bunks have gone out of business due to this price variation. Pumps which used to sell 1,000 lt of petrol are now hardly selling 400 lt a day. The fall in diesel sales is still steeper. D Hirehal lies closer to the Karnataka border towards Bellary. So, all vehicles, including two-wheelers, cross the border to buy petrol or diesel at cheaper rates," he added.
Mohammed Rafi, a long-distance truck operator from Anantapur, admitted that he would prefer to buy fuel from neighbouring states. Rafi, who is also the secretary of the Anantapur district Truck Owners Association, operates his trucks to Bengaluru and Chennai.
"By fuelling my trucks in Karnataka I am saving at a rate of ₹4,000 per filling. The capacity of the truck's tank is 400 lt. The fuel is cheaper in Tamil Nadu, too, though the difference is less," Rafi told The Federal, adding that he would fuel his vehicles in AP only in an emergency.
Call for tax cuts
An executive of Indian Oil Company confirmed that the dealers were losing business in all areas bordering Karnataka. "Due to a huge price variation between Andhra and Karnataka, running an outlet has become financially unviable in the former and many petrol stations have shut shop. The survival of the remaining outlets which are operating with reduced business depends on the steps the state and Central governments take in the future. If there is a further cut of taxes in Karnataka, the remaining outlets will go out of business in the border areas," he said, on condition of anonymity.
The AP government has steadfastly refused to cut the VAT on fuel despite repeated requests from the Centre. The argument put forth by state Finance Minister B Rajandranath Reddy is that the incumbent YSRCP government has not increased the taxes on fuel. 
"The existing taxes — 31 per cent VAT on petrol, 22.5 per cent VAT on diesel, ₹4 per lt additional VAT, and ₹1 road cess, were levied by the previous TDP government. They are being continued," he told the media recently.