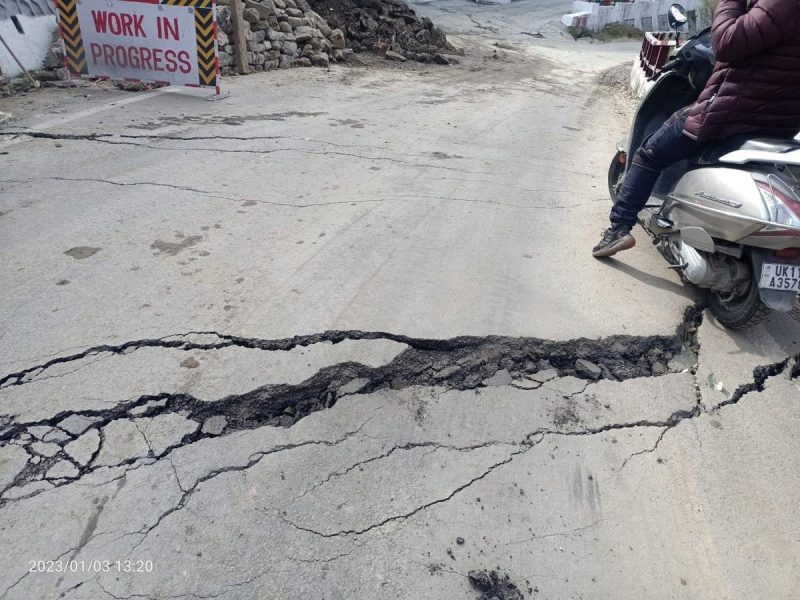 Joshimath: Tunnel 1 km away from town, 1.1 km below ground, says NTPC
Its project has no role in the subsidence of the region, National Thermal Power Corporation tells Power Ministry amid widespread criticism
A 12-kilometer long tunnel connected to the Tapovan Vishnugad hydroelectric project is 1 kilometer away from Joshimath town and at least a kilometer below the ground, state-owned National Thermal Power Corporation (NTPC) has told the power ministry explaining its project has no role in the subsidence of the region.
An apparent sinking of land is being blamed for cracks developing in hundreds of houses and buildings in Uttarakhand's Joshimath – a town of 17,000 people which is a gateway to Hindu and Sikh shrines and also draws trekkers in parts of the Himalayas.
On January 10, the Union Power Ministry summoned NTPC officials to review the subsidence incident in Joshimath. A day later, India's largest electricity-generating company wrote to the ministry explaining its position.
Also read: Joshimath sank 5.4 cm in just 12 days, ISRO satellite images show
A Head Trace Tunnel (HRT), which connects water intake at the dam site to the powerhouse for generation of the Tapovan Vishnugad hydro electricity project, "is not passing under Joshimath town," it wrote.
"The tunnel is at a horizontal distance of around 1.1 km away from the outer boundary of Joshimath town and vertically around 1.1 km below the ground level," NPTC wrote in the letter, a copy of which was reviewed by PTI.
Stating that land subsidence in Joshimath is a very old issue with first observance dating back to 1976, NTPC citing a state government-appointed M C Mishra Committee of that year blaming "hill wash, natural angle of repose, cultivation area because of seepage and soil erosion" for the subsidence/cracks.
The construction work of 4×130 MW Tapovan Vishnugad project started in November 2006. The project includes the construction of a concrete barrage at Tapovan (15 km upstream of Joshimath town).
Also read: Not just Joshimath, these towns in Uttarakhand are also on the brink
The project was to be completed in March 2013 but almost 10 years later, it is still under construction.
The project has also undergone a major cost escalation from the initial approved investment of Rs 2,978.5 crore to now an anticipated Rs 7,103 crore.
"Construction of the tunnel in this stretch has been done through Tunnel Boring Machine (TBM) which causes no disturbance to the surrounding rock mass," NTPC said.
The company said during the construction of the tunnel, locals had raised concerns about the drying of the water table in the future in the Selong area, which is about 6 km away from Joshimath Town.
An expert committee was constituted by DM Chamoli which in August 2010 concluded that "there is no ground evidence of any instability induced by HRT excavation using TBM."
Also read: Geophysical scientists to do subsurface physical mapping of sinking Joshimath
"Construction of the tunnel in this stretch (more than 1 km away from Joshimath town) was completed in August 2011," NTPC said adding construction of the tunnel in rock mass at a depth of around 1 km causes no impact on the surface ground including flora and fauna.
"There are no signs of sinking around the tunnel alignment at the overground surface," it said, adding pictures of the region.
Due to continuing subsidence in Joshimath town, another committee was constituted by DM (Chamoli) in August 2022.
The panel, NPTC said, stated power sewerage, rain and household waste water seeping below ground, erosion due to floods and subsurface seepage were possible causes of subsidence in Joshimath town and the surrounding area.
Also read: Joshimath: Renewed efforts to resume demolition, locals clamour for compensation
NTPC also told the power ministry that there was no active construction work happening in the area for about two years.
The state government has begun demolishing unsafe buildings in the town and some residents have been relocated to safe places.