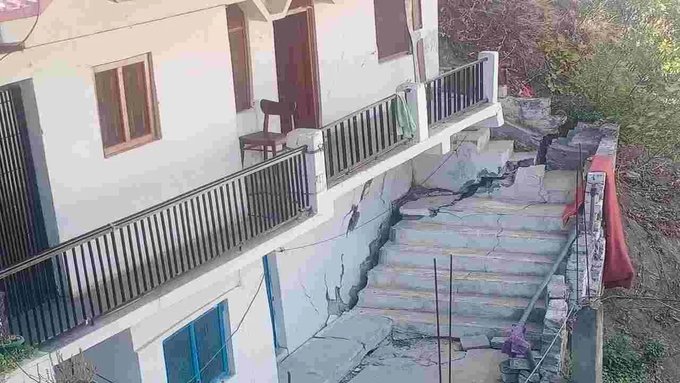 Joshimath: For the last 15 months, the 'strategic' gateway is sinking
Known the world over as the gateway to famous pilgrimage sites like Badrinath and Hemkund Sahib, the holy town of Joshimath is gradually sinking with huge cracks surfacing on its houses, roads and fields, triggering fear among the local residents.
Also Read: CM orders immediate evacuation of 600 families
The town, which also leads to the international skiing destination Auli, seems to be staring at a disaster. Joshimath's religious significance can be gauged from the fact that it is also known as the place where Adi Guru Shankaracharya subjected himself to penance centuries ago.
Many houses have suffered subsidence, said locals with apprehension of a tragedy waiting to happen writ large on their faces. Uttarakhand Chief Minister Pushkar Singh Dhami has ordered immediate evacuation of 600 families living in houses at risk. The collapse of a temple in Joshimath on Friday evening has also set the alarm bells ringing for the residents who have been living under constant fear amid heavily cracked walls of their houses for over a year.
Also read: Uttarakhand's Joshimath town is sinking; residents stage protest march
Tragedy waiting to happen?

"It all started 14-15 months back in Gandhinagar area and then over a period of time spread to other areas like Suneel, Manohar Bagh, Singdhar and Marwari," said former Joshimath municipal chairman Rishi Prasad Sati. "Initially, Saklani family's house collapsed in Suneel, but panic spread when huge cracks appeared on the walls of hotels Mountain View and Malari Inn, leading to their closure, around a fortnight ago," he said.
"People are supporting their residences with the help of bamboo poles and tucking rags into chinks," said Joshimath Bachao Sangharsh Samiti convenor Atul Sati. Joshimath is the last border town of strategic, religious and tourist importance which falls into seismic zone V, he said. If an earthquake occurs, it will cause extensive damage to life and property, Sati warned and demanded immediate rehabilitation of residents.
Vishnupuram, a posh colony for the employees of 420 MW Vishnuprayag hydel project of JP Ventures had to be evacuated entirely when huge cracks appeared right in the middle of it and many houses subsided earlier this week, said company official Col TN Thapa.
561 residential structures, including two big hotels here, have been damaged by landslides, according to a government survey conducted on Wednesday. However, the actual damage is estimated to be higher than the government estimate.
Highway witnessing landslides

A large part of Badrinath National Highway is in the grip of landslide. Big cracks have appeared in people's fields. These cracks are widening every day. A water stream suddenly gushed out in JP Colony near Marwari a couple of days back, scaring residents.
So far nearly fifty families have left their homes for security reasons. Some are staying with their acquaintances while some are staying in shelters. The number of people leaving their homes and taking refuge elsewhere is likely to only go up in the coming days.
Apart from being a religious and cultural city, Joshimath is one of the largest towns near the India-China border and also a very important place from a strategic point of view due to its unique location.